Hip-Hop Producers & Beatmakers
9th Wonder on Twitter
9th Wonder w/4-IZE - Studio
J Dilla (RIP) - "Won't Do"
James Dewitt Yancey (February 7, 1974 – February 10, 2006), [ 1 ] better known by the stage names J Dilla and Jay Dee , was an American record producer who emerged from the mid-1990s underground hip-hop scene in Detroit, Michigan . According to his obituary at NPR.org, he "was one of the music industry's most influential hip-hop artists, working for big-name acts including A Tribe Called Quest , De La Soul , Busta Rhymes , The Pharcyde and Common ." [ 2 ] Yancey died in 2006 of the blood disease Thrombotic thrombocytopenic purpura . [ edit ] Biography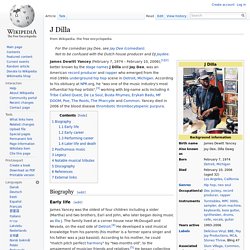 J Dilla (RIP)
Scott Storch
LIL JON (on Twitter
LIL JON & USHER IN THE STUDIO
DJ Quik on Twitter
DJ Quik - Making The Beat
Pharrell Williams & Jay Z - Studio
Rodney "DARKCHILD" Jerkins on Twitter
RODNEY "Darkchild" JERKINS - Studio
Lady Gaga & - In the Studio w/ TELEPHONE.
RZA! on Twitter
RZA in studio
DJ Premier on Twitter
DJ Premiere and Ludacris in the Studio
SWIZZ BEATZ on Twitter
Swizz Beatz In the Studio Making a Beat
Pete Rock on Twitter
Pete Rock In The Studio
Kanye West on Twitter
Kanye West - Making Beats
BATTLECAT on Twitter
BattleCat Making A Beat
Timbaland on Twitter
Timbaland & Jay-Z in Studio
Ryan Leslie on Twitter
Ryan Leslie Makes I Gets Money
Dr. Dre on Twitter
Jermaine Dupri on Twitter
Jermaine Dupri - Studio