Hip-Hop Producers & Beatmakers
9th Wonder. 9th Wonder w/4-IZE - Studio. J Dilla (RIP) - "Won't Do" J Dilla (RIP) Biography[edit] Early life[edit] James Yancey was the oldest of four children including a sister (Martha) and two brothers, Earl and John, who later began doing music as Illa J.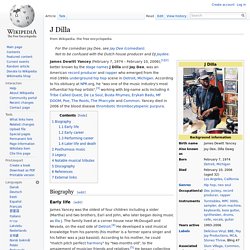 Scott Storch. LIL JON (on Twitter. LIL JON & USHER IN THE STUDIO. DJ Quik. DJ Quik - Making The Beat. Pharrell Williams & Jay Z - Studio. Rodney "DARKCHILD" Jerkins. RODNEY "Darkchild" JERKINS - Studio. Lady Gaga & - In the Studio w/ TELEPHONE. RZA! RZA in studio. DJ Premier. DJ Premiere and Ludacris in the Studio. SWIZZ BEATZ. Swizz Beatz In the Studio Making a Beat. Pete Rock. Pete Rock In The Studio. Kanye West. Kanye West - Making Beats. BATTLECAT. BattleCat Making A Beat. Timbaland. Timbaland & Jay-Z in Studio. Ryan Leslie. Ryan Leslie Makes I Gets Money. Dr. Dre. Jermaine Dupri. Jermaine Dupri - Studio.
---
rayofla Dec 17 2010

@nicolas Stromae is cool :-). Love the video. This pearltree is only for Hip Hop producers, so I made another 'pt' for House & Dance Music Producers and moved Stromae there. Team up with me & will get it rockin' :-)

rayofla Dec 17 2010

Awesome. Let keep it international as possible :-). #intlguys

nicolas Dec 17 2010

US Hip-Hop Producers are far better than french ones, but I'll try to find nice video of french producers at work

rayofla Dec 17 2010

If I'm mssing other influential Hip Hop Producers & Beatmakers, do let me know or team up to make this pearltree right!
---