Hiking
How to choose a travel backpack | Travel Backpacks. Choosing the right backpack for your trip is probably the single most important travel purchase that you will make before leaving home.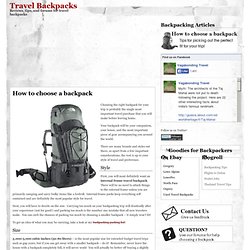 Your backpack will be your companion, your house, and the most important piece of gear accompanying you around the world. There are many brands and styles out there, so apart from a few important considerations, the rest is up to your style of travel and preference. Style First, you will most definitely want an internal frame travel backpack.
There will be no need to attach things to the external frame unless you are primarily camping and carry bulky items like a bedroll. The 10 best treks in the world. These 10 classic treks are for serious walkers.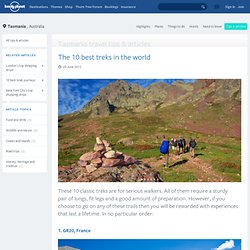 All of them require a sturdy pair of lungs, fit legs and a good amount of preparation. However, if you choose to go on any of these trails then you will be rewarded with experiences that last a lifetime. In no particular order: Hiking Guide: Outdoor Information & Trail Maps. Incredible Video: A 6-Month, 2,200-Mile Appalachian Trail Hike Shortened to Five Minutes - Culture. Richmond, Virginia, resident Kevin Gallagher spent half of 2005, his first year out of college, traversing all 2,200 miles of the Appalachian Trail, beginning in Georgia and ending in Mount Katahdin, Maine.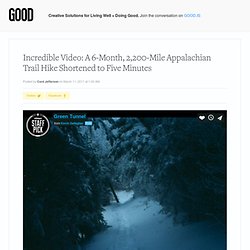 As if that weren't impressive enough, Gallagher, a former film student, then condensed that six-month journey by using 4,000 photo slides he'd made along the hike to create a stop-motion film. That movie, Green Tunnel, is what you're looking at above. Assuming you don't have the time, money, or inclination to take a six-month journey yourself, just watch Gallagher's film. 10 of the Best Places to Hike in the United States. A good portion of the United States was battered and bruised this past winter with nasty weather and lots of snow.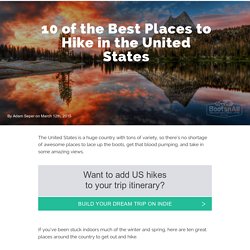 We were forced to stay indoors for much of the winter months, and spring has seen lots of rain and tornadoes come through much of the country. But now, finally, it seems the weather has turned the corner, affording all of us nature lovers the chance to get out and head to the trails. Ultralight Backpacking Checklist: Expert Advice from REI. Video: Hike the 2,200-Mile Appalachian Trail in 4 Minutes | Playbook. While there is no governing body, the unofficial record for completing the 2,181-mile Appalachian Trail was set by trail runner Andrew Thompson in 2005, at 45 days, 13 hours, 31 minutes.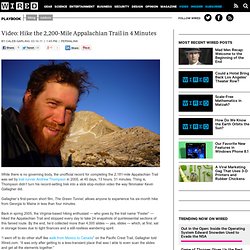 Thing is, Thompson didn't turn his record-setting trek into a slick stop-motion video the way filmmaker Kevin Gallagher did. Gallagher's first-person short film, The Green Tunnel, allows anyone to experience his six-month hike from Georgia to Maine in less than four minutes. Back in spring 2005, the Virginia-based hiking enthusiast — who goes by the trail name "Fester" — hiked the Appalachian Trail and stopped every day to take 24 snapshots of quintessential sections of this famed route. American Trails - your national resource for trails and greenways. Camping Recipes - Camping never tasted so good!
Getting Started with Geocaching. Welcome to the geocaching community!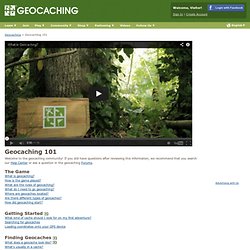 If you still have questions after reviewing this information, we recommend that you search our Help Center or ask a question in the geocaching Forums. The Game Geocaching is a real-world, outdoor treasure hunting game using GPS-enabled devices. Participants navigate to a specific set of GPS coordinates and then attempt to find the geocache (container) hidden at that location.
Camping Guide – Camping Tips and Advice. From a "macro" perspective, the general principles of camping are relatively simple.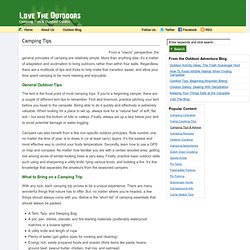 More than anything else, it's a matter of adaptation and acclimation to living outdoors rather than within four walls. Regardless, there are a multitude of tips and tricks to help make that transition easier, and allow your time spent camping to be more relaxing and enjoyable. General Outdoor Tips. BioLite. 91c3663a6f16dca8026241512ff.jpg (1680×1050) Www.theinitiativesite.com.
Trail Journals, Backpacking and Hiking Journals. Backpacker Trail Chef: Cook Bacon and Eggs...in a Bag! Free Ultralight Backpacking Gear. Magic. Crater_lake_large.jpg (1024×768) Hiker near Clingmans Dome, Appalachian Trail, Great Smoky Mountains NP.
---