Reform / Legalisation
Legal Marijuana Sales Set To Quadruple By 2018: Study. U.S. legal marijuana sales are projected to hit $1.5 billion this year, and that could look like nothing in just a few years.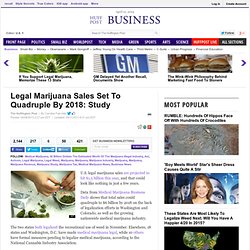 Data from Medical Marijuana Business Daily shows that total sales could quadruple to $6 billion by 2018 on the back of legalization efforts in Washington and Colorado, as well as the growing nationwide medical marijuana industry. The two states both legalized the recreational use of weed in November. Weed Wins - Majority Now Favors Marijuana Legalization. Marijuana Tax Considered By Cash-Strapped States. A marijuana tax is being considered as a reason to legalize the drug by several cash-strapped states, including New York and Maine.
Advocates of marijuana have said that taxing the drug could help pump cash into states struggling to make ends meet. However, skeptics have disagreed. But some lawmakers agree with advocates. They assert that legalizing marijuana and taxing it would help put a large amount of money into state budgets still recovering from the recession. Montel Williams: We Need Medical Marijuana Now. Yes We Cannabis: The Legalization Movement Plots Its Next 4 Years - Matt Taylor. In November, two states decisively legalized marijuana.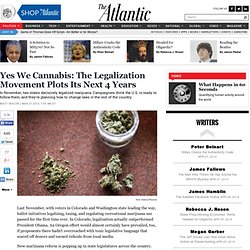 Campaigners think the U.S. is ready to follow them, and they're planning how to change laws in the rest of the country. Nick Adams/Reuters Last November, with voters in Colorado and Washington state leading the way, ballot initiatives legalizing, taxing, and regulating recreational marijuana use passed for the first time ever. In Colorado, legalization actually outperformed President Obama. An Oregon effort would almost certainly have prevailed, too, if proponents there hadn't overreached with toxic legislative language that scared off donors and earned ridicule from local media. Facts on drugsThe Libertarian | The Libertarian. This was origionally published in Drug legalisiation does not increase usage When Portugal decriminalised drug usage 10 years ago many worried drug usage would rise, it hasn't.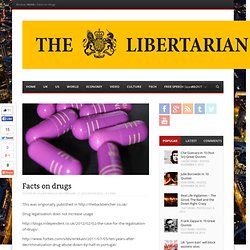 The Marijuana Conspiracy. (Nothing to do with its effects on the mind and body) By Doug Yurchey – Article from The Dot Connector They say marijuana is dangerous. pot is not harmful to the human body or mind. marijuana does not pose a threat to the general public.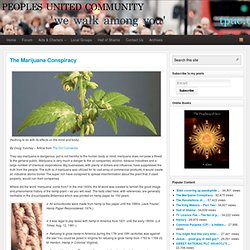 Marijuana is very much a danger to the oil companies, alcohol, tobacco industries and a large number of chemical corporations. Big businesses, with plenty of dollars and influence, have suppressed the truth from the people. Why Congress might legalize marijuana (this time) In 1973, Oregon rode the hippie wave to became the first state in the country to decriminalize possession of small amounts of marijuana.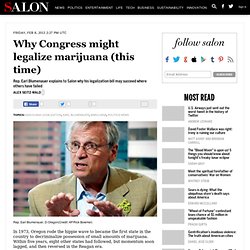 Within five years, eight other states had followed, but momentum soon lagged, and then reversed in the Reagan era. Lately, however, it's beginning to feel like the '70s again, with numerous polls showing a majority of Americans in favor of legalizing marijuana and the recent referenda in Colorado and Washington to do just that. New Ipsos MORI Poll Shows 53% Of GB Public Want Cannabis Legalised Or Decriminalised. A new poll by Ipsos MORI, commissioned by Transform Drug Policy Foundation, shows that over half of the public (53%) support cannabis legalisation (legal regulation of production and supply) or decriminalisation of possession of cannabis.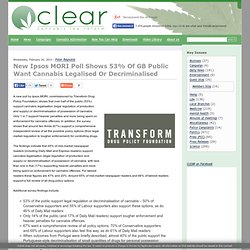 Only 1 in 7 support heavier penalties and more being spent on enforcement for cannabis offences. In addition, the survey shows that around two thirds (67%) support a comprehensive independent review of all the possible policy options (from legal market regulation to tougher enforcement) for controlling drugs. The findings indicate that 45% of mid-market newspaper readers (including Daily Mail and Express readers) support cannabis legalisation (legal regulation of production and supply) or decriminalisation of possession of cannabis, with less than one in five (17%) supporting heavier penalties and more being spent on enforcement for cannabis offences.
For tabloid readers these figures are 47% and 20%. Half Of Britons Support Softer Cannabis Laws. The majority of Britons would support a softer stance on cannabis laws, an independent think-tank has said.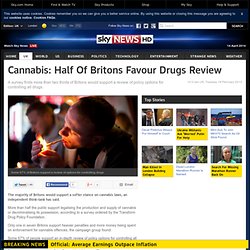 More than half the public support legalising the production and supply of cannabis or decriminalising its possession, according to a survey ordered by the Transform Drug Policy Foundation. Only one in seven Britons support heavier penalties and more money being spent on enforcement for cannabis offences, the campaign group found. Some 67% of people support an in-depth review of policy options for controlling all drugs. Transform head of external affairs Danny Kushlick said: "These results show just how far ahead of politicians the public are. "While Labour and Conservative politicians shy away from the debate on drugs, around half of their supporters want to see legal regulation of cannabis production and supply or decriminalisation of cannabis possession.
" Why Medical Marijuana Laws Reduce Traffic Deaths. States that legalize medical marijuana see fewer fatal car accidents, according to a new study, in part because people may be substituting marijuana smoking for drinking alcohol.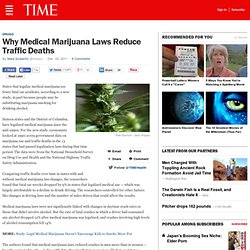 Sixteen states and the District of Columbia, have legalized medical marijuana since the mid-1990s. For the new study, economists looked at 1990-2009 government data on marijuana use and traffic deaths in the 13 states that had passed legalization laws during that time period. The data were from the National Household Survey on Drug Use and Health and the National Highway Traffic Safety Administration. Comparing traffic deaths over time in states with and without medical marijuana law changes, the researchers found that fatal car wrecks dropped by 9% in states that legalized medical use — which was largely attributable to a decline in drunk driving.
The researchers controlled for other factors like changes in driving laws and the number of miles driven that could affect the results. Oregon, Maine and California targeted for marijuana legalization in 2016. By Stephen C.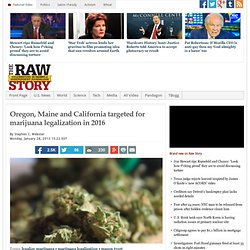 WebsterMonday, January 28, 2013 15:22 EDT Fresh off victories in Colorado and Washington, drug reform activists are wondering where the next hotbed for legalization will emerge. The Marijuana Policy Project, a leading group behind those 2012 wins, told Raw Story that they think they know the answers: Oregon, Maine and California. Oregon is particularly of interest to MPP's leadership, who saw a legalization initiative fail in the state last year even as Colorado and Washington's efforts passed. MPP spokesperson Mason Tvert said he believes it failed because the proposed regulatory system was not strong enough, leaving room for improvement, either by the legislature or at the polls. Marijuana Policy Project - Home. Why marijuana should be legal for adults. David Nathan says pot should be sold and regulated like alcohol and tobacco.
David Nathan disputes CNN op-ed by David Frum that argues pot should be illegalNathan treats drug abusers and agrees with Frum that young people should avoid marijuanaDrug should be legal for adults and sold like alcohol, with kids taught the risks, he saysNathan: If pot is illegal, then dangerous drugs like alcohol and tobacco should be, too Editor's note: David L. Nathan, a clinical associate professor at Robert Wood Johnson Medical School, was recently elected as a distinguished fellow in the American Psychiatric Association.
He teaches and practices general adult psychiatry in Princeton, New Jersey. (CNN) -- David Frum is one of today's best and most reasoned conservative political voices, so his recent CNN.com op-ed on marijuana policy was just a little disappointing. Activist Who Smoked Marijuana In Parliament Smokes Again on CBC! News Release - Corby By-Election -The Great Skunk Scare. Contact: Peter Reynolds Tel: 07880872022peterreynolds@clear-uk.org The Great Skunk Scare If there is a problem with 'skunk' in Britain, then it is successive governments and their foolhardy drugs policies that have caused it. In recent years there has been a lot of press coverage claiming cannabis has changed and is now far more harmful than it used to be. Cannabis certainly has changed but it's important to understand how and why. 20 years ago most of the cannabis on sale in the UK was hashish, mostly imported from Morocco.
'Don't break out the Cheetos too quickly': Colorado and Washington become first US states to legalise recreational cannabis but federal laws still consider it an illegal narcotic - Americas - World. The legalisation will set the stage for a possible showdown with newly re-elected President Barack Obama as the states' initiative is in defiance of the US Department for Justice's federal laws which consider marijuana an illegal narcotic. Supporters of Colorado's constitutional amendment were the first to declare victory after returns showed 53 per cent voted in favour. And supporters of Washington State's legalisation initiative declared victory after the Seattle Times and other media projected a win for marijuana proponents. News Release - Corby By-Election - The Cost Of Cannabis Prohibition. Contact: Peter Reynolds Tel: 07880872022peterreynolds@clear-uk.org At a time when vital public services are being cut, the cost of cannabis prohibition makes no sense The cannabis trade is huge industry.
A staggering £10,000,000 is spent in the Corby area every year on cannabis, this is all money going to the illegal black market. None of this money comes back into the community to fund schools, hospitals or any other essential service, instead the vast majority of it goes to organised crime gangs and perhaps even terrorists.Attempts to cut the supply simply increase the profits to be made and because the police raids will take out the easy to reach dealers, the trade is pushed ever more into the hands of the sort of people who can protect their turf with violence. Growing cannabis in your own home should not be a criminal offence. 'Six plants per person is acceptable'University professor Alex Stevens said people should not be punished for what they will do anywayHe also advised student on cannabis use, telling them to 'be careful' By Sara Malm Published: 21:59 GMT, 30 October 2012 | Updated: 01:06 GMT, 31 October 2012 A professor at a top British university has called for a decriminalisation of growing cannabis, saying six plants per person is an 'acceptable amount'.
Alex Stevens, an expert on criminal justice at the University of Kent, said possession of the drug and cultivating cannabis plants for personal use, should not be a criminal offence. He said he did not want to harm people for 'things they are going to do anyway'. We are the Marijuana Majority. Possession of small amounts of drugs may soon be legit in UK. Massachusetts Voters Firmly Support Medical Marijuana Legalization | Medical Marijuana Marijuana Blog. Why We Fight For Cannabis Reform. CLEAR: Cannabis Law Reform. The Cannabis Community. DoseNation. Cannabis Cure UK. Medical Marijuana | MedicalMarijuana411.com | The Daily Dose | Medical Marijuana | Medical Marijuana, Medical Marijuana Blog, Medical Marijuana News, Blogs and Patient's Stories. Cannabis Campaigners Guide. Weed. NORML UK. Cannabis Activists' Network UK. Cannabis Support Network UK.
(1) Make it Legal. Bristol Cannabis Community. Abingdon & Oxford Cannabis Community. Stop Smoking Soap Bar & Join NORML UK. NORML UK - Working to reform British cannabis laws. NORML UK Cardiff Global Cannabis March 2012 with Howard Marks. Cannabis in the UK has just become NORML and Howard Marks says so! - Regulate Cannabis UK. Cardiff becomes Hempcity for a day as hundreds show their support for Cannabis in the UK by marching for legitimacy and legalization - Regulate Cannabis UK.
---