News
Crimestoppers Scratch & Sniff endagers patients growing own medicine. By Greg de Hoedt THE CHARITY Crimestoppers have today launched a new campaign targeting cannabis growers.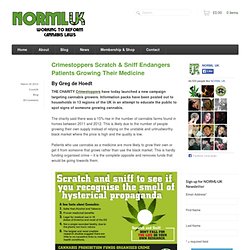 Information packs have been posted out to households in 13 regions of the UK in an attempt to educate the public to spot signs of someone growing cannabis. The charity said there was a 15% rise in the number of cannabis farms found in homes between 2011 and 2012. This is likely due to the number of people growing their own supply instead of relying on the unstable and untrustworthy black market where the price is high and the quality is low.
Michigan's medical marijuana program a windfall for government. Dutch Weed Pass Plan Abandoned By Incoming Dutch Government. AMSTERDAM -- The incoming Dutch government has ditched plans for a national "weed pass" that would have been available only to residents and that would have effectively banned tourists from Amsterdam's marijuana cafes.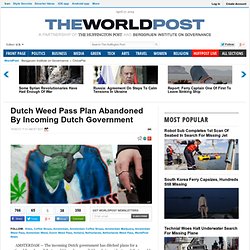 However, under a provisional governing pact unveiled this week, cities can bar foreigners from weed shops if they choose. The pact says that it wants only Dutch residents to have access to marijuana cafes, but leaves enforcement up to cities. Amsterdam opposes a ban, which would hurt tourism. Some cafe owners said Tuesday that they are satisfied Dutch weed policy will remain unchanged, while others criticized the lack of clarity. Marijuana trafficking is technically illegal in the Netherlands, but people can't be prosecuted for possession of small amounts and the drug is sold openly in designated "coffee shops. " Marijuana Majority Launches: Website Aims To Bring Cannabis Conversation Into The Mainstream. What do Jon Stewart and Sarah Palin have in common?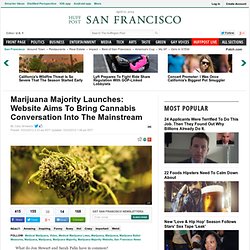 Probably not too much. But both have spoken out recently on America's failed marijuana laws -- and both have publicly endorsed some form of legalization. So has Brad Pitt. Weed for All, Again? Dutch Politicians Say Maybe. Cannabis oil 'eases my symptoms of MS' A cannabis user from Earley who claims the drug has changed his life is calling for it to be made legal.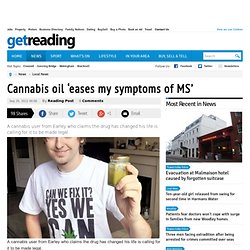 Clark French, 26, of Sutcliffe Avenue, was diagnosed Multiple Sclerosis (MS) in August 2010. He was studying ancient history and archaeology at The University of Reading, but his symptoms rapidly became so bad that he had to use a walking stick and was forced to quit his degree. Mr French said: "It meant I couldn't walk, I would slur my speech, I would have bladder and bowel problems. Barbara Lee And Medical Marijuana: Oakland Congresswoman Fights Crackdown (PHOTOS) This article comes to us courtesy of SF Weekly's The Snitch.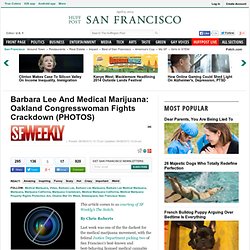 By Chris Roberts Last week was one of the the darkest for the medical marijuana movement, with the federal Justice Department picking two of San Francisco's best-known and best-behaving licensed medical cannabis dispensaries for closure. This came mere weeks after U.S. Attorney Melinda Haag moved to close Harborside Health Center -- the nation's biggest pot club and Oakland's second-biggest taxpayer. Could things get much worse? Welcome to the Cannabis News Search page presented by CCGUIDE. Our Growing Industry by Dominic Holden - News. + Enlarge this Image The latest choices in Georgetown.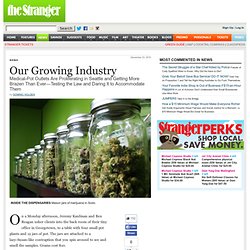 Starter plants for sale. Proprietors of the C.P.C. On a Monday afternoon, Jeremy Kaufman and Ben Reagan usher clients into the back room of their tiny office in Georgetown, to a table with four small pot plants and 12 jars of pot. The jars are attached to a lazy-Susan-like contraption that you spin around to see and smell the samples. HASC Announces International Conference On Drug Policy. The Home Affairs select committee is to hold a half-day conference on drug policy in the Houses of Parliament on 10th September 2012.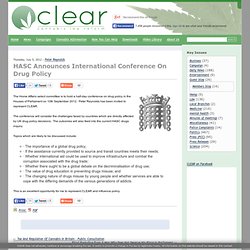 Peter Reynolds has been invited to represent CLEAR. The conference will consider the challenges faced by countries which are directly affected by UK drug policy decisions. The outcomes will also feed into the current HASC drugs inquiry. Marijuana ban in San Leandro on hold. Posted by Freshman on Jul 4th, 2012 in Stoner News | 0 comments Share SAN LEANDRO — The city has put on hold its plan to ban medical marijuana dispensaries, citing a state appeals court ruling Monday that such bans are not permitted under state law.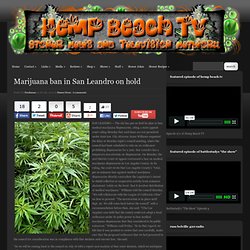 City Attorney Jayne Williams requested the delay at Monday night's council meeting, where the council had been scheduled to vote on an ordinance prohibiting dispensaries for a year. San Leandro has a temporary moratorium on dispensaries. On Monday, the 2nd District Court of Appeal overturned a ban on medical marijuana dispensaries in Los Angeles County. Dutch court bans pot for foreigners. Personal drug use decriminalized in Colombia - Colombia news | Colombia Reports. Colombia's Constitutional Court has approved the government proposal to decriminalize the possession of small amounts of cocaine and marijuana for personal use, Colombia media reported Friday.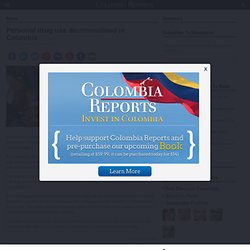 Anyone caught with less than 22 grams of marijuana or one gram of cocaine for personal use may receive physical or psychological treatment depending on their level of intoxication, but may not be prosecuted or detained, the court ruled. The Supreme Court paved the way for the legislative change when it ruled in 2011 that strict anti-drug laws introduced by the administration of former government Alvaro Uribe were unconstitutional. BBC3 Decide Who Gets 'Free Speech' In Drugs Debate | Cannabis Cure UK. Disappointment was cast over the cannabis community yesterday when BBC 3 Free Speech ignored Clark French a medicinal cannabis patient and campaigner during their Free Speech program focussing on the more negative stories in the audience.
Here is Clarks experience of the night in his own words… Last night I was very pleased to have been invited to the filming of BBC3's Free Speech at Motion Nightclub in Bristol. Cardiff becomes Hempcity for a day as hundreds show their support for Cannabis in the UK by marching for legitimacy and legalization - Regulate Cannabis UK. Copenhagen votes to legalise marijuana. The scheme, if approved by the Danish parliament at the start of next year, could make the city the first to fully legalise, rather than simply tolerate, marijuana consumption. "We are thinking of perhaps 30 to 40 public sales houses, where the people aren't interested in selling you more, they're interested in you," said Mikkel Warming, the Mayor in charge of Social Affairs at Copenhagen City Council. "Who is it better for youngsters to buy marijuana from? A drug pusher, who wants them to use more, who wants them to buy hard drugs, or a civil servant?
" Green councillor calls for cannabis cafes in Brighton. Play School presenters 'were stoned' on TV - TV & Radio - Media. According to a new BBC4 documentary, 'Lights! Camera! Action! Tales of Television Centre' – some Play School presenters even went in front of the camera after smoking "the biggest joint you've ever seen". Presenter Johnny Ball told the documentary team that two of his co-stars shot a nativity scene for children's TV show Play School while stoned. Ball said, 'There was Rick Jones, Lionel Morton and myself. Dutch court bans pot for foreigners.
The Top Five Special Interest Groups Lobbying To Keep Marijuana Illegal. By Lee Fang posted Apr 20th 2012 at 9:04AM Last year, over 850,000 people in America were arrested for marijuana-related crimes. Despite public opinion , the medical community, and human rights experts all moving in favor of relaxing marijuana prohibition laws, little has changed in terms of policy. There have been many great books and articles detailing the history of the drug war. Part of America's fixation with keeping the leafy green plant illegal is rooted in cultural and political clashes from the past.
However, we at Republic Report think it's worth showing that there are entrenched interest groups that are spending large sums of money to keep our broken drug laws on the books:
---