Hebrew and Israel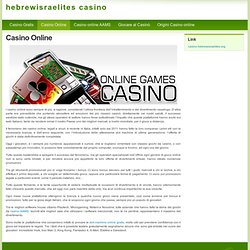 I casino online sono sempre di più, a ragione, considerati l'ultima frontiera dell'intrattenimento e del divertimento casalingo. D'altra parte era prevedibile che portando atmosfere ed emozioni dei più classici casinò, direttamente nei nostri salotti, il successo sarebbe stato notevole, ma gli stessi operatori di settore hanno forse sottostimato l'impatto che queste piattaforme hanno avuto sul web italiano, tanto da rendere ormai il nostro Paese uno dei migliori mercati, a livello mondiale, per il gioco a distanza. Il fenomeno dei casino online, legali e sicuri, è recente in Italia, infatti solo dal 2011 hanno fatto la loro comparsa i primi siti con la necessaria licenza, e dall'anno seguente, con l'introduzione delle attesissime slot machine di ultima generazione, l'offerta di giochi è stata definitivamente completata.
Learning a foreign language is not a matter of reading some grammar rules and memorizing some vocabulary words-- although those are important activities, not to be ignored. Acquiring a language is learning a skill , not a body of information. It's as much like learning to swim or ride a bike as it is like learning about the Revolutionary War. That is, you must not only understand the ideas and concepts, have information at hand, but you must also make your body accustomed to using that information in physical activity: in this case the physical activity involved is speaking, listening, writing and reading.
Suggestions on Studying a Foreign Language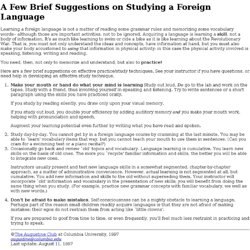 Study Skills from the Augustine Club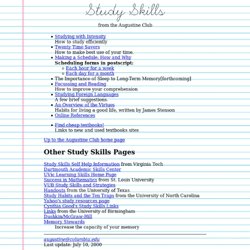 Studying with Intensity How to study efficiently Twenty Time Savers How to make best use of your time. Making a Schedule: How and Why Scheduling forms in postscript: The Importance of Sleep to Long-Term Memory[forthcoming] Focussing and Reading How to improve your comprehension Studying Foreign Languages A few brief suggestions. An Overview of the Virtues Habits for living a good life, written by James Stenson Online References Find cheap textbooks! Links to new and used textbooks sites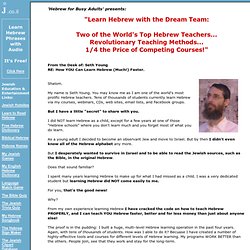 J - Jewish Education & Entertainment (Learn Hebrew, Jewish Games)
From the Desk of: Seth Young RE: How YOU Can Learn Hebrew (Much!) Faster. Shalom.
Hebrew Language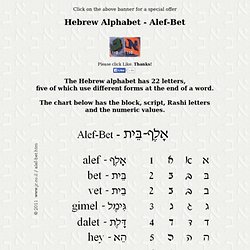 Click on the above banner for a special offer Please click Like. Thanks!
Hebrew Alphabet - Alef-Bet
Learn Hebrew - From Alef Bet to Intermediate - Free Video Intro - At Home With Hebrew - Beginner's Introduction to Hebrew
Hebraic Roots, Christianity & the Hebrew alphabet
Foundation Research: The Hebrew Letters - Individual Portraits
Another contibuting factor to misinterpretation is that the books of the "New Testament" are "Greek documents." The fact that the "New Testament" texts we have are in Greek, makes them no more "Greek documents" than the Septuagint (Greek) version of the Old Testament, which the rabbis wrote into Greek 200 years before Yeshua. The rabbis did this (as did someone at some point with the "New Testament" letters), for the benefit of the non-Jewish world so that they could also learn of the God and faith of Israel.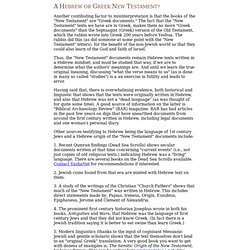 A HEBREW OR GREEK NEW TESTAMENT?
Kehilat Yisrael - Where Yeshua is King, His Torah is taught and Israel is loved.
Where Yeshua is King, His Torah is taught and Israel is loved. Welcome To Kehilat Yisrael! Congregational Leader - Rabbi Esther Boucher Shabbat Services - Saturdays at 11:00am Telephone: (401) 847-5801
Hebrew - English Bible by Books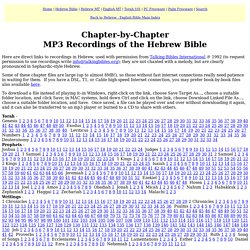 Here are direct links to recordings in Hebrew on the Israeli Snunit Kodesh site, provided by Audio Scriptures International and the United Bible Society, ©1976; they are not chanted with a melody, but are clearly pronounced in Sephardic-style Hebrew. Some of these chapter files are large (up to almost 8MB!), so those without fast internet connections really need patience in waiting for them. If you have a DSL, T1, or Cable high-speed Internet connection, you may prefer book-by-book files also available here.
IntroductionBy Jeff A. Benner Why Learn Hebrew? There are many reasons to learn Hebrew such as to read the Tenach (the Old Testament of the Bible written in Hebrew) in its original language or simply to learn how to pronounce Hebrew words such as those in Strong's Concordance without having to use the transliterations. Probably the most advantageous reason to learn Hebrew is the ability to understand the original author's words, rather than through the translator's opinion of the author's words.
Learn Hebrew - From Alef Bet to Intermediate - Free Video Intro - At Home With Hebrew - Beginner's Introduction to Hebrew
Learn Hebrew - WannaLearn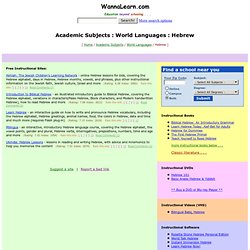 Free Instructional Sites: Akhlah: The Jewish Children's Learning Network - online Hebrew lessons for kids, covering the Hebrew alphabet, days in Hebrew, Hebrew months, vowels, and phrases, plus other instructional information on the Jewish faith, Jewish culture, Israel and more (Rating: 6.96 Votes: 2065) Introduction to Biblical Hebrew - an illustrated introductory guide to Biblical Hebrew, covering the Hebrew alphabet, variations in characters(Paleo Hebrew, Block characters, and Modern handwritten Hebrew), how to read Hebrew and more (Rating: 7.08 Votes: 2012)
The Hebrew Aleph-Bet - Learn Hebrew
Akhlah: The Jewish Children's Learning Network
Welcome to the Center for Biblical Hebrew
Having taught Biblical Hebrew in both university and seminary contexts for over a decade, I have developed a number of resources for my students. I have included many of them here to encourage anyone interested in learning (and mastering) Classical Hebrew -- the original language of the Old Testament/Hebrew Bible. If you have not taken any Biblical Hebrew yet, and want some guidance in terms of Hebrew textbooks, then you will want to look at my Learning Biblical Hebrew Page where I survey available introductory Hebrew grammars.
Biblical Hebrew Resources
Biblia Hebraica (Biblical Hebrew - Lesson 1)
God is Not God's Name
God Is Not God's Name God is not God's name. That's right.