Healthy Food
The World's Healthiest Foods. 100 foods that can serve as the basis of your Healthiest Way of Eating.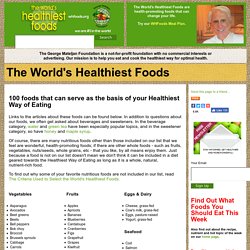 Links to the articles about these foods can be found below. In addition to questions about our foods, we often get asked about beverages and sweeteners. In the beverage category, water and green tea have been especially popular topics, and in the sweetener category, so have blackstrap molasses, honey and maple syrup. Of course, there are many other nutritious foods other than those that we have included on our list that we feel are wonderful, health-promoting foods; if there are other whole foods - such as fruits, vegetables, nuts/seeds, whole grains, etc - that you like, by all means enjoy them.
The 29 Healthiest Foods on the Planet | Belly Bytes. Fruits 01.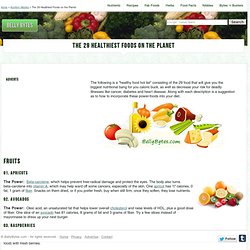 Apricots The Power: Beta-carotene, which helps prevent free-radical damage and protect the eyes. The body also turns beta-carotene into vitamin A, which may help ward off some cancers, especially of the skin. One apricot has 17 calories, 0 fat, 1 gram of fiber. The Food Industry's A to Z of Toxic Ingredients to Avoid. Digg ( By Natural News ) Ever wonder what's in the food sold at grocery stores around the world?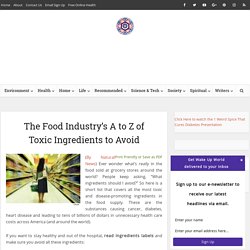 People keep asking, "What ingredients should I avoid?" So here is a short list that covers all the most toxic and disease-promoting ingredients in the food supply. These are the substances causing cancer, diabetes, heart disease and leading to tens of billions of dollars in unnecessary health care costs across America (and around the world). Vitamin Chart. Healthy Food Combinations: Men. Tomatoes are rich in lycopene, a pigment-rich antioxidant known as a carotenoid, which reduces cancer risk and cardiovascular disease.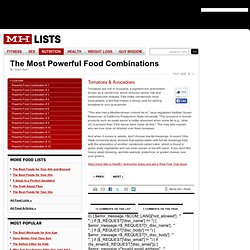 Fats make carotenoids more bioavailable, a fact that makes a strong case for adding tomatoes to your guacamole. "This also has a Mediterranean cultural tie-in," says registered dietitian Susan Bowerman of California Polytechnic State University. "The lycopene in tomato products such as pasta sauce is better absorbed when some fat (e.g., olive oil) is present than if the sauce were made fat free.
" This may also explain why we love olive oil drizzled over fresh tomatoes. And when it comes to salads, don't choose low-fat dressings. Edible Uses.
---