Mental Health
first image 'american kills' installation 'american kills' by chilean-born new york based artist sebastian errazuriz is a public installation showcasing the suicide rates of US soldiers. after searching on official war sites on the internet, he accidentally found out that 2 times more american soldiers had died in 2009 by committing suicide than those killed during that same year in the war in iraq; an alarming comparison that errazuriz had personally never read or heard about before.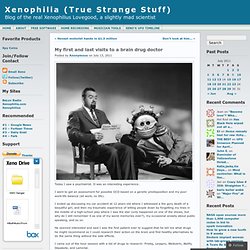 Today I saw a psychiatrist. It was an interesting experience. I went to get an assessment for possible OCD based on a genetic predisposition and my poor work-life balance (all work, no life).
My visit to the brain drug doctor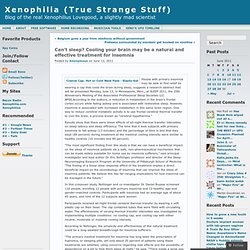 Can't sleep? Cooling your brain may be a natural and effective treatment for insomnia
People with primary insomnia may be able to find relief by wearing a cap that cools the brain during sleep, suggests a research abstract that will be presented Monday, June 13, in Minneapolis, Minn., at SLEEP 2011, the 25th Anniversary Meeting of the Associated Professional Sleep Societies LLC APSS.According to the authors, a reduction in metabolism in the brain's frontal cortex occurs while falling asleep and is associated with restorative sleep. However, insomnia is associated with increased metabolism in this same brain region. One way to reduce cerebral metabolic activity is to use frontal cerebral thermal transfer to cool the brain, a process known as "cerebral hypothermia."
Happiest places have highest suicide rates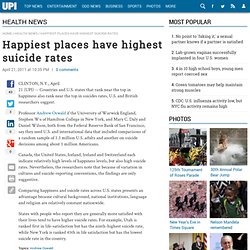 CLINTON, N.Y., April 21 (UPI) -- Countries and U.S. states that rank near the top in happiness also rank near the top in suicides rates, U.S. and British researchers suggest.
Happiness peaks in our eighties
Micro-RNA's contribute to risk for panic disorder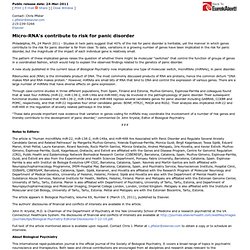 Public release date: 24-Mar-2011 [ Print | E-mail |