Health
Get flash to fully experience Pearltrees
While some areas of the brain are hard-wired from birth or early childhood, other areas — especially in the cerebral cortex, which is central to higher cognitive powers like language and thought, as well as sensory and motor functions — can be, to a remarkable extent, rewired as we grow older. In fact, the brain has an astonishing ability to rebound from damage — even from something as devastating as the loss of sight or hearing. As a physician who treats patients with neurological conditions, I see this happen all the time.
Rob Griffith/Associated Press NO EASY ANSWERS Marathoners at the Asian Games in China last month.
Yvetta Fedorova Poor vision can lead to job loss, social difficulties and the pain and cost of falls and accidents.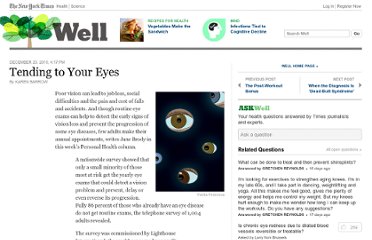 Jen Miller at the finish of the Ocean Drive 10 Miler in Wildwood, N.J. My butt, unfortunately, is dead.
Dealing with a cold is bad enough, but when it leads to a , the misery can double.
It was deep into the fall semester, a time of mounting stress with finals looming and the holiday break not far off, an anxiety all its own.
Oops! Sorry, the page you requested either doesn't exist or isn't available right now! Please check the URL for proper spelling and capitalization.
From tapeworms and Thighmasters to fad diets and blubber-shaking machinery, the only sure thing in the fitness world is that there will always be a new trend claiming to be the secret to quick and easy weightloss or eternal youth.
Ian Spanier/Getty Images The holiday season brings many joys and, unfortunately, many countervailing dietary pitfalls.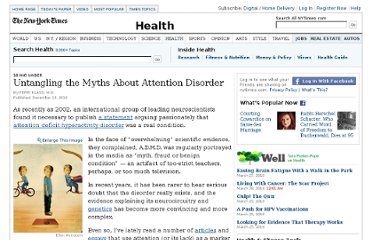 In the face of "overwhelming" scientific evidence, they complained, A.D.H.D. was regularly portrayed in the media as "myth, fraud or benign condition" — an artifact of too-strict teachers, perhaps, or too much television. In recent years, it has been rarer to hear serious doubt that the disorder really exists, and the evidence explaining its neurocircuitry and has become more convincing and more complex. Even so, I've lately read a number of articles and essays that use attention (or its lack) as a marker and a metaphor for something larger in society — for the multitasking, the electronic distractions, the sense that the nature of concentration may be changing, that people feel nibbled at, overscheduled, distracted, irritable.
As an person with asthma, this article gave me hope that I can improve my breathing without the need to get additional medicine or pricey surgeries. I'll be trying this for a while to see if it makes a difference. Doesn't seem like it could hurt. Here's hoping! by johnapaz Dec 8