Asperger - Selected Content
Asperger syndrome - PubMed Health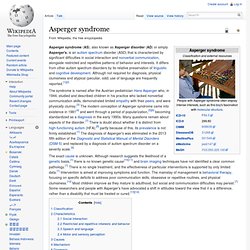 Asperger syndrome ( AS ), also known as Asperger's syndrome or Asperger disorder ( AD ), is an autism spectrum disorder (ASD) that is characterized by significant difficulties in social interaction, alongside restricted and repetitive patterns of behavior and interests. It differs from other autism spectrum disorders by its relative preservation of linguistic and cognitive development .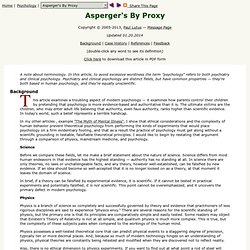 Asperger's By Proxy
This article examines a troubling aspect of contemporary clinical psychology — it examines how parents control their children by pretending that psychology is more evidence-based and authoritative than it is. The ultimate victims are the children, who may enter adult life believing that authority, even faux authority, ranks higher than scientific evidence.
Girls, Puberty, and Asperger Syndrome I spent the last year in Girlworld. And I learned a lot.
For Children and Adults with Asperger Syndrome | Coulter Video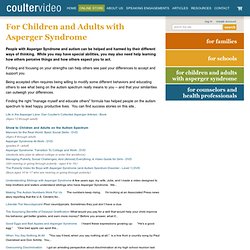 Parenting Aspergers Blog
This week I've got an article from Matthew Readman about his service dog and how it's helped him… "As you all know from my past articles, I have a problem making friends due to my Asperger's.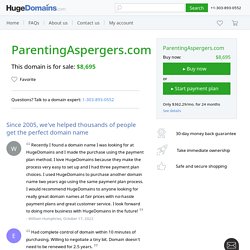 The struggle with Alex's Asperger's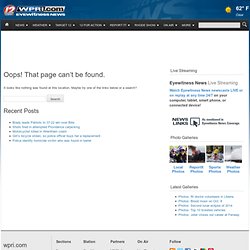 EAST PROVIDENCE, R.I. (WPRI) - A local mother struggled to find an answer for her child with special needs -- but a nationally known local school held the solution for Alex Azar.
asperger