Environmental Toxins / Radiation
Fukushima already ten times worse than Chernobyl in ocean waters, suggests data
(NaturalNews) Recent readings taken roughly 19 miles out to sea from the Fukushima nuclear power facility in Japan have revealed radioisotope levels ten times higher than those measured in the Baltic and Black Seas after the massive Chernobyl disaster. Because Fukushima is much closer to water than the Chernobyl plant is, the ongoing fallout there is shaping up to be far worse than Chernobyl, at least as far as the world's oceans are concerned, and time will tell just how devastating this massive disaster will be on the entire world as radiation continues to circulate around the globe. "Given that the Fukushima nuclear power plant is on the ocean, and with leaks and runoff directly to the ocean, the impacts on the ocean will exceed those of Chernobyl, which was hundreds of miles from any sea," said Ken Buessler, Senior Scientist in Marine Chemistry at the Woods Hole Oceanographic Institution in Massachusetts, several months back.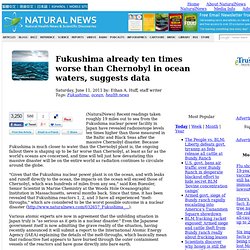 Now They are Trying to Sell You Diet Water
By Dr. Mercola By now you have probably seen the ads for MiO Liquid Water Enhancer, Kraft Foods' new gimmick aimed at young consumers seeking "cool" new ways to stand out among their peers. Leave it to the food and beverage industry to find a way to turn your perfectly healthful water into a mixture of toxic chemicals.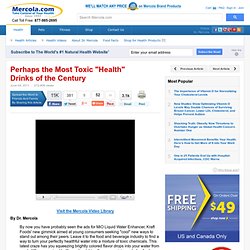 Learn How Cell Phone Radiation and Other EMF Damages You
(NaturalNews) Following the unexplained deaths of several thousand birds over the last two weeks, events are now emerging that may offer a physics-based explanation for the mysterious deaths.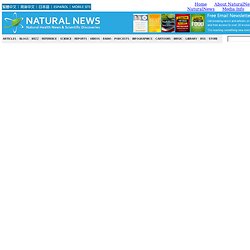 Earth's magnetic pole shift unleashing poisonous space clouds linked to mysterious bird deaths
(NaturalNews) The U.S.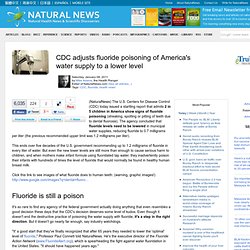 CDC adjusts fluoride poisoning of America's water supply to a lower level
(NaturalNews) Monsanto, the world's largest producer of genetically modified seeds and of America's most-used herbicide RoundUp, is finally showing signs of breaking. Earlier this year, the company was named Company of the Year by Forbes Magazine. Forbes has since apologized1 for that award while stock market commentator Jim Cramer has named Monsanto to be "the worst stock of 2010."
Watch for the coming collapse of Monsanto (Opinion)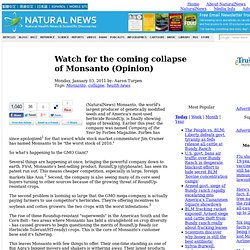 Do YOU Take Any of These 11 Dangerous Cholesterol Drugs?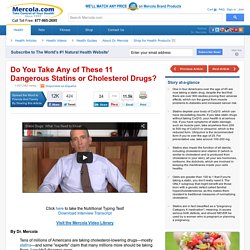 By Dr. Mercola
Statistics on Soft Drink Use You Won't Believe
Distilled Water Interview with Houston Tomasz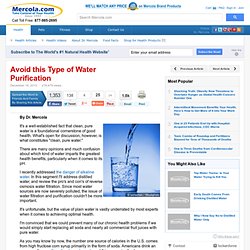 By Dr. Mercola
By Dr. Mercola Ants in your kitchen Wasps in your sunroom Squirrels in your attic Bugs in your garden It has become so convenient to just run down to the hardware store for the latest bug killer to solve the problem, you don't think twice about it. But perhaps you should.For in trying to solve one small challenge, you could be creating an even bigger one.One of the main issues with pesticides is that you cannot see them and they tend to easily spread by the wind. If they would just remain where they were sprayed, that would be one thing, but they do not.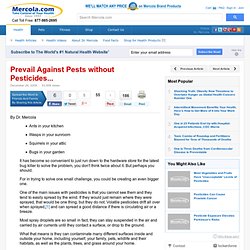 Insecticides Cause Mad Cow Disease 2/4/01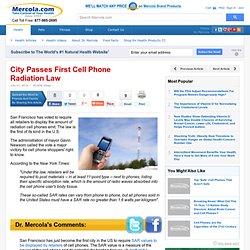 First US City Pass Cell Phone Radiation Law
July 01, 2010 | 40,253 views Email this article to a friend San Francisco has voted to require all retailers to display the amount of radiation cell phones emit. The law is the first of its kind in the U.S. The administration of mayor Gavin Newsom called the vote a major victory for cell phone shoppers' right to know.
July 01, 2010 | 47,224 views Email this article to a friend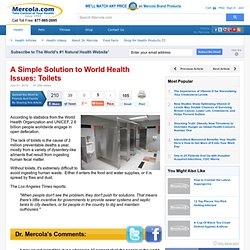 A Simple Solution to World Health Issues - Toilets
My Strange Mind Independent perspective on consciousness, voluntarism, economics, history and wellness. The Dangers of Plastic Bags
The Dangers of Plastic Bags
(NaturalNews) The journal Lancet Infectious Diseases recently published a sobering piece about how antibiotics are becoming wholly ineffective as treatments for infection. According to the report, even the most powerful antibiotics available are largely inadequate at tackling the emerging forms of new and powerful "super" bacteria. Antibiotic overuse has become a pandemic problem.
Antibiotics on the verge of becoming completely useless