Fans
These 14 Harry Potter Minecraft Builds Will Blow You Away. Today's incredible Minecraft builds come from the rich world of Harry Potter.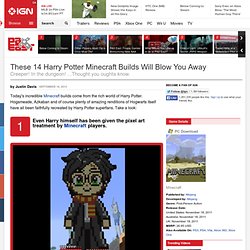 Hogsmeade, Azkaban and of course plenty of amazing renditions of Hogwarts itself have all been faithfully recreated by Harry Potter superfans. Take a look: Even Harry himself has been given the pixel art treatment by Minecraft players. Source: GissieGirl1313. The Harry Potter Alliance | The Weapon We Have is Love. Facebook. Geek Pride. My name is Erin.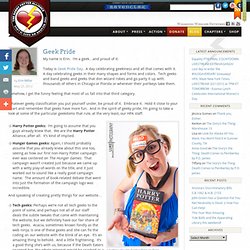 I'm a geek…and proud of it. Today is Geek Pride Day. A day celebrating geekiness and all that comes with it. A day celebrating geeks in their many shapes and forms and colors. Tech geeks and band geeks and geeks that don wizard robes and go party it up with thousands of others in Chicago or Florida or wherever their portkeys take them. MyHogwarts.co.uk. The Sims 3 Harry Potter Downloads for your Game. TEDxTransmedia 2011 - Andrew Slack - The strength of a story. Harry Potter and the Half-Brick Lego. World's Biggest Harry Potter Fan. MuggleNet | The World's #1 Harry Potter Site - Deathly Hallows Movie, The Wizarding World, JK Rowling, and much more.
FictionAlley. Chamber of Secrets - The Ultimate Harry Potter Community. Www.UniversHarryPotter.com | Là où la magie ne s'éteindra jamais. HPANA - Harry Potter News and Rumors - Books, Movies and More. Harry Potter News, Books and Films.
---