Fans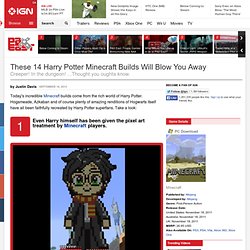 These 14 Harry Potter Minecraft Builds Will Blow You Away
Today's incredible Minecraft builds come from the rich world of Harry Potter. Hogsmeade, Azkaban and of course plenty of amazing renditions of Hogwarts itself have all been faithfully recreated by Harry Potter superfans. Take a look: Even Harry himself has been given the pixel art treatment by Minecraft players. Source: GissieGirl1313
The Harry Potter Alliance | The Weapon We Have is Love
Featured Chapter Meet our Chapters and see who's making a difference in their communities right now! We are an army of fans, activists, nerdfighters, teenagers, wizards and muggles dedicated to fighting for social justice with the greatest weapon we have-- love. Join us!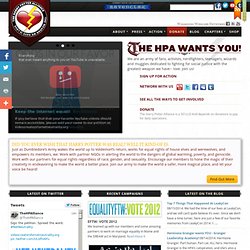 Facebook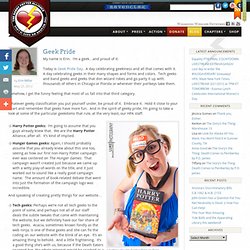 Geek Pride
My name is Erin. I'm a geek…and proud of it. Today is Geek Pride Day. A day celebrating geekiness and all that comes with it. A day celebrating geeks in their many shapes and forms and colors. Tech geeks and band geeks and geeks that don wizard robes and go party it up with thousands of others in Chicago or Florida or wherever their portkeys take them.
myHogwarts.co.uk
The Sims 3 Harry Potter Downloads for your Game
TEDxTransmedia 2011 - Andrew Slack - The strength of a story
Harry Potter and the Half-Brick Lego
World's Biggest Harry Potter Fan
MuggleNet | The World's #1 Harry Potter Site - Deathly Hallows Movie, The Wizarding World, JK Rowling, and much more
If you're a fan of YA, general book geekery or an aspiring writer (original or fanfiction!), Ascendio has the programming track for you! The Quill Track will be an entire track of programming (both formal and informal!) dedicated to all things books and writing. Best of all, the Quill Track is 100% included in your Ascendio registration!
FictionAlley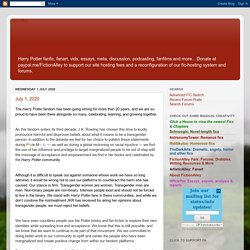 Chamber of Secrets - The Ultimate Harry Potter Community
Vous n'êtes, sans l'ombre d'un doute, pas passé à côté de THE annonce du prochain projet cinématographique basé sur l'univers de Harry Potter… Si si souvenez-vous ! Non, vraiment cela ne vous revient pas ?! Si c'est le cas, soit vous souffrez d'une virulente forme d'Éclabouille Cérébrume, auquel cas, on ne saurait trop vous recommander d'entrer en cure au sein de la Clinique Mnémosyne pour la Modification de la Mémoire !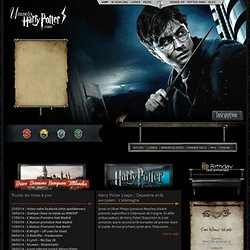 www.UniversHarryPotter.com | Là où la magie ne s'éteindra jamais
807 Muggles currently online Follow us @hpana on Twitter! a d v e r t i s e m e n t Be sure to visit Alivan's for the best Harry Potter wands and other great wizarding what-not!
HPANA - Harry Potter News and Rumors - Books, Movies and More
Happy Birthday Emma Watson! Posted by: Catherine April 15, 2014, 04:03 PM Today Emma Watson is celebrating her 24th birthday! Ms.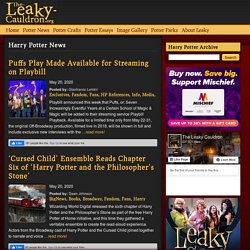 Harry Potter News, Books and Films