Harry Potter fanfiction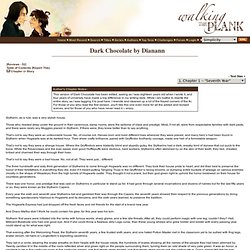 Slytherin, as a rule, was a very stylish house. Those who resided deep under the ground in their cavernous, damp rooms, were the epitome of class and prestige. Most, if not all, were from respectable families with dark pasts, and there were rarely any Muggles placed in Slytherin. If there were, they knew better than to say anything.
Dark Chocolate by Dianann
The Petulant Poetess :: Fiction Archive
InsaneJournal Tweak says, "breakup lines ftw" Username: Password: Remember Me Search by :
asylums.insanejournal.com/snape_potter/315883.html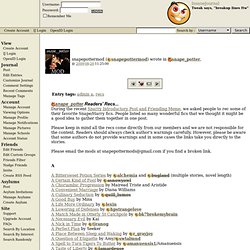 Author has written 27 stories for Harry Potter, Star Trek: 2009, Buffy: The Vampire Slayer, and Firefly. Believe it or not, it was The Half Blood Prince that made Snape's character intriguing to me and sent me in search of the fandom and its fan fiction. I saw plenty in the novel to make me believe the reader was being set up, and not all was what it seemed--so I went looking and found that others saw the same things I did.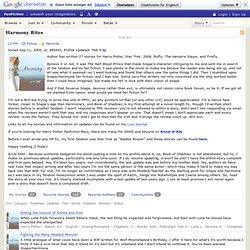 Harmony Bites
Pet Project Chapter 1: Default Chapter, a harry potter fanfic
Disclaimer: Neither Severus nor Hermione belong to me. Everything belongs to the JK Rowling. I only get to play in the sandbox she's provided.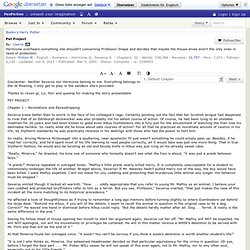 Author's Note: This is my first published attempt. I make no promises concerning its completion. Constructive feedback would be appreciated. Thank you for reading. Chapter 1: Moonlight glinted off the towers of Hogwarts castle.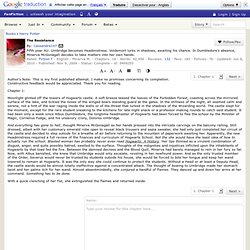 The Resistance Chapter 1, a harry potter fanfic
Note: If you wish to comment or subscribe to this site's news, please go to our blog, "Madam Pince's Potter Pages." Jo on BBC Radio 4 archive podcasts The BBC is releasing past episodes of some Radio 4 programmes as podcasts. These include Jo's appearance on Bookclub from August 1999 (partial transcript here) where she discusses Harry Potter and the Philosopher's Stone with James Naughtie and answers questions from a group of young readers, and her appearance on Desert Island Discs from November 2000 where she talks about her life, the 8 records she would choose to take to a desert island, Goblet of Fire and Rita Skeeter (who was originally going to appear in the first book and was going to be called Bridget). Posted 13th May 2012 by roonwit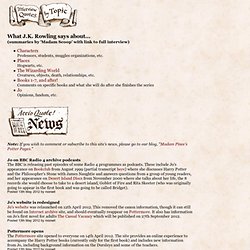 Accio Quote!, the Largest Archive of J.K. Rowling quotes on the web
The Petulant Poetess :: Fiction Archive
Truffles and Strawberries by chivarlic
What Goes Around... by melusin
This Time, by Subversa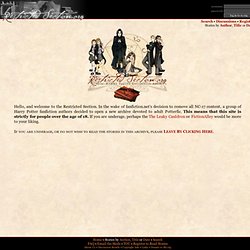 Hello, and welcome to the Restricted Section. In the wake of fanfiction.net's decision to remove all NC-17 content, a group of Harry Potter fanfiction authors decided to open a new archive devoted to adult Potterfic. This means that this site is strictly for people over the age of 18. If you are underage, perhaps the The Leaky Cauldron or FictionAlley would be more to your liking. If you are underage, or do not wish to read the stories in this archive, please Leave By Clicking Here.
RestrictedSection.org
Ink Stained Fingers - Main Page
© Hawthorn & Vine 2010-2014. All rights reserved. accioDHR. Back to top.
Hawthorn and Vine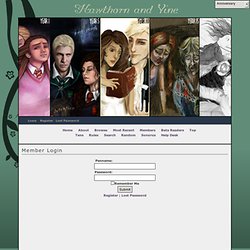 If you're a fan of YA, general book geekery or an aspiring writer (original or fanfiction!), Ascendio has the programming track for you! The Quill Track will be an entire track of programming (both formal and informal!) dedicated to all things books and writing. Best of all, the Quill Track is 100% included in your Ascendio registration! Ascendio is the eighth event put on by HPEF, a nonprofit organized by Harry Potter fans to put on amazing, educational and fun events for fans, academics, writers, authors, Quidditch players, debaters, and anyone who loves discussing - or has been inspired by - the Harry Potter series of books and films.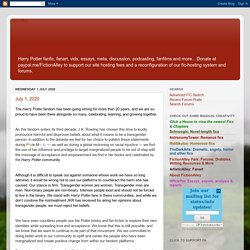 FictionAlley - Creativity is Magic!
Potions and Snitches
A site dedicated to Severus Snape and Harry Potter Gen relationships; Father and son, mentor, guardian, master and apprentice, enemy, canon. Forums, communities, fanfiction, chat, and more. Harry Potter belongs to J.K.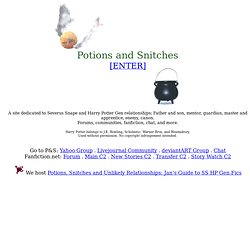 adultfanfiction.net
adult-fanfiction.org is not in any way associated with or related to FanFiction.Net The views, activities, and lifestyles portrayed in these fictional not-for-profit stories in no way reflect the opinion, activities, or lifestyle of the WebMasters or the majority of the AFF Community. Each original story's copyright is held by the Author of the story and you should contact that Author with any questions or comments on their work.
Sycophant Hex is a site for quality Harry Potter fanfiction, and we are delighted to provide this service to you free of charge. Though our character-centric categories focus on the Harry Potter universe, our Chaos archive also welcomes other fandom works and original pieces. All work submitted is screened by a team of Administrators, helping Sycophant Hex to maintain its reputation for readability in the world of fanfiction.
Home - Sycophant Hex
After researching all of the available options and doing careful consideration, I've decided to reopen the donations for Sycophant Hex. The funds go right to the dedicated paypal account set up solely for Sycophant Hex. We currently have enough in the account for the 2014 fees, which are $290 this year. However I've had numerous people requesting that the donation widget be placed back up as they'd like to continue to help ensure that Sycophant Hex has a long, healthy future. I would like to say to all of you, thank you kindly. Sycophant Hex has always been free to use, and it is because of your generous nature that we are able to continue to support a place where you can find the fan fiction you would like to read for free.
Occlumency :: A Severus Snape archive
Ashwinder :: To bewitch the mind and ensnare the senses
The Janus Thickey Ward by sophierom (Suggestive) On the Janus Thickey Ward, Hermione learns that imperfection is good enough... The Coward's Kiss by madamelecourayer (Brazen) Gryffindors are bold and courageous. Slytherins are cunning and ambitious. ... Morning Rite by Helena Rickman (Conservative) Earth, water, wind and fire combine to create a surreal moment....
Ashwinder :: To bewitch the mind and ensnare the senses
Morning Rite by Helena Rickman (Conservative) Earth, water, wind and fire combine to create a surreal moment.... The Purloined Revenge by Helena Rickman (Conservative) Hermione is in a dark place. Snape thinks he is rescuing her from it, but ... Dark Veela by kittyperry (Conservative) Severus Snape lies dying in the Shrieking Shack when he sees a vision of hi...
Blood Magic
Potions and Snitches :: Snape and Harry Gen Fanfiction Archive
Interactive -