Sixths sense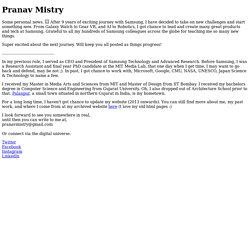 'SixthSense' is a wearable gestural interface that augments the physical world around us with digital information and lets us use natural hand gestures to interact with that information. We've evolved over millions of years to sense the world around us. When we encounter something, someone or some place, we use our five natural senses to perceive information about it; that information helps us make decisions and chose the right actions to take.
Array. Array. SixthSense : quand la réalité dépasse la fiction (et vice versa) - LMOUS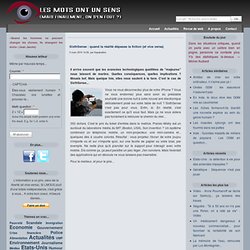 SixthSense : quand la réalité dépasse la fiction (et vice versa)
Avec « SixthSense », l'iPad fait déjà partie de l'histoire de l'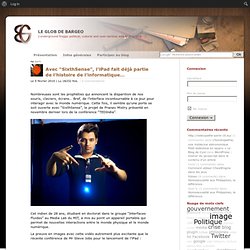 Nombreuses sont les prophéties qui annoncent la disparition de nos souris, claviers, écrans… Bref, de l'interface incontournable à ce jour pour interagir avec le monde numérique. Cette fois, il semble qu'une porte se soit ouverte avec "SixthSense", le projet de Pranav Mistry présenté en novembre dernier lors de la conférence "TEDIndia". Cet indien de 28 ans, étudiant en doctorat dans le groupe "Interfaces Fluides" au Media Lab du MIT, a mis au point un appareil portable qui permet de nouvelles interactions entre le monde physique et le monde numérique. La preuve en images avec cette vidéo autrement plus excitante que la récente conférence de Mr Steve Jobs pour le lancement de l'iPad : "SixthSense" a reçu le prix "Invention Award 2009″ décerné par le magazine américain "Popular Science", ainsi que le "Prix des jeunes innovateurs TR35″ par "Technology Review".
Skinput – Un clone de SixthSense développé par Microsoft Détournant l'idée géniale (et open source) de Pranav Mistry avec son système SixthSense que vous avez surement vu PARTOUT et qui consiste à se mettre autour du cou un petit appareil qui va projeter sur chaque objet / feuille de papier une véritable interface, vous permettant d'obtenir des infos, d'envoyer des emails, de téléphoner... ...Microsoft s'attaque à sa façon a un projet similaire qui s'appelle Skinput et qui projette sur la peau (de votre bras) une interface vous permettant de faire des choses assez similaires à ce que peut faire SixthSense, à la seule différence prêt que lorsque vous tapotez votre bras, le son produit est analysé pour savoir quel bouton vous avez cliqué.
Skinput – Un clone de SixthSense développé par Microsoft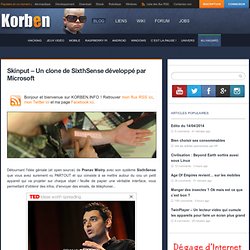 Skinput Turns Your Body Into a Touchscreen [VIDEO]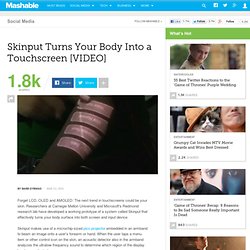 Forget LCD, OLED and AMOLED: The next trend in touchscreens could be your skin. Researchers at Carnegie Mellon University and Microsoft's Redmond research lab have developed a working prototype of a system called Skinput that effectively turns your body surface into both screen and input device. Skinput makes use of a microchip-sized pico projector embedded in an armband to beam an image onto a user's forearm or hand. When the user taps a menu item or other control icon on the skin, an acoustic detector also in the armband analyzes the ultralow-frequency sound to determine which region of the display has been activated.