HANDMADE
ЦВЕТЫ В ГЛИЦЕРИНЕ!!!
Fait à la main / Marina Swan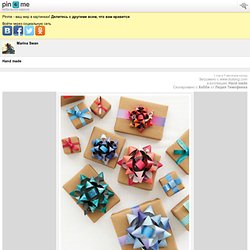 Aujourd'hui c'est DIY, ce week-end je me suis amusée à customiser un petit gilet H&M avec de la peinture à tissu. L'idée est toute simple, reproduire des coudières mais en forme de coeur sur chaque manches du gilet pour un petit look preppy mais version girly ♥ Alors on fait comment ? On attrape sa peinture à tissu, des pinceaux plus ou moins large pour faire les finitions, un crayon gris pour prendre les marques de son coude et bien sur son gilet. On commence par porter son gilet et on trace un rond au niveau de son coude pour délimiter l'emplacement du coeur.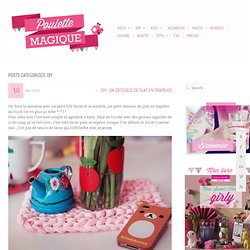 DIY – Poulette Magique
<div id="javascript-nag" class="notice"><p> Take full advantage of our site features by enabling JavaScript. <a href="http://www.etsy.com/help/article/372">Learn more</a>. </p></div>
Activity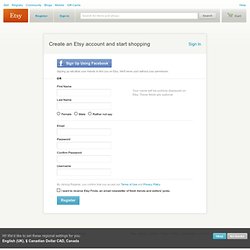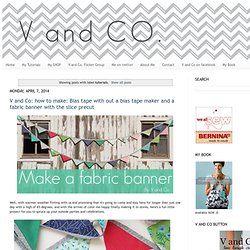 phew! well i said i would get this out on wednesday didn't i? i didn't mention that it might be at 11:59 on wednesday night...but with all the kids home for summer, that's how we're rolling today. anyways, here's my helpful hints for small hexagon paper piecing. i'll talk about getting your hexagons started, and then i'll finish with a more NON traditional finish by teaching you how to appliqué it onto a block, or in this case appliquéing it to the fabric used to make my little zipper pouch. you can keep making your hexagons using the first part of this tutorial and by using the how to attach them method i do, plus add a center if you want a more traditional flower project. i tend to be a little bit of a cross between the two so i went with my twist and i will show you how to appliqué your flower.
V et Co.: tutoriels
well first off, THANK YOU so much for the warm acceptance and love of my upcoming book. :) i'm excited. and i'm excited to see some of you in houston in october. make sure to say hello. i'll be the one with big DOE eyes trying to hide the fact that i'm about to puke. OKAY.so you all saw my first "sewing with ruffle fabric" when i made my skirt (which i think i'm going to be sporting at the Sewing Summit Conference when i'll be trying not to puke in front of people while i talk about "setting up the shot" ) well this time around i made a cute little tote...
V et Co.: tutoriels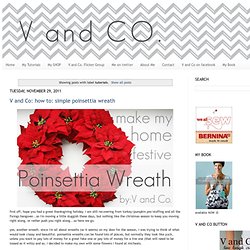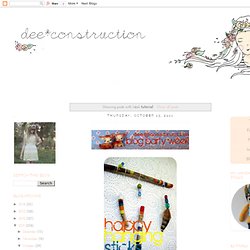 it's here!! at long last. if you have been waiting (and waiting!) for a tutorial on how i restyled The Blazer, this is as close as you'll get :) because i didn't really want 2 blazers i have basically done the same restyle, but on a hoodie for my daughter this time. i will primarily focus on the construction of the sleeves -
tutoriel
Tutoriels
Le Blog rose et bleu: Soyez votre propre designer: Cuff Bracelet bricolage Popsicle | Blog Lifestyle His and Hers | Alimentation, Mode, Design Blog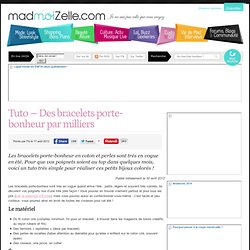 Les bracelets porte-bonheur en coton et perles sont très en vogue en été. Pour que vos poignets soient au top dans quelques mois, voici un tuto très simple pour réaliser ces petits bijoux colorés ! Publié initialement le 30 avril 2012 Les bracelets porte-bonheur sont très en vogue quand arrive l'été : petits, légers et souvent très colorés, ils décorent vos poignets nus d'une très jolie façon !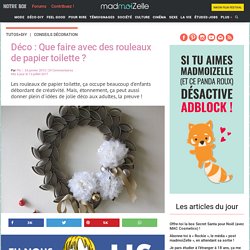 Les rouleaux de papier toilette, ça occupe beaucoup d'enfants débordant de créativité. Mais, étonnement, ça peut aussi donner plein d'idées de jolie déco aux adultes, la preuve ! Dans le topic de réactions à mon dernier papier déco, une madmoiZelle faisait remarquer qu'elle aimait beaucoup tout ce qui était récupération de matériaux ingrats comme des rouleaux de Sopalin ou de papier toilette. Il ne m'en fallait pas plus pour aller faire une petite recherche dans le monde merveilleux de l'internet, voir ce qu'on me proposait.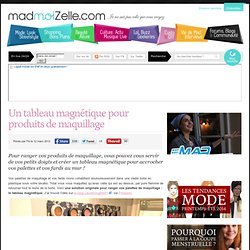 Un tableau magnétique pour produits de maquillage
Pour ranger vos produits de maquillage, vous pouvez vous servir de vos petits doigts et créer un tableau magnétique pour accrocher vos palettes et vos fards au mur ! Vos palettes de maquillage et vos fards mono cohabitent douloureusement dans une vieille boite en plastique sous votre lavabo. Total vous vous maquillez qu'avec celle qui est au dessus, par pure flemme de retourner tout le reste de la boite. Voici une solution originale pour ranger vos palettes de maquillage : le tableau magnétique. J'ai trouvé l'idée sur le blog Laurathoughts81, via Pinterest. — Source
Custo & déco : des accessoires de bureau colorés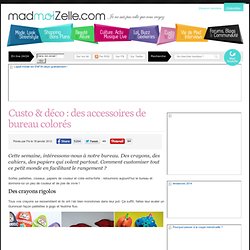 Cette semaine, intéressons-nous à notre bureau. Des crayons, des cahiers, des papiers qui volent partout. Comment customiser tout ce petit monde en facilitant le rangement ? Sortez paillettes, ciseaux, papiers de couleur et colle extra-forte : retournons aujourd'hui le bureau et donnons-lui un peu de couleur et de joie de vivre ! Des crayons rigolos
Etsy How-To: Fusible sacs en plastique!
Stepping Thru Crazy: Recycled Craft: Plastic Bag Beads
I've really been getting into making recycled crafts lately... and when I saw this, I knew I had to try it. Here's how I made myself a plastic-bag bead bracelet: I used: a plastic bagMod Podge (or any other glue)tapeplastic strawnail polishold t-shirt Start with a plastic bag.
DIY Steel & Ombre Ring Hey everyone! I have a quick tutorial up over at For the Makers today on how to make a ring from dark annealed steel wire from the hardware store (3!)
DIY |
a few of you have asked about the amazing rope swirl tapestries in our new store displays and you're in luck because one of our display artists put together a tutorial on how to make them! it looks like such a fun rainy day project. what you need: a large piece of cardboard, black marker, scissors, rope in various sizes and colors, neon twine, pompoms. use a variety of different colors and textures to create a fun swirl – these purple and orange tassels are just another piece of string woven in with the others! once you've got it down, you can make a whole bunch in different sizes and colors, to create a whole wall tapestry just like the ones in our stores :) i can't wait to try this! Be sure to check out our new DIY Projects category for more DIY Inspiration!
Tutorial: Recicle used cd's by *MizaoRocks