ONG :[Hyguey]
21.03.2014 Course solidaire Le challenge contre la Faim: l'événement sportif d'Action contre la Faim Depuis 7 ans, Action contre la Faim organise le Challenge contre la Faim, un événement sportif et solidaire qui réunit plus d'une centaine d'entreprises et leurs salariés pour collecter des dons et financer les programmes de l'association. Le 13 juin 2014, plus de 3000 personnes sont attendus pour courir, marcher mais pas uniquement ! En savoir plus 17.01.2014 Conférence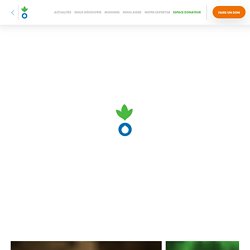 International Water Association - IWA
Consolidated Water - Cayman Islands, Caribbean
Consolidated Water Co. Ltd. (the "Company", or "CWCO") designs, builds, operates, and in some cases finances seawater reverse osmosis (SWRO) desalination plants and water distribution systems in several Caribbean countries, where the supply of drinking water is scarce and the use of SWRO is economically feasible. The Company was established in 1973 as a private water utility in Grand Cayman, the largest island in the Cayman Islands group, and obtained its first public utility license in the Cayman Islands in 1979.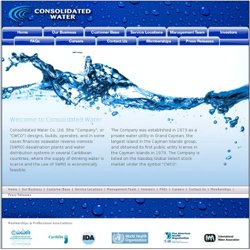 Hyflux Ltd. - Desal Yearbook
Hyflux is one of the world's leading fully-integrated water solutions companies, with operations and projects in Southeast Asia, China, India, the Middle East and North Africa. Hyflux's spirit of innovation and entrepreneurship drives its technological advancements in membranes, commercialisation of applications, project management, and operations and maintenance. Hyflux is committed to providing cost-effective, reliable and sustainable solutions to its customers worldwide in seawater desalination, water recycling, wastewater treatment, including membrane bioreactors (MBRs) and potable water treatment. Hyflux's track record includes Singapore's first NEWater plant and seawater desalination plant and China's largest membrane-based seawater desalination plant in Tianjin Dagang. The company is building the world's largest membrane-based seawater desalination plant in Magtaa, Algeria and Singapore's largest MBR.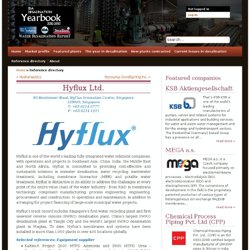 Grundfos | The full range supplier of pumps and pump solutions
International Desalination Association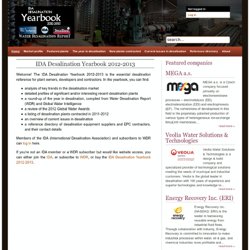 Home - Desal Yearbook
Industeel, company of ArcelorMittal Group, has a long tradition of expertise in the production of high quality special steel plates and prefabricated products for industrial equipments. Available over a complete dimensional range as plates or formed and profile-cut pieces, Industeel's special... Water & Waste Water Treatment Specialists Creating Resources Out of Waste Suido Kiko Middle East is a Jeddah based company that provides desalination, waste water treatment and recycling water treatment solutions in Saudi Arabia and the Gulf.
PAHO/WHO - OPS/OMS
Caribbean Desalination Association (CaribDA) - Home
The Caribbean Desalination Association (CaribDA) is a non-profit organization and represents members/sponsors from the Caribbean desalination and water reuse communities, utilities, industries, academia and government as well as individuals interested in water supply improvement in the Caribbean, specifically by means of desalination or water reuse. CaribDA welcomes interest from NGO's and students from all disciplines interested in desalination and water reuse. In addition, any person, firm, agency, or corporation from all over the world having ties or personal or commercial interest or aspirations in the region, engaged or interested in desalination or water reuse is eligible to become a General Member/Sponsor of the Association, subject to acceptance by the Board. CaribDA will encourage communication and liaisons with other water treatment associations in the region (i.e. CWWA, Global Water Partnership).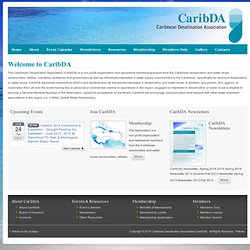 <div class="noscript-message"><p>It looks like JavaScript is either disabled or turned off. Please enable JavaScript to correctly view this web site.</p><p>Parece que JavaScript est&aacute; desactivado o apagado.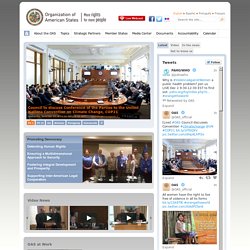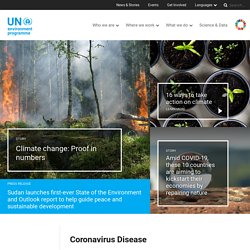 United Nations Environment Programme environment for development Environment in the News:
Global Water Partnership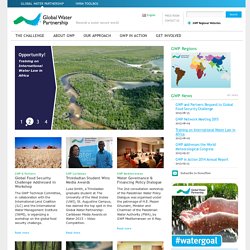 CaribbeanGWP Caribbean was formally established in May 2006. It has promoted reform of national development plans by encouraging an integrated approach to water and supporting countries in developing water policies.More about Caribbean regionCaribbean regional siteCentral AfricaGWP Central Africa was instrumental in assisting in the development of a regional water policy. As a neutral stakeholders platform for dialogue, GWP Central Africa will contribute to implementing the policy.More about Central Africa regionCentral Africa regional siteCentral AmericaGWP Central America's main endeavour is to improve water security by promoting harmonization and implementation of regional policy instruments.
WSSCC
Welcome to the Caribbean Environmental Health Institute (CEHI)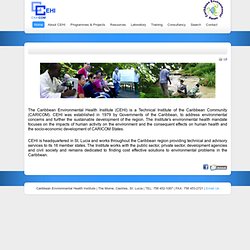 The Caribbean Environmental Health Institute (CEHI) is a Technical Institute of the Caribbean Community (CARICOM). CEHI was established in 1979 by Governments of the Caribbean, to address environmental concerns and further the sustainable development of the region. The Institute's environmental health mandate focuses on the impacts of human activity on the environment and the consequent effects on human health and the socio-economic development of CARICOM States.
April 2014 World Malaria Day 2014: Invest in the future. Defeat malaria Malaria still kills an estimated 627 000 people every year, mainly children under 5 years of age in sub-Saharan Africa. In 2013, 97 countries had on-going malaria transmission.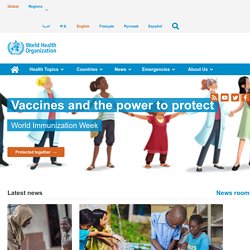 cueawi
The Caribbean Basin Water Management Programme, Inc. (CBWMP)
Welcome to Caribbean Water and Wastewater Association
CWWA/ACEPU