Hacking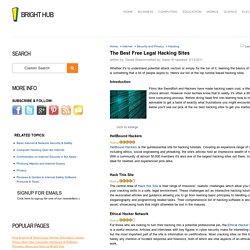 written by: Daniel Robson•edited by: Aaron R.•updated: 2/13/2011 Whether it's to understand potential attack vectors or simply for the fun of it, learning the basics of hacking is something that a lot of people aspire to.
Página principal - Garoa Hacker Clube
[ hana-code-insert ] 'default_post' is not found Hakin9 Magazine is a very good Security oriented Magazine with subjects that go from compliance and technical to hands on information. Hakin9 Magazine has just released its 2012 Exploiting Software Edition (April/2012) Issue. This month's Hakin9 Exploiting Software Magazine issue the magazine covers a lot of interesting articles
Hakin9 Magazine Exploiting Software April Issue |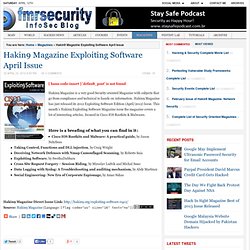 Phishing engagements they can uncover how susceptible are the employees of a company in this type of attack. The fact that almost anybody can implement very fast a phishing scam in order to obtain valid credentials and other sensitive information makes it important for companies to test the security awareness of their users and to include phishing exercises into their security testing program. Most of the times this type of attack is successful because it is exploiting the user trust in conjunction with the lack of security awareness of the user. However even though as a community through the years we have built frameworks and tools for almost every type of assessment we never had a tool which it will implement and manage a phishing engagement very fast, simple and with the stats that we need for our clients. Phishing Frenzy is here to close this gap and to assist the penetration testers that conduct phishing engagements.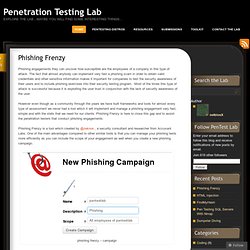 Penetration Testing Lab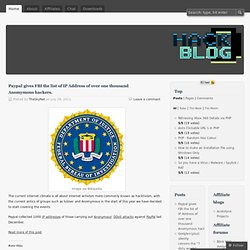 The Hack o blog
Paypal gives FBI the list of IP Address of over one thousand Anomymous hackers. Image via Wikipedia The current internet climate is all about internet activism more commonly known as hacktivism, with the current antics of groups such as lulzsec and Anomymous in the start of this year we have decided to start covering the events.
High Anonymous Proxies | Elite Proxies