HAARP
Iceland Under Attack? HAARP Activity Corresponds to Iceland Earthquake Swarms
(Before It's News) by Zen Gardner Can't say for sure, and many jump to the conclusion that every earthquake is the result of HAARP or other atmospheric heater activity. Haiti for example did have corresponding HAARP activity and other anomalies. Chile apparently did not. But checking a HAARP monitoring website after seeing the news about the heavy earthquake activity in Iceland, there's a clear correlation.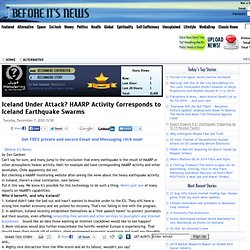 Navy test fires electromagnetic cannon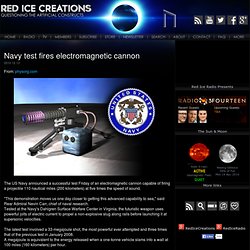 From: physorg.com The US Navy announced a successful test Friday of an electromagnetic cannon capable of firing a projectile 110 nautical miles (200 kilometers) at five times the speed of sound. "This demonstration moves us one day closer to getting this advanced capability to sea," said Rear Admiral Nevin Carr, chief of naval research. Tested at the Navy's Dahlgren Surface Warfare Center in Virginia, the futuristic weapon uses powerful jolts of electric current to propel a non-explosive slug along rails before launching it at supersonic velocities. The latest test involved a 33-megajoule shot, the most powerful ever attempted and three times that of the previous test in January 2008. A megajoule is equivalent to the energy released when a one-tonne vehicle slams into a wall at 100 miles (160 kilometers) per hour.
H A A R P Project Bluebeam part 1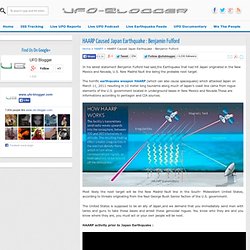 In his latest statement Benjamin Fulford had said,the Earthquake that had hit Japan originated in the New Mexico and Nevada, U.S. New Madrid fault line being the probable next target. The horrific earthquake weapon HAARP (which can also cause spacequake) which attacked Japan on March 11, 2011 resulting in 10 meter long tsunamis along much of Japan's coast line came from rogue elements of the U.S. government located in underground bases in New Mexico and Nevada.These are informations according to pentagon and CIA sources.
HAARP Caused Japan Earthquake : Benjamin Fulford |Latest UFO News| UFO 2011 Sightings|Alien Pictures|2011 Solar Flares|Disclosure Project|Web Bot
HAARP Detection and Imagine of Underground Structures Using ELF/VLF Radio Waves
Military Use of Silent Sound
http://www.stopos.info , a site providing information about organized stalking and electronic harassment in terms designed to inform the unaware general public Nexus Volume 5, Issue 6 October/November 1998 $25/6 issues/ 1 year 1998 Nexus New Times 888-909-7474 nexus@peg.apc.org -------------------------- EXCERPT: More in magazine. -------------------------- Military Use of Mind Control Weapons Judy Wall 1998 PSY-OPS WEAPONRY USED IN THE PERSIAN GULF WAR See also another article on this site. For years, rumours have persisted that the United States Department of Defense has been engaged in research and development of ultra-sophisticated mind- altering technology.
More Proof Mass Deaths Animals Connected to HAARP-like facilities Prt.2 [PatrioticSpace]