History
News
cDc releases Goolag Scanner (posted by MiB on Februari 20th, 2008)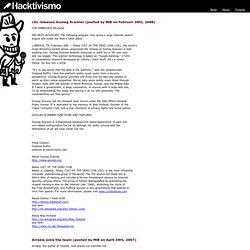 Cult of the Dead Cow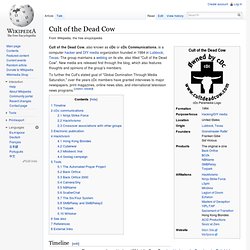 To further the Cult's stated goal of "Global Domination Through Media Saturation," over the years cDc members have granted interviews to major newspapers, print magazines, online news sites, and international television news programs.
'Hacktivists' of All Persuasions Take Their Struggle to the Web
The Intervasion of the UK was a 1994 electronic civil disobedience and collective action against John Major's Criminal Justice Bill which sought to outlaw outdoor dance festivals and "music with a repetitive beat". Launched by a group called The Zippies from San Francisco's 181 Club on Guy Fawkes Day, November 5, 1994, it resulted in government websites going down for at least a week.[1] It utilised a form of Distributed Denial of Service (DDoS) known as the Email bomb in order to overload servers as a form of online protest and Internet activism.[2] It was the first such use of the Internet and technology as a weapon of struggle and/or civil disobedience, and preceded the 1995 Italian NetStrike.
Intervasion of the UK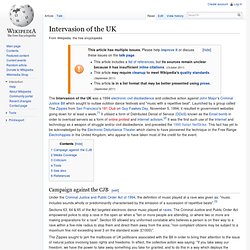 Legitimate civil disobedience: Wikileaks and the layers of backlash | Deanna Zandt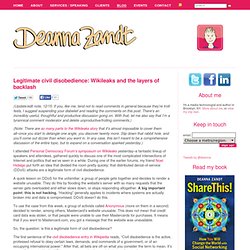 (Update/edit note, 12/15: If you, like me, tend not to read comments in general because they're troll-fests, I suggest suspending your disbelief and reading the comments on this post.
Wikileaks Infowar not the first online protest action | Medialternatives
The past week's DDOS protest campaign against websites and businesses which pulled the plug on Wikileaks brings back memories of the 1994 Intervasion of the UK .
Real hacktivism is at least as old as October 1989 when the US Deptartment of Energy and NASA machines world wide were penetrated by the anti-nuclear WANK worm.
Julian Assange: The Curious Origins of Political Hacktivism