Guitar Tabs
Wonderwall Oasis
3 am Matchbox 20
(6) Complete list of songs from Kelly Rosenthal's 25 Best Guitar Riffs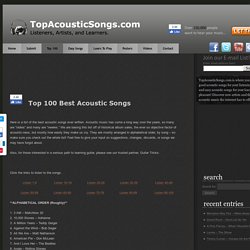 Here is a list of the best acoustic songs ever written.
Keith Urban - Youll Think of Me
Alica Keys - New York
The Fray - You Found Me
The Fray Heartless
Just Dance Chords (ver 2) by Lady Gaga
Miley Cyrus - See You Again
Ratatat - Loud Pipes
Santigold - Les Artistes
Gorillaz - DIrty Harry Riff
Taylor Swift - Love Story
Taylor Swift - You Belong WIth Me
Hot Hot Heat- GoodNight goodnight
Radiohead - Jigsaw Falling Into Place
Shania Twain - Still the One
The Blowers Daughter
Mumford & Sons Little Lion Man
Mumford & Sons WInter Winds
Mumford & Sons White Blank Page
The Black Keys - Meet Me in The CIty
Rihanna - Disturbia Riff
Free guitar lessons : Complete Beginners Method and loads of Blues, Jazz and rock : Learn how to play Guitar free here!
Neil Diamond - Cherry Cherry
Welcome to Free and Easy Guitar
Drop C: C G C F A D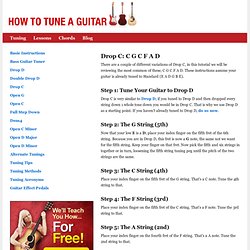 There are a couple of different variations of Drop C, in this tutorial we will be reviewing the most common of these, C G C F A D. These instructions assume your guitar is already tuned to Standard (E A D G B E).
The Black Keys - Ill be your man
Howie Day - Collide
The Academy Is - Attention
Im Yours Chords by Jason Mraz
You And I Both Chords (ver 3) by Jason Mraz
Spill Canvas - The Tide
Natalie Marie and 1cc
Beck Ramona
Staplegunned
No Doubt - Spider Webs
No Doubt - Dont SPeak