Guitar Lessons
Hi I've been trying to collect free guitar music lessons. Even text pages with scales or information on how to play are welcome:) Happy Pearling
Quick Lesson: gallows pole (Led Zeppelin) Play Blues Guitar - Guitar Lesson Talented Blonde Singer MTV The Hills. How to play lead electric blues guitar solo skills lesson. Ramble On Guitar Lesson. Learn guitar lesson Lynyrd Skynyrd les paul southern rock. Free acoustic online guitar lesson inspired by Led Zeppelin. Chaîne de bluesguitarunleashed. Learn to play Lead Blues Guitar licks and phrasing lesson. Beginner Acoustic blues rhythm guitar lesson on a Taylor. Learn Acoustic Guitar lesson embellish open cowboy chords.
How to Play Sweet Home Alabama on Guitar. Evolution of Games. Acoustic Blues Guitar Lesson - More Tasty Licks and Concepts. Van Morrison - Brown Eyed Girl - Super Easy Song Lesson on Acoustic Guitar. Free Guitar Lessons: Country Blues Fingerpicking : All About Syncopation & Blues Fingerpicking. Blues Guitar Scales - Acoustic - Ultimate E Blues Run. Slow Blues in E" taught by Stefan Grossman. Keith richards blues acoustic. Play A Classic Rock Guitar Solo - Guitar Lesson. Beginner Guitar Lessons : Acoustic Guitar Tricks and Embellishments to Practice. Acoustic blues scale - fun, easy beginner guitar. Korean child (Bo Gyung) guitar play of Al Hambra. Guitar Lesson: Blues Note Riffs. Acoustic Guitar Lesson EZ Blues Scale In E. Country Rhythm guitar lesson in the style of Johnny Cash.
Minor Blues Chord Progressions - Guitar Lesson. Blues Guitar Lesson: Am Pentatonic Licks. Justin's Easy Acoustic Solo Blues Lesson - Part 2 (Guitar Lesson) Eric Clapton/Tears in heaven. Guitar Improvisation. BB KING Best Solo Guitar King of Blues. Lead guitar learn wide soloing with Pentatonic blues scales. Pirates of the Caribbean [Main Theme] by hemo. Guitar Lesson - Speed Kills - No Boundaries. Blues Lesson - E Blues Scale Lick. Learn the Funk electric guitar lesson rhythm and strumming. Acoustic Blues guitar lesson spice up that bluesy playing. How to play lead blues guitar soloing over each chord lesson. B.B. King - Blues Boys Tune.
Beat It - Igor Presnyakov. D Minor Latin Improvisation. Learn Guitar online or in person @123 Music Lessons. 'Beast' the six-headed guitar. I thought having a good guitar is very cool but when I saw e 'Beast' a six-headed guitar I thought it is the ultimate.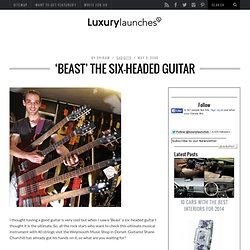 So, all the rock stars who want to check this ultimate musical instrument with 40 strings visit the Weymouth Music Shop in Dorset. Guitarist Shane Churchill has already got his hands on it, so what are you waiting for? The 'Beast' is available for £739 ($1447) at Weymouth Music Shop. Slow Blues Guitar Backing Track in A. Learn How to Write a Beginner Song : Songwriting: Structure. Acoustic guitar lesson - new strum pattern get rhythm. Learn 2 solo lead blues rock guitar major pentatonic scales.
The Rain Song - Led Zeppelin Acoustic Instrumental Cover. Free MP3 Jam Tracks Free Guitar Lesson AC DC style rhythm. Acoustic 12 bar blues beginner guitar lesson learn to play easy and fun.
---