Design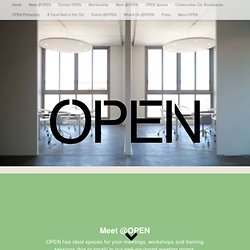 The way we work has changed. Workplaces need to change too. Many of us are autonomous professionals: we operate as free agents, in networks or as part of small companies. The kind of work we do doesn't fit into stifling cubicles, our home offices don't have the social interaction we crave, and coffee shops are too noisy and not private enough. Small company offices are limited in facilities and don't support connecting with others.
OPEN: an inspiring space to work in the heart of Joburg
The Lab Store
The Experiment Fund
Who can take advantage of The Experiment Fund? Everyone, regardless of university affilation, nationality, age, or prior experience. Read more about our Method. What kind of help can I expect?