Group letter project
To Polycarp | s i l o u a n. Translated by Cyril Richardson Along with the letter to the church of Smyrna, Ignatius wrote to its bishop, Polycarp.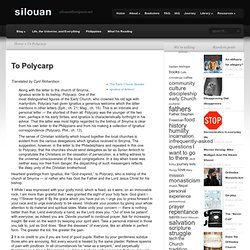 One of the most distinguished figures of the Early Church, who crowned his old age with martyrdom, Polycarp had given Ignatius a generous welcome which the latter mentions in other letters (Eph., ch. 21; Mag., ch. 15). This is an intimate and personal letter — the shortest of them all. The martyrdom of polycarp. Martyrdom of polycarp. Polycarp does not mean "many fish" | Defenders of the Catholic Faith | Hosted by Stephen K. Ray. In honor of the Feast Day of the Great Bishop and Saint Polycarp on February 23, we are doing special shows with Drew Mariani on Relevant Radio.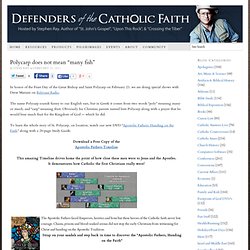 The name Polycarp sounds funny to our English ears, but in Greek it comes from two words "poly" meaning many or much, and "carp" meaning fruit. Obviously his Christian parents named him Polycarp along with a prayer that he would bear much fruit for the Kingdom of God — which he did. To learn the whole story of St. The Epistle of Polycarp to the Philippians. Polycarp of Smyrna: The Second Century Heretic Fighter. By COGwriter Who was Polycarp of Smyrna?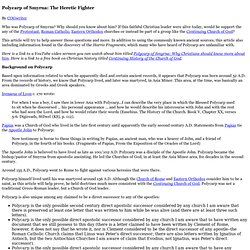 Why should you know about him?
---