Cleaning Recipes
Spring Breakup. Best face forward. It seems since puberty hit me like a ton of bricks as a teen-ager, I've been on the hunt for a way to clean my face without over-drying.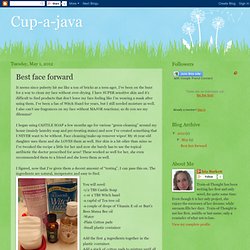 I have SUPER sensitive skin and it's difficult to find products that don't leave my face feeling like I'm wearing a mask after using them. I've been a fan of Witch Hazel for years, but I still needed moisture as well. I also can't use fragrances on my face without MAJOR reactions; so do you see my dilemma? I began using CASTILE SOAP a few months ago for various "green-cleaning" around my house (mainly laundry soap and pre-treating stains) and now I've created something that I NEVER want to be without.
Green Cleaning. Did you know that you can clean without spending a fortune on store bought cleaners?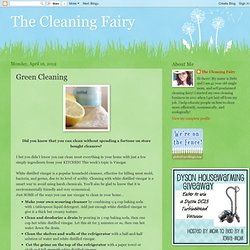 I bet you didn't know you can clean most everything in your home with just a few simply ingredients from your KITCHEN! This week's topic is Vinegar. White distilled vinegar is a popular household cleanser, effective for killing most mold, bacteria, and germs, due to its level of acidity. Baking Soda and Vinegar Scouring Powder Review – Does it Work? | Green Idea Reviews. 4 out of 5 leaves Powder cleanser and a rough sided sponge is often the weapon of choice against built up grime and stains on kitchen and bathroom surfaces.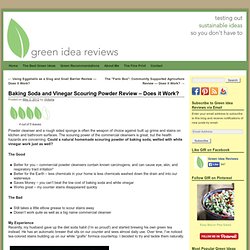 The scouring power of the commercial cleansers is great, but the health hazards are concerning. Could a natural homemade scouring powder of baking soda, wetted with white vinegar work just as well? Homemade vapour rub – or how to keep your spouse from giving you a long suffering look when you cough all night « lightlycrunchy. I'm a little late to the party – but I never knew that VapoRub works better on coughs when you rub it into the bottoms of your feet.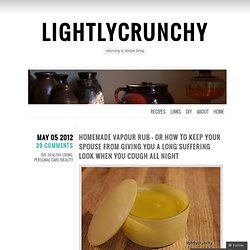 I really could have used that knowledge when the littles were littler. However, now I know. The feet have the most pores on the body so essential oils can easily penetrate the skin and absorb into the bloodstream fairly quickly. Apparently, it is one of the best ways to use essential oils, especially on babies and young children. HOW TO: Powdered Laundry Detergent. 496 Flares Twitter 8 Facebook 28 Pin It Share 455 455 StumbleUpon 0 Google+ 5 Email -- Email to a friend 496 Flares × My recipe for liquid laundry detergent is the best thing that's happened to my laundry routine, so when I finally ran out of my first batch, I was more than excited to make some more!
However, with my now 7 month baby hanging on my every limb I knew I didn't want to be handling boiling water around him. So I went on a search, made some tweaks, and came up with this great powdered detergent recipe! TTT: Turn Baking Soda into Washing Soda. Welcome to Week 6 of Tiny Tip Tuesday, and the first week of it's incarnation as a blog hop and carnival!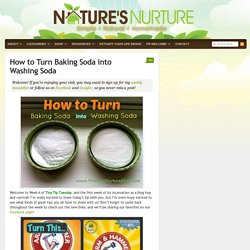 I'm really excited to share today's tip with you, but I'm even more excited to see what kinds of great tips you all have to share with us! Don't forget to come back throughout the week to check out the new links; and we'll be sharing our favorites on our Facebook page! Homemade Deodorant (That Works!) « Probably the best way to introduce yourself via guest post is to make sure that the first sentence references your arm pits.
My name is Jesyka. And this is a post about my arm pits. Homemade Citrus Vinegar Cleaner. A pretty picture of a jar of oranges flew around facebook a few months back.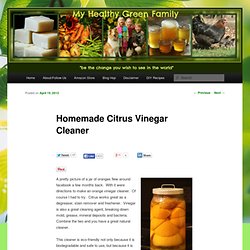 With it were directions to make an orange vinegar cleaner. Of course I had to try. Citrus works great as a degreaser, stain remover and freshener. Vinegar is also a great cleaning agent, breaking down mold, grease, mineral deposits and bacteria. Combine the two and you have a great natural cleaner. Laundry Soap. I became interested in making my own laundry soap as a creative/cooking/money-saving plan and found I quite enjoyed the result.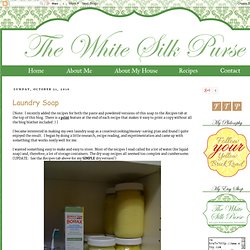 I began by doing a little research, recipe reading, and experimentation and came up with something that works really well for me. I keep my soap in quart-size canning jars with plastic lids and I have a long handled tablespoon I use to put the soap in the washer. I add the laundry soap as the washer is filling and rinse the soap into the washer from the spoon. Natural Cleaning: Lemon Dusting Cloths. Today I am going to share my super easy, and frugal, Lemon Dusting Cloths recipe.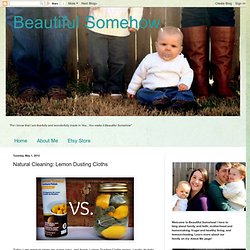 I really do hate to use Pledge. I hate the smell of it. I hate the way it cleans. I just all around don't like it. The Oh-So-Important HAIR Update. "No Poo" 30 Day Challenge. Okay so are you scared already? I am sure that by the title you are. Don't be, I haven't lost my mind...completely. What's the eco-friendliest way to clean a toilet? | Green cleaning | Queen of Green. Use white vinegar to disinfect and deodorize your toilet. (Credit: Microsoft Images) You must try my green cleaning recipe, called all-purpose powder. It's very easy to make—it only takes two ingredients. No 'Poo Update: Shampoo Free Living. The other evening, I met a woman who mentioned that she did the no 'poo thing, and we had a fun little bonding moment over it. That got me thinking that it's been a while since I stopped washing my hair with shampoo.
What is No Poo? Natural Cleaning Recipes with Essential Oils - Green Living. Related Content Herbs and Herbalists It's a constant battle: medicine versus herbs. This is how Marguerite got interested in herbs. Nearly everyone has heard about the virtues of common items such as baking soda and vinegar for scouring and absorbing grease. Adding herbal essential oils enhances a formula's cleaning value and leaves behind a soothing, natural scent. Green cleaning | Queen of Green | FAQs.
---