Green Architecture
Green Roof Collaborative - Office of Sustainability - Tufts University. Green Roof FAQs By Mara Gittleman What is a green roof?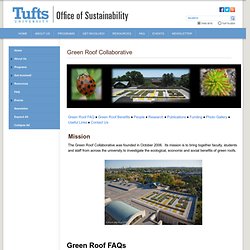 Green roofs are roofs with vegetation on them. They can be extensive, which means they have soil 2-6 inches thick and very short plants, or they can be intensive, which means they have at least 6 inches of soil and can hold a larger variety of plants. ELT Easy Green. Green Living Technologies, LLC - Green Walls and Green Roofs - Green Walls. Custom Initials Water Catch Basin 1' x 1' Deco Wall Covered Flowers (8X10)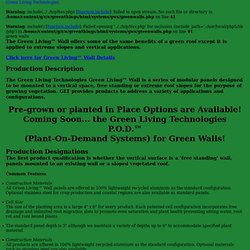 Gotham Greens :: Local and sustainable produce grown in the heart of NYC. New York Sun Works: The Science Barge. The Science Barge is a prototype, sustainable urban farm and environmental education center.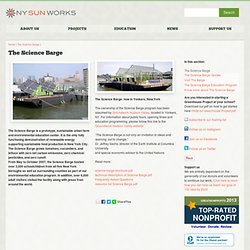 It is the only fully functioning demonstration of renewable energy supporting sustainable food production in New York City. The Science Barge grows tomatoes, cucumbers, and lettuce with zero net carbon emissions, zero chemical pesticides, and zero runoff.From May to October 2007, the Science Barge hosted over 3,000 schoolchildren from all five New York boroughs as well as surrounding counties as part of our environmental education program. In addition, over 6,000 adult visitors visited the facility along with press from around the world. BrightFarm Systems | Commercial design consultancy in rooftop greenhouses and building integrated agriculture. Big Box Farms. Home - Green Walls & Green Roofs - Plant Connection.
MotherPlants - A Green Roof for your Building. Emory Knoll Farms. Northeast Nursery, Inc. offers landscaping supplies, natural and veneer stone, landscape design services and plants to homeowners contractors and professionals in the New England area. Professional Program in Sustainable Design — UC Berkeley Extension. Green design will save the world | Inhabitat. Green building news -- Environmental building news -- Green energy and LEED news -- Green product news covered by GreenSource Magazine.
Creative Future Green Home Designs and Plans. What does a 21st century home look like?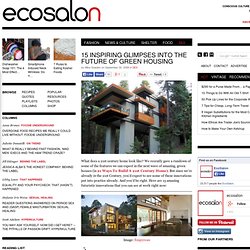 We recently gave a rundown of some of the features we can expect in the next wave of amazing, green houses (in 21 Ways To Build A 21st Century Home). But since we're already in the 21st Century, you'd expect to see some of these innovations put into practice already. And you'd be right. Here are 15 amazing futuristic innovations that you can see at work right now: Modular Manufacture. Veg.itecture - The Green Buildings Of The Future. Vegitecture. Digging through the archives based on the last couple of posts, I was definitely struck by the myriad shapes and sizes that these vertical farming proposals take and the overall excitement that has grown in a short amount of time.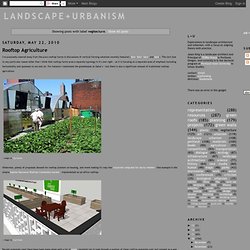 This caused me to want to dissect them a bit further in terms of form and function for growing food in efficient ways. First a bit of background from the 'invention' of vertical farming on this video featuring Dr. Malcolm Wells.com - underground buildings, earth sheltered architecture, energy efficient houses, passive solar... Green Roofs are Changing Architecture and Planning. Faroe Islands, Near Denmark Green roofs are not new; they have been used for thousands of years because they helped insulate, thrived in the sun instead of rotting, and other than the increased structure, they were cheap as, well, the dirt that they were planted in.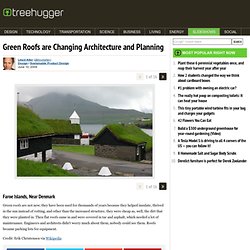 Then flat roofs came in and were covered in tar and asphalt, which needed a lot of maintenance. Engineers and architects didn't worry much about them; nobody could see them. Roofs became parking lots for equipment. Alive Structures: Green Roof and Ecological Garden Design/Build / New York. Green roofs. As I mentioned in the recent reckoning of the L+U blog, I wanted to focus on a number of recent texts that I've had the chance to delve into (by disconnecting myself from the nefarious teat of the RSS feeder) Of significance is finally getting around to expanding on the initial readings of the book Ecological Urbanism (check out Intro by Mohsen Mostafavi, 'Why Ecological Urbanism?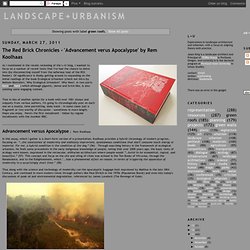 Why Now? , in two parts here and here) which although gigantic, dense and brick-like, is also yielding some engaging content. Thus in lieu of another option for a book with over 100+ essays and snippets from various authors, I'm going to chronologically post on each one on a mostly, time permitting, daily basis - in some cases just a fragment or two worthy of discussion - sometimes in more length. The Vertical Farm Project - Agriculture for the 21st Century and Beyond | www.verticalfarm.com.
The Problem By the year 2050, nearly 80% of the earth's population will reside in urban centers.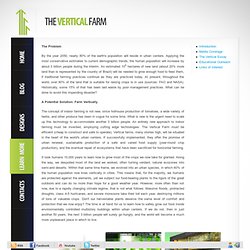 Applying the most conservative estimates to current demographic trends, the human population will increase by about 3 billion people during the interim. Urbanarbolismo Unveils Gorgeous Vertical Garden Set Within a Sweeping Ceramic Facade. We all know Ibiza is well known for its night life, but it may also become known for it's vertical gardens -- Spanish landscape experts Urbanarbolismo just completed a gorgeous living wall in the courtyard of the Ushuaia Ibiza Hotel.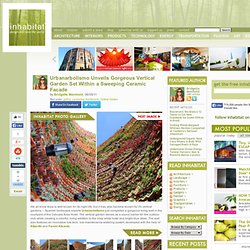 The vertical garden serves as a sound barrier for the outdoor club while creating a colorful, living addition to the crisp white hotel and bright blue skies. The wall also features an innovative low-tech, low-maintenance watering system developed with the help of Alijardín and Forest Alicante. The vertical garden was designed to create a sound barrier between the club's outdoor central courtyard and nearby apartments. Clean Air through Green Roofs. Do it Yourself - Living Walls and Vertical Gardens. Lately, the idea of green walls has become very fashionable.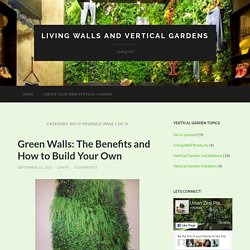 Either part of a building or free standing, this sustainable innovation is healthy and great to look at. Also known as living walls, these vertical gardens are packed with flora that benefits everything from our lungs to our ears! Cinderfella's Vertical Garden Planter | Urban Gardens | Unlimited Thinking For Limited Spaces. July 15, 2011 by Robin Plaskoff Horton Zac Benson's got a bad succulent collecting habit. The San Diego-based photographer says his girlfriend, who shares his love of these "fat plants," would for Valentine's Day "way rather have nice a Kalanchoe Beharensis a.k.a.
Felt Plant" than a dozen roses. Mini Vertical Garden for Balcony, Patio, or Kitchen | Urban Gardens | Unlimited Thinking For Limited Spaces. May 27, 2011 by Robin Plaskoff Horton Looking for a living wall or vertical garden system to screen your balcony while you grow veggies, fresh aromatic herbs, or flowers either indoors or out? The modular system is great for creating a small green wall or larger vertical garden on the terrace or in the kitchen. Minigarden's contemporary design is a fresh take on vertical gardening for for patios, decks, rooftops, and even for surrounding windows or covering an unsightly fence.
---