Green Architecture
Green Roof Collaborative - Office of Sustainability - Tufts University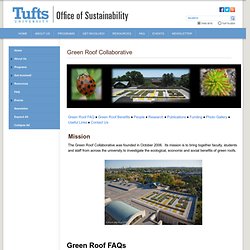 Green Roof FAQs By Mara Gittleman What is a green roof? Green roofs are roofs with vegetation on them. They can be extensive, which means they have soil 2-6 inches thick and very short plants, or they can be intensive, which means they have at least 6 inches of soil and can hold a larger variety of plants.
About Us Specializing in living, sustainable building technologies such as green roofs and living walls; beginning in 2001 ELT consulted and installed a variety of green roof systems enabling us to identify reoccurring obstacles in the green roof industry – flexibility, cost, and weight. Designing our green roof system to address these issues provides the end user a system with maximum benefits in the most cost effective manner possible.
ELT Easy Green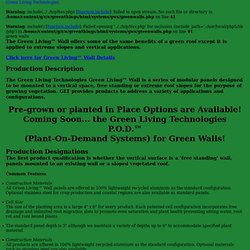 Custom Initials Water Catch Basin 1' x 1' Deco Wall Covered Flowers (8X10)
Green Living Technologies, LLC - Green Walls and Green Roofs - Green Walls
The Science Barge is a prototype, sustainable urban farm and environmental education center. It is the only fully functioning demonstration of renewable energy supporting sustainable food production in New York City. The Science Barge grows tomatoes, cucumbers, and lettuce with zero net carbon emissions, zero chemical pesticides, and zero runoff.From May to October 2007, the Science Barge hosted over 3,000 schoolchildren from all five New York boroughs as well as surrounding counties as part of our environmental education program. In addition, over 6,000 adult visitors visited the facility along with press from around the world.
New York Sun Works: The Science Barge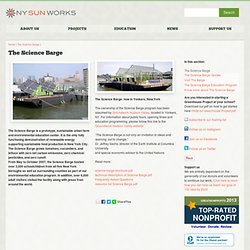 BrightFarm Systems | Commercial design consultancy in rooftop greenhouses and building integrated agriculture
Big Box Farms
Home - Green Walls & Green Roofs - Plant Connection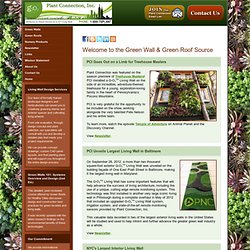 PCI Goes Out on a Limb for Treehouse Masters Plant Connection was featured on the season premiere of Treehouse Masters! PCI installed a G-O2TM Living Wall on the side of an incredible, adventure-themed treehouse for a young, exploration-loving family in the heart of Pennsylvania's Pocono Mountains.
Motherplants is a certified woman-owned nursery in New York, dedicated to growing plants for green roofs. Established in 2005, we specialize in the drought-tolerant, shallow rooted species adapted to extensive and semi-extensive living roofs. We also specialize in native plants for green roofs in the Northeast region. We have a large variety of plants species in stock, and are happy to custom grow species for your project.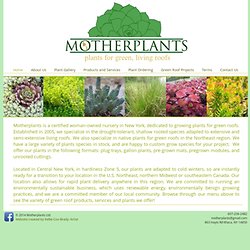 MotherPlants - A Green Roof for your Building
National Reach Through our network of trusted, experienced grower-partners; Emory Knoll Farms can deliver to most of North America, from within the 500 mile LEED requirement. We provide a single point of contact and can deliver plants for locally, regionally, and nationally-based customers. And of course, this means the same commitment to quality, service, and horticultural expertise that has made us the national leader for Green Roof Plants.
Emory Knoll Farms
Northeast Nursery, Inc. offers landscaping supplies, natural and veneer stone, landscape design services and plants to homeowners contractors and professionals in the New England area.
Professional Program in Sustainable Design — UC Berkeley Extension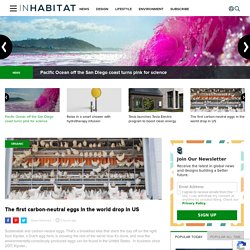 Children in school today spend less time outdoors than ever before, and face increasing rates of obesity, asthma and allergies, ADHD, and other mental and behavioral health problems. At the same time, our civilization is facing catastrophic climate change, which we as a society are totally unequipped to deal with. So how can we improve our children's health and well-being while also teaching them environmental literacy so that they are able to respond to looming ecological problems?
Green building news -- Environmental building news -- Green energy and LEED news -- Green product news covered by GreenSource Magazine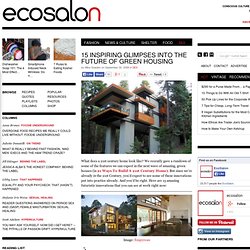 What does a 21st century home look like? We recently gave a rundown of some of the features we can expect in the next wave of amazing, green houses (in 21 Ways To Build A 21st Century Home). But since we're already in the 21st Century, you'd expect to see some of these innovations put into practice already. And you'd be right. Here are 15 amazing futuristic innovations that you can see at work right now: Modular Manufacture.
Creative Future Green Home Designs and Plans
Veg.itecture - The Green Buildings Of The Future
vegitecture
Digging through the archives based on the last couple of posts, I was definitely struck by the myriad shapes and sizes that these vertical farming proposals take and the overall excitement that has grown in a short amount of time. This caused me to want to dissect them a bit further in terms of form and function for growing food in efficient ways. First a bit of background from the 'invention' of vertical farming on this video featuring Dr.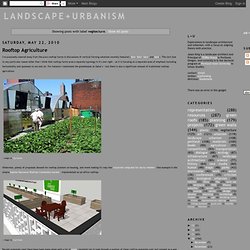 Malcolm Wells.com - underground buildings, earth sheltered architecture, energy efficient houses, passive solar...
A few notes about this web site: This site is created by Wendy M. Mathias and hosted by Blue Reef Internet Services, with the permission, help, and encouragement of Malcolm Wells, although he will deny taking any part in this endeavor, other than being an amused bystander.
Faroe Islands, Near Denmark Green roofs are not new; they have been used for thousands of years because they helped insulate, thrived in the sun instead of rotting, and other than the increased structure, they were cheap as, well, the dirt that they were planted in. Then flat roofs came in and were covered in tar and asphalt, which needed a lot of maintenance. Engineers and architects didn't worry much about them; nobody could see them. Roofs became parking lots for equipment.
Green Roofs are Changing Architecture and Planning
Alive Structures: Green Roof and Ecological Garden Design/Build / New York
As I mentioned in the recent reckoning of the L+U blog, I wanted to focus on a number of recent texts that I've had the chance to delve into (by disconnecting myself from the nefarious teat of the RSS feeder) Of significance is finally getting around to expanding on the initial readings of the book Ecological Urbanism (check out Intro by Mohsen Mostafavi, 'Why Ecological Urbanism? Why Now?, in two parts here and here) which although gigantic, dense and brick-like, is also yielding some engaging content. Thus in lieu of another option for a book with over 100+ essays and snippets from various authors, I'm going to chronologically post on each one on a mostly, time permitting, daily basis - in some cases just a fragment or two worthy of discussion - sometimes in more length.
green roofs
The Vertical Farm Project - Agriculture for the 21st Century and Beyond | www.verticalfarm.com
Urbanarbolismo Unveils Gorgeous Vertical Garden Set Within a Sweeping Ceramic Facade
Clean Air through Green Roofs
Cinderfella's Vertical Garden Planter | Urban Gardens | Unlimited Thinking For Limited Spaces
Mini Vertical Garden for Balcony, Patio, or Kitchen | Urban Gardens | Unlimited Thinking For Limited Spaces