Grasshopper_
I interviewed novelist Sol Yurick back in March 2009. Rather than publish the interview on BLDGBLOG as I should have, however, I thought I'd try to find a place for it elsewhere, and began pitching it to a few design magazines. Yurick, after all, was the author of The Warriors—later turned into the cult classic film of the same name, in which New York City is transformed into a ruined staging ground for elaborately costumed gangs—and he was a familiar enough figure amidst a particular crowd of underground readers and independent press aficionados, those of us who might gravitate more toward Autonomedia pamphlets, for example, where you'd find Yurick's strange and prescient Metatron: The Recording Angel, than anything on the bestseller list.
Digital Architecture: Passage Through Hinterlands - Ruairi Glynn & Sara Shafiei
Rhino Grasshopper - Patterning with 2 Attractor Points | Design Reform
Discover the Possibilities SITEOPS® is ground-breaking 3D civil/site design software that lets you bring your ideas to life in a fraction of the time it takes with CAD products. Give your clients more up-front options by utilizing our cost effective optimizing tools, found in our grading and storm water and site layout modules. Make smart, measurable, and defendable design decisions while you create and revise site designs in real time. Once you experience the power of SITEOPS, you won't be able to work without it!
Land Development Software | SITEOPS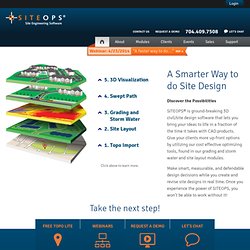 Columbia GSAPP - ReThinking BIM - Spring 2011 | designbymany.com
Meteorites rain down. The drizzle of rock has become no more strange than water falling from the sky every winter; the astronomer the new... Interlocking modular staging and risers for promotions.
Rhino Grasshopper training video - Parametric Truss Update | Design Reform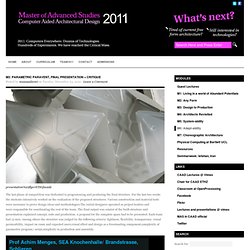 M3: Parametric Paravent, final presentation + critique : MAS CAAD ETHZ 2010-2011 · ITA(Institute of Technology in Architecture), Faculty of Architecture ETH Zurich
M3: Parametric Paravent, final presentation + critique Posted by mascaad2010 on Tuesday, November 23, 2010 · Leave a Comment presentation%20flyerETH1facade The last phase of competition was dedicated to programming and producing the final structure. For the last two weeks the students intensively worked on the realization of the proposed structures.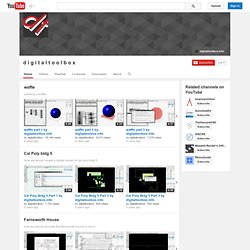 Chaîne de digitaltoolbox
Welcome to YouTube! The location filter shows you popular videos from the selected country or region on lists like Most Viewed and in search results.To change your location filter, please use the links in the footer at the bottom of the page. Click "OK" to accept this setting, or click "Cancel" to set your location filter to "Worldwide".
This is an outdated tutorial. If you are using a more recent version of grasshopper please watch this video instead - http://designreform.net/2011/03/rhino-grasshopper-parametric-truss-update In this Grasshopper video, we will create a parametric truss system by generating and manipulating components and instantiating them onto a lofted geometry.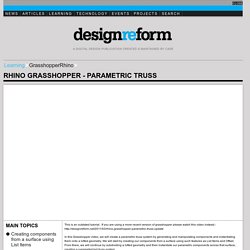 Rhino Grasshopper Video Tutorial- Tower Tutorial Part 01 | Design Reform
untitled
BIM, PARAMETRICS, and ALGORITHM DESIGN
hey guys, i have been searching the forum for information on applying random points to a surface, to create a split surface voronoi. something along the lines of this
Voronoi on surface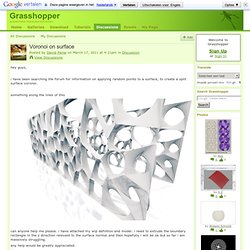 Tutorial 3 - Reciprocal Systems - AAET
LEGil Design » Archive » Rhombic Disphenoid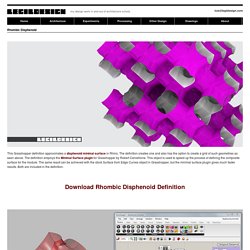 This Grasshopper definition approximates a disphenoid minimal surface in Rhino. The definition creates one and also has the option to create a grid of such geometries as seen above. The definition employs the Minimal Surface plugin for Grasshopper by Robert Cervellione. This object is used to speed up the process of defining the composite surface for the module.
scroll down for the english version. versiunea [ro]: In cadrul manifestarilor legate de arhitectura parametrica si algoritmica domnul Neil Leach va sustine o conferinta in Sala Frescelor a UAUIM marti 18 mai 2010, ora 1230. Neil Leach este arhitect, curator si teoretician. A predat la unele dintre cele mai prestigioase scoli de arhitectura din lume precum SCI-Arc, Architectural Association,Columbia GSAPP, Cornell University, Dessau Institute of Architecture, IaaC, London Consortium , Royal Danish School of Fine Arts, ESARQ, University of Nottingham,University of Bath si University of Brighton.. Cercetarea sa se dezvolta pe de o parte in jurul a unei teorii critice a arhitecturii, ce trece mai departe de limitele propuse si se inscrie intr-o critica culturala mai generala, fiind dez voltata intr-o serie de monografii si volume ce devin "manuale culturale" pentru teoria arhitecturala contemporana.
Digital Technology Architecture Lab