Grasshopper_
BLDGBLOG. Digital Architecture: Passage Through Hinterlands - Ruairi Glynn & Sara Shafiei. Patterning with 2 Attractor Points | Design Reform.
Land Development Software | SITEOPS. Columbia GSAPP - ReThinking BIM - Spring 2011 | designbymany.com. Latest activity | designbymany.com. Rhino Grasshopper training video - Parametric Truss Update | Design Reform. M3: Parametric Paravent, final presentation + critique : MAS CAAD ETHZ 2010-2011 · ITA(Institute of Technology in Architecture), Faculty of Architecture ETH Zurich. M3: Parametric Paravent, final presentation + critique Posted by mascaad2010 on Tuesday, November 23, 2010 · Leave a Comment presentation%20flyerETH1facade The last phase of competition was dedicated to programming and producing the final structure.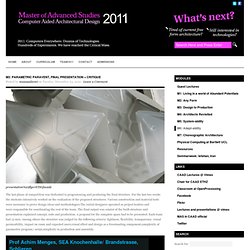 For the last two weeks the students intensively worked on the realization of the proposed structures. Chaîne de digitaltoolbox. Rhino Grasshopper Tutorial - Parametric Truss | Design Reform. This is an outdated tutorial.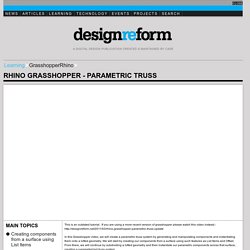 If you are using a more recent version of grasshopper please watch this video instead - In this Grasshopper video, we will create a parametric truss system by generating and manipulating components and instantiating them onto a lofted geometry. Rhino Grasshopper Video Tutorial- Tower Tutorial Part 01 | Design Reform. Untitled. BIM, PARAMETRICS, and ALGORITHM DESIGN. Voronoi on surface. Hey guys, i have been searching the forum for information on applying random points to a surface, to create a split surface voronoi. something along the lines of this.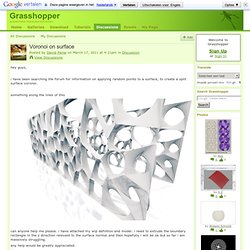 Tutorial 3 - Reciprocal Systems - AAET. Grasshopper « un didi. Archive » Rhombic Disphenoid. This Grasshopper definition approximates a disphenoid minimal surface in Rhino.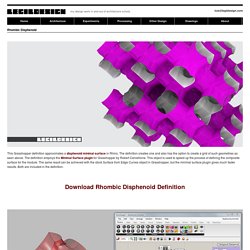 The definition creates one and also has the option to create a grid of such geometries as seen above. The definition employs the Minimal Surface plugin for Grasshopper by Robert Cervellione. This object is used to speed up the process of defining the composite surface for the module. Digital Technology Architecture Lab.
---