Grasshopper_
Digital Architecture: Passage Through Hinterlands - Ruairi Glynn & Sara Shafiei
Books | Interactive Architecture dot Org
In this Rhino / Grasshopper video tutorial we expand on a previous video from the site, Rhino - Patterning Based on Point Distance with Grasshopper . The idea is to use 2 points rather than one.
Rhino Grasshopper - Patterning with 2 Attractor Points | Design Reform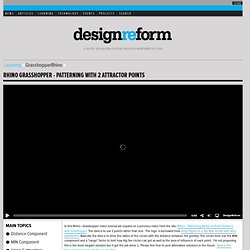 Land Development Software | SITEOPS
Columbia GSAPP - ReThinking BIM - Spring 2011 | designbymany.com
latest activity | designbymany.com
Rhino Grasshopper training video - Parametric Truss Update | Design Reform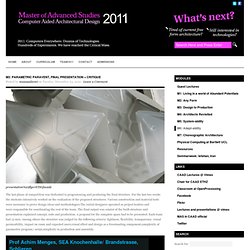 M3: Parametric Paravent, final presentation + critique : MAS CAAD ETHZ 2010-2011 · ITA(Institute of Technology in Architecture), Faculty of Architecture ETH Zurich
M3: Parametric Paravent, final presentation + critique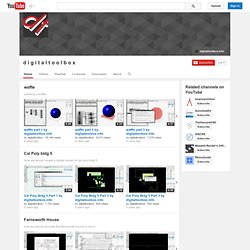 Chaîne de digitaltoolbox
Welcome to YouTube! The location filter shows you popular videos from the selected country or region on lists like Most Viewed and in search results.To change your location filter, please use the links in the footer at the bottom of the page. Click "OK" to accept this setting, or click "Cancel" to set your location filter to "Worldwide".
This is an outdated tutorial. If you are using a more recent version of grasshopper please watch this video instead - http://designreform.net/2011/03/rhino-grasshopper-parametric-truss-update In this Grasshopper video, we will create a parametric truss system by generating and manipulating components and instantiating them onto a lofted geometry.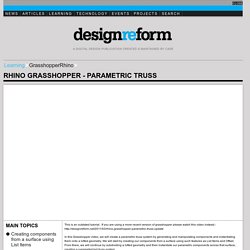 Rhino Grasshopper Video Tutorial- Tower Tutorial Part 01 | Design Reform
untitled
Bio Mohamed Mansour El Sheikh
BIM, PARAMETRICS, and ALGORITHM DESIGN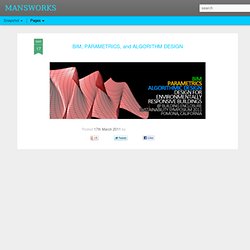 hey guys, i have been searching the forum for information on applying random points to a surface, to create a split surface voronoi. something along the lines of this
Voronoi on surface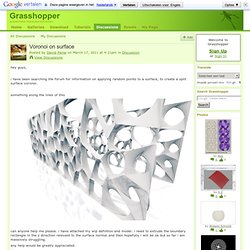 Tutorial 3 - Reciprocal Systems - AAET
More as a scripting experiment, when i was mucking about trying to make the delaunay triangulation work in grasshopper i somehow found the wonderfully complex qhull library which i promptly set to push and pull to get it to work with grasshopper.
Parametric Architecture I: Lehrstuhl Architekturinformatik
LEGil Design » Archive » Rhombic Disphenoid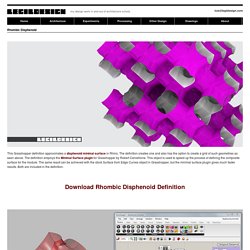 This Grasshopper definition approximates a disphenoid minimal surface in Rhino.
Veg.itecture
Digital Technology Architecture Lab