Typo
the everywhere font viewer myFontbook is a nifty new tool for viewing your font collection from your web browser. The font viewer allows you to easily review and catalog all of your installed fonts.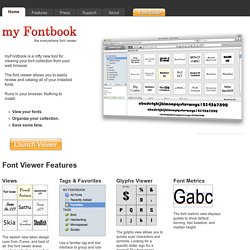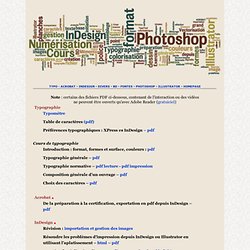 Serge Paulus - Didacticiels, Cours infographie, typographie
Note : certains des fichiers PDF ci-dessous, contenant de l'interaction ou des vidéos ne peuvent être ouverts qu'avec Adobe Reader (gratuiciel) Typographie Typomètre Table de caractères (pdf) Préférences typographiques : XPress vs InDesign – pdf Cours de typographie
Vector Graphics on the Web Using Fonts
NEW! FontLab Studio 5.2 for Windows with new features (create OpenType fonts with up to 65,535 glyphs, improved OpenType generation through FEA syntax 2.5, interpolated nodes, OpenType Layout features in Metrics Window, class kerning overlay preview, new Change Weight and Clean Up Paths operations, MM glyph blend preview, canvas notes, Python 2.7, improved user interface) and hundreds of bugfixes. Free upgrade for all Windows users of FontLab Studio 5 and AsiaFont Studio. Download the first Public Preview today!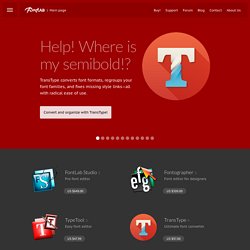 kirsle Posted by Noah Petherbridge on Wednesday, August 05 2009 @ 06:39:23 PM After posting my initial blog post about embedding fonts in a way that works with Internet Explorer and Firefox 3.5, a reader has informed me that he had some trouble running the ttf2eot program on Windows XP. So I've created a web-based converter tool to turn TrueType TTF fonts into OpenType EOT fonts, to go along with my other tools that turn images into favicons and turn images into XBM masks. You can use the new tool here.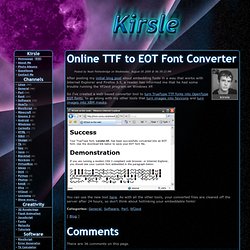 Online TTF to EOT Font Converter - Kirsle.net
type a word into the field above and click "load fonts" button The Process Choosing the ideal typeface for what you are trying to communicate can be frustrating with the available font browsing interfaces. Wordmark.it is designed to help with this font selection process by quickly displaying previews of any text with the fonts installed on your computer. Type a word or a phrase in the text box 1 and click the load fonts button.
Advertisement Every now and then we look around, select fresh high-quality free fonts and present them to you in a brief overview. The choice is enormous, so the time you need to find them is usually time you should be investing in your current projects. We search for them and find them so that you don't have to.