Graphisme
Toggle navigation What are you working on? Dribbble is show and tell for designers. Learn more Sign up ← Prev Next → Equipment Shop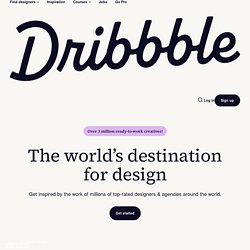 Home
identity | Happycentro
Le logo de la Galerie Nationale de Singapour ou le minimalisme à l'excès avril 17th, 2014 · by Lisa - Bedandy · No Comments National Gallery Singapore est une galerie d'art dont le lancement officiel est prévu en 2015 au coeur du centre-ville de Singapour. Elle intégrera deux monuments nationaux : l'ancien bâtiment de la Cour Suprême et l'Hôtel de Ville pour une surface d'environ 60 000 m2. Cette galerie présentera la plus grande collection publique au monde d'art moderne Lire la suite… Tags: Changement de nom · Changements de logos · Culture · Monde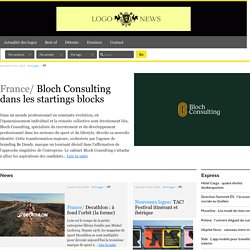 Bonus en papier « Inventaires imaginaires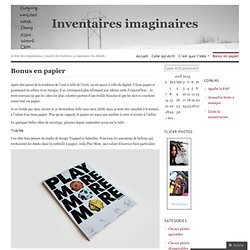 Après être passé de la tradition de l'oral à celle de l'écrit, on est passé à celle du digital. Vilain papier si gourmand en arbres et en énergie, il ne correspond plus tellement aux idéaux verts d'aujourd'hui… Je reste convaincue que les idées les plus colorées partent d'une feuille blanche et que les mot se couchent avant tout sur papier. Je ne boude pas mon clavier et je deviendrais folle sans mon ADSL mais je reste très sensible à le texture, à l'odeur d'un beau papier. Plus qu'un support, le papier est aussi une matière à créer et recréer à l'infini. Ici quelques belles idées de recyclage, glanées depuis septembre 2009 sur la toile. Une idée bien pensée du studio de design Trapped in Suburbia.
It's been a long time I didn't wrote any interview on Ceegee.fr, but when I thought about introducing the work of Robert Proch, I wanted to ask him some questions. These last months, we saw some pictures of this multidisciplinary artist form Poland buzzing around the web, mostly his huge street art works. Often at the borders of abstraction, the artist plays with colours and shapes, giving his compositions a very original point of vue and graphic style, with a striking touch.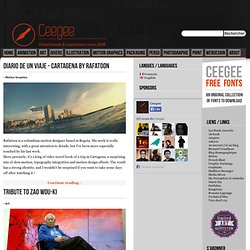 blog de tendances graphisme et inspiration : webdesign, graphisme, illustration, photographie, motion graphics, art, packaging, animation...
L'atelier de l'estuaire
Do It Yourself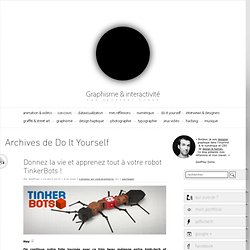 j'avais envie de faire le plein de bidouille, de DIY , d'Open Design, bref, je vous propose de quoi une petite mise à jour avec quatre projets passionnants : Open Design Now, The Book Le travail de Ben Pawle Le Pinterest du DIY L'Open Bidouille Camp La technologie offre la possibilité aux gens d'être plus autonomes et les outils pour créer et diffuser du contenu, des créations, etc.
J'affiche...! L'actualité en affiche par Geoffrey Dorne - Part 2
OFFF is the process to do a global rebrand to OFFF Festival and has decided to give you the opportunity to send your ideas. This is a big step for them and they would love to have you all involved in some way on this process. To make it more fun and spontaneous, you only have until next Sunday 5th September 2010 to send your idea/concept. What OFFF needs is: - New Logo for OFFF (with a solution to include subareas like " OFFF Logo + Atelier", " OFFF Logo + Ontour", or "OFFF Logo + F.C."), vector format. - New tagline (no more Post-Digital Creation Culture).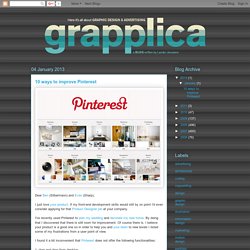 Grapplica is graphic design, social media and advertising.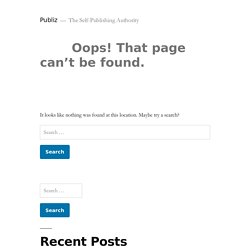 Rédigé par :: Grégory Catégorie :: dossier,Inspiration Le CV est un outil de présentation professionnelle obligatoire pour toute personne qui espère décrocher un job. Publiz vous aide à créer un CV original grâce à sa sélection de 50 modèles de CV créatifs. Document formel, le CV est un outil de présentation trop souvent consensuel et banal. Pourtant le Curriculum Vitae est généralement votre unique chance de vous démarquer face aux autres candidats au poste que vous convoitez.
Vizualize.me
Blog – Louise Fili Ltd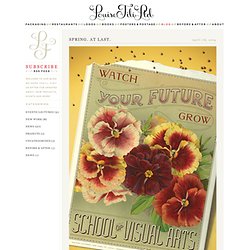 We love our collection of 1930s Italian pencil boxes. Our most preferred are the two-color, double-sided pencils, commonly in red and blue, for teachers to correct homework. ("Errore lieve, segno rosso; errore grave, segno blu": red for a minor infringement, blue for a serious offense.) When Princeton Architectural Press invited us to come up with a line of gift products, the two-tone pencils seemed perfect—thus the name. Steering clear of blue, our least favorite color, we opted for our signature red and black.
Blog – Louise Fili Ltd
Agence de communication interactive
Un pure player indépendant La technique au service de la création UZIK a été fondée en 2000 par Jean-Marie Tassy, polytechnicien (X 94). Dès le départ, l'agence se construit sur la conviction que l'avenir de la communication se joue sur le digital et que, pour maîtriser cet environnement, les agences doivent associer des profils créatifs et techniques. La cohabitation et le dialogue entre ces deux familles de métiers est sans doute un des points de différenciation majeurs de l'agence. Depuis sa création, UZIK a su devenir un acteur incontournable dans le paysage des agences interactives innovantes tout en restant un pure player indépendant.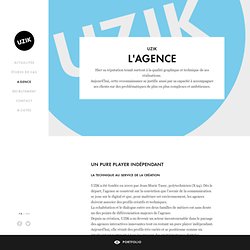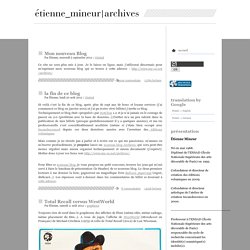 Cet été, j'ai un peu le temps d'écouter les nombreux PodCasts stockés dans mon iphone durant cette année, et je (re)découvre toutes une série de Podcasts vraiment intéressants et très variés. • Je vous conseille avant tout le l'émission de l'Agence tous Geeks n° 07, vous allez avoir Monsieur Post Carbone qui va vous expliquer le fonctionnement de nombreuses inventions, (du gramophone de Thomas Edison, au disque dur, en passant par la souris, le CDRom, et la disquette 3,5 pouces). Ce monsieur est un pédagogue de génie, il arrive à vous expliquer des choses très compliquées très simplement et avec passion, bref je vote pour que Post Carbon soit notre prochain ministre de l'éducation nationale (et de la recherche). • Il y a aussi une émission passionnante du nom de Pendant les travaux le cinéma reste ouvert concernant le cinéma.