Etudes comparatives
Onlive video business models - Youtube vs Hulu. Why aren't Amazon and Hulu shows playing on Netflix's level? When Netflix made television history this summer with its nine Emmy nominations for House of Cards, there was a lot of discussion about how the the show's victory represented a major breakthrough for digital content.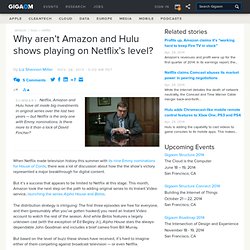 But it's a success that appears to be limited to Netflix at this stage. This month, Amazon took the next step on the path to adding original series to its Instant Video service, launching the series Alpha House and Betas. The distribution strategy is intriguing: The first three episodes are free for everyone, and then (presumably after you've gotten hooked) you need an Instant Video account to watch the rest of the season. Netflix vs. Hulu Plus.
For many people, streaming video services have started filling the gap between sitting in front of the TV when your favorite show comes on and getting a DVR.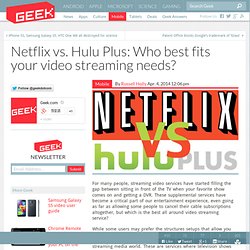 These supplemental services have become a critical part of our entertainment experience, even going as far as allowing some people to cancel their cable subscriptions altogether, but which is the best all around video streaming service? While some users may prefer the structures setups that allow you to flat out purchase entire seasons of television shows and movies, we're going to focus on the two most DVR-like services in the streaming media world. These are services where television shows appear the day after they have aired, allowing users to watch them and effectively discard them indefinitely. Hulu Plus and Netflix have become staples in many living rooms, and if you had to choose between them it could end up being a difficult decision for many. Netflix Instant vs. Hulu Plus vs. Amazon Instant Video.
---