Grammar
http://www.pearltrees.com/#/N-u=1_625211&N-p=35155566&N-s=1_4340
http://www.pearltrees.com/#/N-u=1_625211&N-p=35155566&N-s=1_4340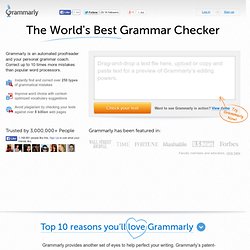 Instant Grammar Check - Online Proofreading | Grammarly
Gotcha! Grammarly texts are already correct You cannot improve on perfection. We have already proofread Grammarly website and fixed all mistakes. Please check another text or use a sample to see Grammarly in action. This text is too short.
Grammar check, proofreading, and copy editing service - Gramlee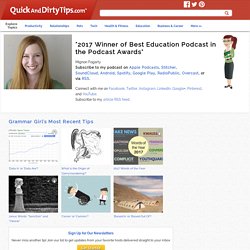 Mignon Fogarty is the creator of Grammar Girl and the founder and managing director of Quick and Dirty Tips. A magazine writer, technical writer, and entrepreneur, she has served as a senior editor and producer at a number of health and science web sites. She has a B.A. in English from the University of Washington in Seattle and an M.S. in biology from Stanford University. Mignon believes that learning is fun, and the vast rules of grammar are wonderful fodder for lifelong study.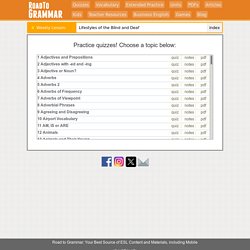 1 Adjectives and Prepositions 3 Adjectives with -ed and -ing 9 Agreeing and Disagreeing