Grammar
Instant Grammar Check - Online Proofreading | Grammarly. Grammar check, proofreading, and copy editing service - Gramlee. Paper Rater: Free Online Grammar Checker, Proofreader, and More. : Quick and Dirty Tips ™ Mignon Fogarty is the creator of Grammar Girl and the founder and managing director of Quick and Dirty Tips.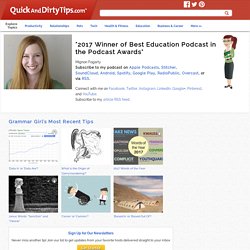 A magazine writer, technical writer, and entrepreneur, she has served as a senior editor and producer at a number of health and science web sites. She has a B.A. in English from the University of Washington in Seattle and an M.S. in biology from Stanford University. Mignon believes that learning is fun, and the vast rules of grammar are wonderful fodder for lifelong study. Learning. Grammar Practice Park.
Sunwukong. Road To Grammar -- Your Road to Better Grammar. Brandalism. Grammaropolis | Where grammar lives! Grammar Blast. Great Source iwrite - Students: Grammar Handbook. Grammar Bytes! Grammar Instruction with Attitude. Teachermarija. Grammar Ninja.
---