Informations
Villes de Thaïlande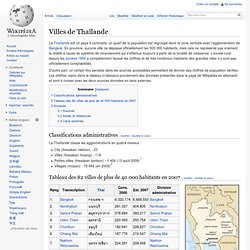 Un article de Wikipédia, l'encyclopédie libre. La Thaïlande est un pays à contraste, un quart de la population est regroupé dans la zone centrale avec l'agglomération de Bangkok. En province, aucune ville ne dépasse officiellement les 300 000 habitants, mais cela ne représente pas vraiment la réalité à cause du système de recensement qui s'effectue toujours à partir de la localité de naissance. L'exode rural depuis les années 1960 a complètement faussé les chiffres et de très nombreux habitants des grandes villes n'y sont pas officiellement comptabilisés. D'autre part, un certain flou persiste dans les sources accessibles permettant de donner des chiffres de population vérifiés.
Liste des îles de Thaïlande
Un article de Wikipédia, l'encyclopédie libre. Carte de Thaïlande La Thaïlande, contrairement à l'Indonésie ou aux Philippines qui comptent plusieurs milliers d'îles, est un pays continental. Elle possède deux façades maritimes, une à l'Ouest sur la Mer d'Andaman, partie du l'Océan Indien, l'autre à l'Est, constituant le golfe de Thaïlande dans la Mer de Chine méridionale. Au long de ces côtes, quelques centaines d'îles s'égrennent dont seules quelques dizaines sont peuplées d'une manière significative. Ces dernières sont souvent des centres touristiques importants.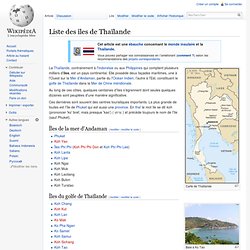 National Parks of Thailand, Thai National Parks, Khao lak, Doi Inthanon National Park, Mu Ko Surin National Park, Mu Ko Chang National Park, Khao Yai National Park, Nam Nao National Park, Phu Kradung National Park, Huai Nam Dang National Park, Thai Forest
Thai seafood, curry Kaeng phet pet yang: roast duck in red curry Thai cuisine is the national cuisine of Thailand. Blending elements of several Southeast Asian traditions, Thai cooking places emphasis on lightly prepared dishes with strong aromatic components. The spiciness of Thai cuisine is well known. As with other Asian cuisines, balance, detail and variety are of great significance to Thai chefs.
Thai cuisine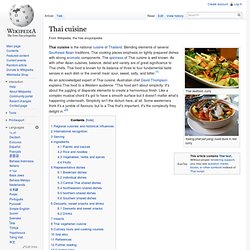 Faut-il faire un régime avant ou après les fêtes de fin d'année ?
Chicken in Pandan Leaves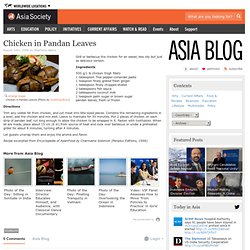 Little bundles of marinated chicken wrapped in pandan leaves and deep fried are very popular as an hors d'oeuvre. Grill or barbecue the chicken for an easier, less oily but just as delicious version. Ingredients 500 g/1 lb chicken thigh fillets 1 tablespoon Thai pepper-coriander paste 1 teaspoon finely grated fresh ginger 1 tablespoon finely chopped shallot 2 tablespoons fish sauce 2 tablespoons coconut milk 1 teaspoon palm sugar or brown sugar pandan leaves, fresh or frozen Directions Trim any visible fat from chicken, and cut meat into bite-sized pieces.
Un article de Wikipédia, l'encyclopédie libre. Le riz gluant, riz glutineux, riz collant ou riz doux, est la principale variété de riz produite et consommée par la population lao du Laos et du Nord-Est de la Thaïlande, régions qui sont considérées comme le berceau d'origine et de domestication du riz asiatique (Oryza sativa L.), et dans une grande partie de l'Indonésie. Il y est cultivé depuis 4 000 ans et représente environ 85 % de la production de riz au Laos. Le riz gluant se caractérise par sa teneur nulle (ou négligeable) en amylose et par sa teneur élevée en amylopectine, qui sont les deux composants de l'amidon. L'amylopectine est à l'origine du caractère collant du riz gluant.
Riz gluant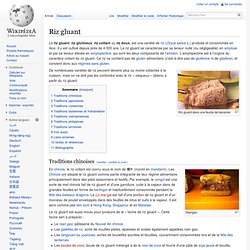 Sea bream with chilli, lime and ginger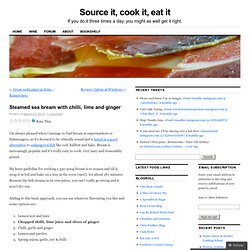 i Rate This I'm always pleased when I manage to find bream in supermarkets or fishmongers, as it's deemed to be ethically sound and is listed as a good alternative to endangered fish like cod, halibut and hake. Bream is increasingly popular and it's really easy to cook, very tasty and reasonably priced.
Thai curries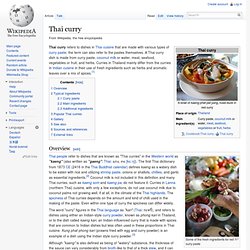 Thai curry refers to dishes in Thai cuisine that are made with various types of curry paste; the term can also refer to the pastes themselves. A Thai curry dish is made from curry paste, coconut milk or water, meat, seafood, vegetables or fruit, and herbs. Curries in Thailand mainly differ from the curries in Indian cuisine in their use of fresh ingredients such as herbs and aromatic leaves over a mix of spices.[1]
Soft shell crab with garlic chive flowers
Mmmm ... soft shell crab. This has to be one of my favourites. My cravings for this inexpensive seafood have been so strong lately I couldn't help but duck off to Chinatown over the weekend and pick up a box of these little critters as well as a few fresh ingredients to go with it.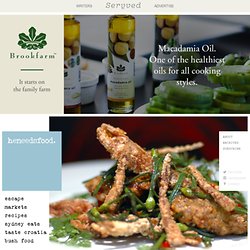 Thai Food - Papaya Salad
Papaya Salad som tam ส้มตำ Posted: 12th February 2005 One of my favourite meals, which is definately in my Top 10, is Som Tam, otherwise known as Papaya Salad. The meal is quite simple to make. The main ingredients are shredded green papaya, chopped green beans, tomoato, dried prawns, unsalted roasted peanuts, chillies, garlic and lime juice.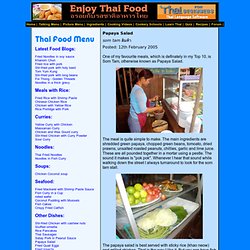 Ingredients 1 ripe pineapple, for serving rice (optional) 4 cups cooked longgrain rice, such as jasmine, chilled 3 tablespoons vegetable oil 1 small onion, finely diced 5 cloves garlic, chopped 1 tablespoon grated fresh ginger 1 cup blanched, sliced Chinese long beans 1/2 cup seeded, diced tomatoes 1 cup finely chopped fresh pineapple 3 tablespoons Thai fish sauce 1 teaspoon sugar 3 green onions, thinly sliced diagonally Directions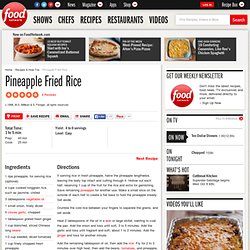 Pineapple Rice
Kasma's Thai Iced Tea Recipe Thai iced tea, Cha Yen or Chaa Yen in Thai, is a popular drink widely available in small restaurants and street stalls in across Thailand. This simple tea recipe comes from Kasma Loha-unchit, Thai cooking teacher and cookbook author. Directions for Ice Tea: "I make it using a traditional Thai tea steeper: it is a tubular filter made of white muslin or cotton attached around the top to a metal ring that has a handle.
Thai Iced Tea
Tom yam kung as served in Bangkok, Thailand Tom yam kung maphrao on nam khon, as served in Uttaradit, Thailand Tom yum or tom yam (Lao: ຕົ້ມຍຳ [tôm ɲam]; Thai: ต้มยำ, [tôm jam]) is a spicy clear soup typical in Laos and Thailand.
Tom yum Soup
Wednesday, 21 February 2007 18:52 Thai Recipe Stir-Fried Thai Noodles One of Thailand's best known noodle dishes.
Pad Thai
Thai Fruits
Thailand is popularly known as the "land of smiles", "land of yellow robes" and probably another popularity of Thailand is a land of tropical fruits as the country is blessed with a myriad of delicious tropical and temperate fruits which only vary depending on the season. Even though a fruit may not be in season, it can be found in candied or preserved form. Moreover, some fruit like grapes are even coached to bear fruit all year round. Indeed, Thailand is a paradise for those who love fruit. Generally Thai fruits are sweet including those which are traditionally sour such as santol and tamarind.
Thaïlande
Un article de Wikipédia, l'encyclopédie libre. Royaume de Thaïlande ราชอาณาจักรไทย (th) Ratcha Anachak Thai (th) La Thaïlande, en forme longue le Royaume de Thaïlande, en thaï Pratet Thaï, ประเทศไทย et Ratcha Anachak Thai, ราชอาณาจักรไทย, est un pays d'Asie du Sud-Est dont le territoire couvre 514 000 km2. Avant 1939, il s'appelait le Royaume de Siam.
Les sites et les Régions de Thaïlande.
Où partir en : les meilleures destinations de voyage
Liens et informations utiles pour préparer son voyage - MàJ : 09/06/11 - Thaïlande
Séjour en Thailande
la thailande avec des enfants :: Forum Thaïlande
voyage et séjour avec enfants - thailande - bangkok - chiang-mai - ayyuthaya - sukhothai | Avec Mes Enfants
Thèmes > Voyager avec des enfants > Voyage de quinze jours en Thaïlande avec deux jeunes enfants