[+]Another
Favi+ Postolog. PlusTo - beta. Google+Facebook. Google+Tweet. Google+Tweet integrates a full featured twitter client inside your Google Plus Account!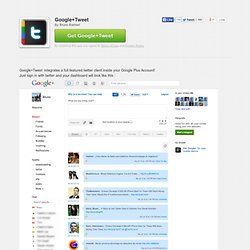 Just sign in with twitter and your dashboard will look like this : Tweet Tweet your Google+ posts! Short URL's through bit.ly Follow,Unfollow & View Profiles Share Photos through TwitPic Share your location Search,Watch mentions, retweets, your inbox, sent messages, favorite tweets and watch your timeline! It took me just 6 hours to create the Google+Tweet extension using Crossrider! It's powered by My Tweet Place :) Post2G+ G+ pıck. BannersPl.us. G+ FB Theme. Deleted!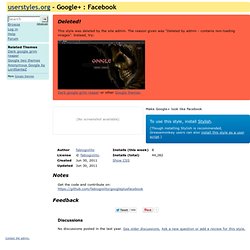 This style was deleted by the site admin. The reason given was Deleted by admin - contains non-loading images. Instead, try: Dark google grim reaper or other Google themes. (No screenshot available) G+ Banner. +me. Google+ Stream Book. Welcome to Google+ Stream Book (Note: You can use arrow keys to turn the pages.
More features coming soon..) Social Media in India : Landscape Overview.. Song - Jane Kyun Log Film - Dil Chahta Hai Singer - Udit Narayan, Alka Yagnik Lyricist - Javed Akhtar Music Director - Shanker, Ehsaan, Loy Artist - Aamir Kh..... Kalamon Dekstop G+7. The individual breaking the seal of this package or using this software represents and warrants that he or she has authority to enter into this agreement with Kalamon Software on behalf of the Licensee, that he or she has read the terms and conditions set out herein and that the Licensee accepts and agrees to be bound by this agreement.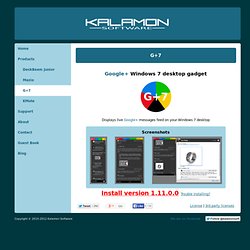 If the Licensee does not agree with the terms and conditions, the Licensee must not use or permit the use of the Product. Accessible Code means source code contained within the Product that is unprotected and accessible under this agreement. Authorised Agent means an auxillary part of the Product responsible for executing processes on behalf of the Product. Authorised Agents can be run within the installation of the Product ("Local Agent") and/or run external to the installation of the Product ("Remote Agent").
Authorised Machine means a single installation of a copy of the Product on a single physical computer. G+Tab for Mac. Description Tab for Google+ is the ultimate Mac client for all your Google+ needs.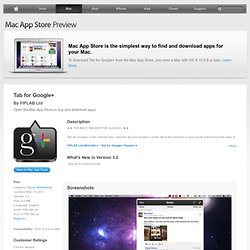 Be at the forefront of your social activity from the ease of your menu bar, without the need to open an internet browser window. Quick, simple, effortless - just how you would expect. ...More Customer Reviews. G+Clıent Wındows. A browser app block Google+ notifications. Google recently launched their much-publicized social network Google+.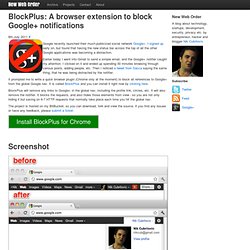 I signed up early on, but found that having the new status bar across the top of all the other Google applications was becoming a distraction. Earlier today I went into Gmail to send a simple email, and the Google+ notifier caught my attention. I clicked on it and ended up spending 30 minutes browsing through various posts, adding people, etc. Then I noticed a tweet from Sacca saying the same thing, that he was being distracted by the notifier. It prompted me to write a quick browser plugin (Chrome only at the moment) to block all references to Google+ from the global Google nav. Photog+ *Disclaimer: This website is not in any form associated or affiliated with Google.com.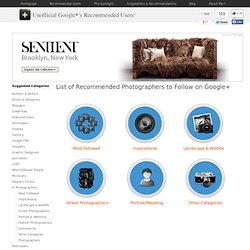 The right of all logos, photos and design elements displayed on the website are belong to their respective organizations and individuals. The categories are based on basic research on internet and website owners' personal opinions and do not necessarily reflect factual information. The owners of the website keep the right to modify the categories at any time. This website is licensed under a Creative Commons License. Pluss.es - G+ Blogging. Sociolog+ Cause+ G+ mobıle.
Kosso.co. Use your Google+ profile with your Blogger blogs. In fewer than 4 months since its launch, more than 40 million people have joined Google+, making it a living, breathing space for social connections and sharing to thrive.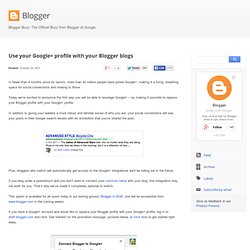 Today we're excited to announce the first way you will be able to leverage Google+ -- by making it possible to replace your Blogger profile with your Google+ profile. In addition to giving your readers a more robust and familiar sense of who you are, your social connections will see your posts in their Google search results with an annotation that you've shared the post. Plus, bloggers who switch will automatically get access to the Google+ integrations we'll be rolling out in the future. If you blog under a pseudonym and you don't want to connect your common name with your blog, this integration may not work for you. Lıke vs Plus.
---