[+]Another
Favi+
Postolog
PlusTo - beta
Google+Tweet integrates a full featured twitter client inside your Google Plus Account! Just sign in with twitter and your dashboard will look like this :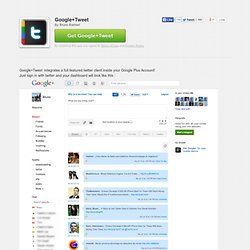 Google+ Redirects And Tumblr
So Richard pointed out this excellent post about using HTACCESS files on a server to redirect domain.com/+ to your Google+ account.
Post2G+
G+ resources
G+ pıck
G+ FB Theme
G+ Banner
+me
The results are in
Google+ Stream Book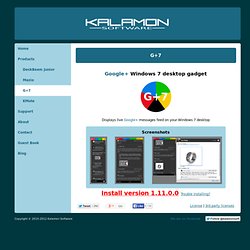 Kalamon Dekstop G+7
The individual breaking the seal of this package or using this software represents and warrants that he or she has authority to enter into this agreement with Kalamon Software on behalf of the Licensee, that he or she has read the terms and conditions set out herein and that the Licensee accepts and agrees to be bound by this agreement. If the Licensee does not agree with the terms and conditions, the Licensee must not use or permit the use of the Product.
G+Tab for Mac
G+Clıent Wındows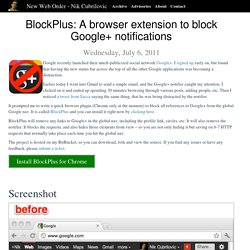 A browser app block Google+ notifications
Google recently launched their much-publicized social network Google+ .
*Disclaimer: This website is not in any form associated or affiliated with Google.com. The right of all logos, photos and design elements displayed on the website are belong to their respective organizations and individuals.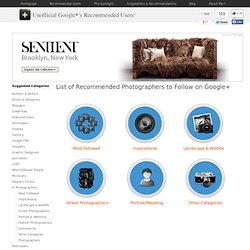 Photog+
Sociolog+
Cause+
kosso.co
Use your Google+ profile with your Blogger blogs
Lıke vs Plus