Google
Cloud SQL. The Google+ Project. Chrome - Scarica un nuovo browser. Google Data Science tools. Early Access Release Channels. Chrome supports a number of different release channels.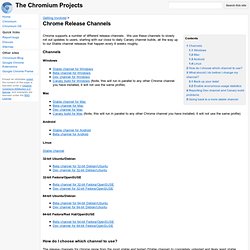 We use these channels to slowly roll out updates to users, starting with our close to daily Canary channel builds, all the way up to our Stable channel releases that happen every 6 weeks roughly. Channels Windows. Apps, Extensions and Themes. Google Chrome Browser | making the web faster, safer, and easier. Admin templates for Google Chrome make it more enterprise-friendly. System admins generally aren't fond of rolling out new software to their users if they don't have a measure of control over what those users can and can't do with the app in question.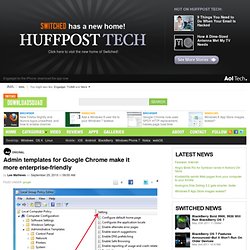 Google knows that, and they've been working for a while now to add enterprise-friendly policy support to Chrome. Now, Google has made policy templates available for download which provide a measure of lockdown functionality. As you can see, after importing the .ADM files into the Windows Group Policy Editor you'll be able to manage a handful of Chrome settings via a local machine policy. A default home page and proxy settings can be configured and Chrome Sync can be blocked, but the bulk of the options are related to background communications with Google (alternate error pages, DNS prefetch, crash reporting, suggestions, etc.). Alert. Google Alert è un servizio di aggiornamenti via email sui più recenti risultati pertinenti di Google (Web, notizie e così via) basati sulle tue query.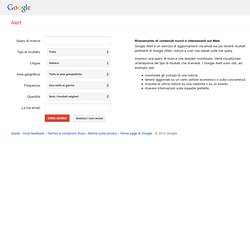 Inserisci una query di ricerca che desideri monitorare. Verrà visualizzata un'anteprima del tipo di risultati che riceverai. Apps per le aziende. Chrome - Scarica un nuovo browser. Chromium Blog. Chrome: un estensione per scaricare files da RapidShare direttam. La maggior parte di noi utilizza JDownloader per scaricare files da RapidShare e rendere il tutto più semplice.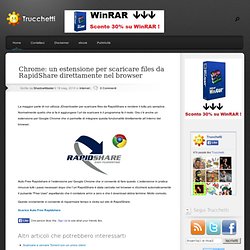 Normalmente quello che si fa è aggiungere l'url da scaricare è il programma fa il resto. Ora c'è anche un estensione per Google Chrome che vi permette di integrare questa funzionalità direttamente all'interno del browser. Gmail. Google. Official Google Blog. Google Labs. How To Use Google Buzz. If you're a GMail user you've no doubt come across a brand new section of your email called Buzz.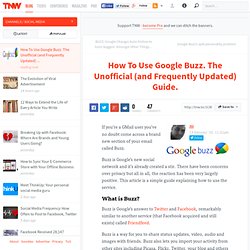 Buzz is Google's new social network and it's already created a stir. There have been concerns over privacy but all in all, the reaction has been very largely positive. Turn Off Google Buzz - Unbuzz. After yesterday's revelation of Google Buzz, one of the big questions that people are asking this morning is "how do I turn off Google Buzz, exactly?"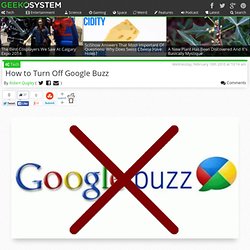 Or, in cutesier language, "how do I unBuzz?" Even though Google is roping the 176 million+ Gmail accounts into their great social experiment, they're not evil (that's their motto, after all), and while the off switch isn't staring you in the face, it's fairly painless to turn Google Buzz off: In any Gmail window, whether it's your regular inbox, your Buzz inbox, or an individual message, scroll down to the bottom of the screen.In the footer, you'll see a text link that says "turn off buzz." Click that link. Libri. Maps. Webcams.travel - Webcam turistiche del mondo intero. Public DNS. Reader. Pure Reader — Do your Google Reader experience a favour. We've already seen a bunch of prettifiers for Safari, but here's a new one that… that… you just have to look at it.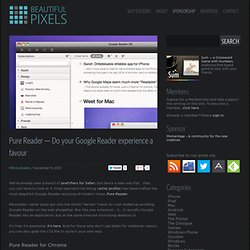 Pixel specialist Na Wong (artist profile) has hand crafted the most beautiful Google Reader restyling of modern times. Pure Reader. Personally I never quite got into the whole "Helveti" trend, so I just ended up avoiding Google Reader on the web altogether. But this new extension… it… it recrafts Google Reader into an application, but at the same time not mimicking desktop UI. It's free, it's awesome, it's here. Sidewiki. Sites - Free websites and wikis. The Go Programming Language.
Talk. Metti più passione nelle conversazioni Puoi vedere se i tuoi amici hanno letto i tuoi messaggi e se stanno digitando una risposta.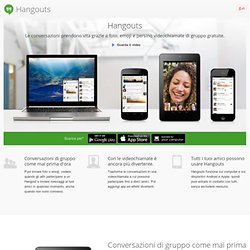 Se un amico non è disponibile quando cerchi di contattarlo, vedrà un avviso quando torna online e la conversazione non subirà interruzioni. Se attivi SMS for Hangouts, ricevi i messaggi anche quando non sei collegato a Internet. I messaggi ti arrivano via SMS e puoi rispondere con altri SMS per continuare la conversazione Attiva SMS for Hangouts. Traduttore. Voice. Wave - Communicate and collaborate in real time.
Extensions List (Google Wave Extensions List) The Complete Guide to Google Wave: How to Use Google Wave. Google Shared Spaces. APIs & Developer Products - January 2011.
---