Google Cloud Server
Google's Cloud Looms Large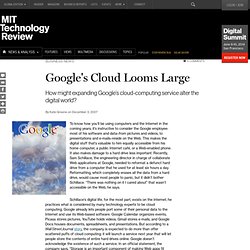 To know how you'll be using computers and the Internet in the coming years, it's instructive to consider the Google employee: most of his software and data–from pictures and videos, to presentations and e-mails–reside on the Web. This makes the digital stuff that's valuable to him equally accessible from his home computer, a public Internet café, or a Web-enabled phone. It also makes damage to a hard drive less important.
Google App Engine | The Google Cloud Storage API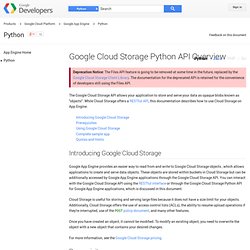 """Create, Write, Read and Finalize Google Cloud Storage objects. EchoPage will create, write and read the Cloud Storage object in one request: http://your_app_id.appspot.com/echo?message=Leeroy+Jenkins MainPage, CreatePage, AppendPage and ReadPage will do the same in multiplerequests: http://your_app_id.appspot.com/"""
Bucket and Object Naming Guidelines - Google Cloud Storage
You must follow bucket and object naming guidelines when you use the Google Cloud Storage API. Requests that use malformed or disallowed names will often fail.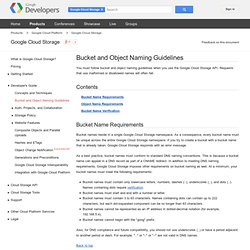 Cloud Storage API version 1 (experimental) - Google Cloud Storage - Google Code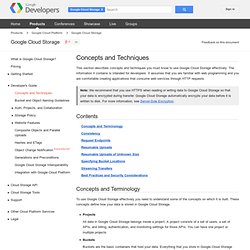 API Overview - Google Cloud Storage - Google Code
This section describes concepts and techniques you must know to use Google Cloud Storage effectively.
Cloud SQL - Google Code
Google Cloud SQL: Relational Databases in Google's Cloud Google Cloud SQL is a service that allows you to create, configure, and use relational databases that live in Google's cloud.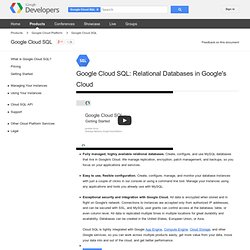 Google Cloud Storage Manager
Google Cloud Storage Online Browser
GSUtil Reference Guide - Google Cloud Storage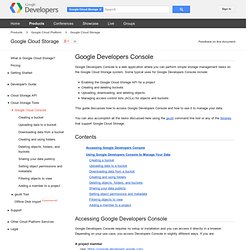 Installing Google Storage Manager
At this point, you can: Upload data into the folder or create a new folder.Navigate up to the container of the folder by clicking container name in the breadcrumb trail.
Installing Google Storage Manager