#GoingSocial
LinkedIn is the proverbial dark horse of social media: we all know it's there, but few of us use it to its full potential.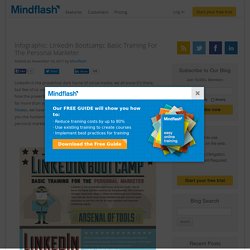 Personal Branding in the Digital Age
Measuring An Employee's Worth? Consider Influence
Today, your performance review is based on things like sales numbers or number of goals met. Tomorrow, though, it could be based on something that until now has remained ephemeral: organizational influence.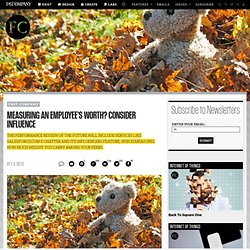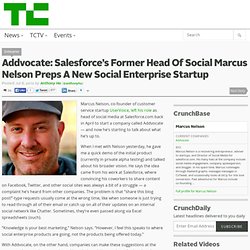 Addvocate: A New Social Enterprise Startup
Marcus Nelson, co-founder of customer service startup UserVoice, left his role as head of social media at Salesforce.com back in April to start a company called Addvocate — and now he's starting to talk about what he's up to.
inShare120 Guest post by Bryan Rhoads, global content strategy, Intel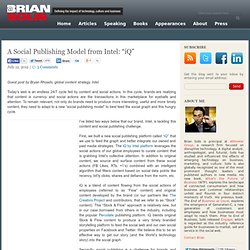 A Social Publishing Model from Intel: "iQ"
Going Social
#GoingSocial - Pinterest Pinboard
#GoingSocial / Check out how Bluewolf's Chatter Activity has spiked since the launch of #GoingSocial.
The Business of Going Social
In a world where social sharing has become ubiquitous — we share pictures, fleeting moods, political harangues and funny stories — we continue to hesitate to bring that sense of openness to the workplace. The idea of a social enterprise is one that attempts to capture the free flow of thought and information that we bring to our social interactions into our organizations. - The Business of Going Social White Paper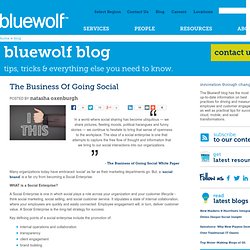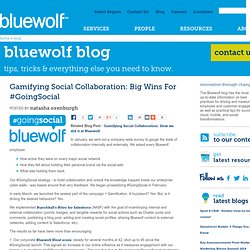 Related Blog Post - Gamifying Social Collaboration: How we did it at Bluewolf In January, we sent out a company-wide survey to gauge the state of collaboration internally and externally. We asked every Bluewolf employee:
Gamifying Social Collaboration: Big Wins for #GoingSocial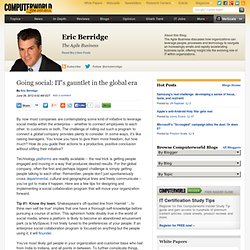 Going social: IT's gauntlet in the global era | Computerworld Blogs
By now most companies are contemplating some kind of initiative to leverage social media within the enterprise -- whether to connect employees to each other, to customers or both.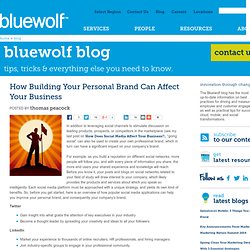 In addition to leveraging social channels to stimulate discussion on leading products, prospects, or competitors in the marketplace (see my last post on How Does Social Media Affect Your Business?)
Building Your Personal Brand...
Incentive Programs - Engagement - Bluewolf Rewards Employees for Going Social - Incentive Magazine
By Alex PalmerNovember 1, 2012 Social media has become an increasingly important way for employees to collaborate with one another.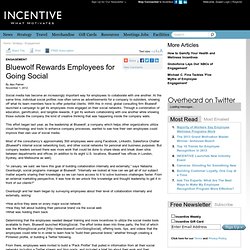 spatrizi: "How your personal brand c
By Steve Patrizi, Chief Revenue Officer at Bunchballsteve.patrizi@bunchball.com, @spatrizi
How Gamification Fuels the Social Enterprise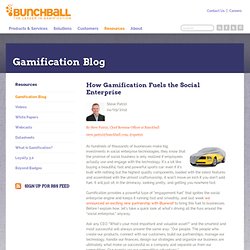 A new way of using Salesforce Chatter Customer Groups
i 2 Votes