#GoingSocial
Here's How To REALLY Use LinkedIn. LinkedIn is the proverbial dark horse of social media: we all know it's there, but few of us use it to its full potential.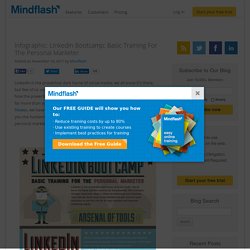 With just a little bit of effort you will see how the powerful social site can help you market yourself and your business far more than you imagined. With help from the LinkedIn guru himself, Lewis Howes, we have enrolled you in our basic LinkedIn boot camp training to give you the fundamental tools necessary to use the site for all your business and personal marketing needs.
(Click image to enlarge) Personal Branding in the Digital Age. Why CEOs Should Allow Facebook in the Workplace [INFOGRAPHIC] Measuring An Employee's Worth? Consider Influence. Today, your performance review is based on things like sales numbers or number of goals met.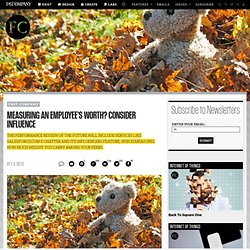 Tomorrow, though, it could be based on something that until now has remained ephemeral: organizational influence. Salesforce.com's Chatter system released a new feature this spring called Influencer. It purports to measure how influential you are within your company, by tabulating, for example, how your fellow workers respond to the items you post to your corporate social network. It's still a work in progress, senior director of Chatter product marketing Dave King tells Fast Company. But already companies are using it to help them run more smoothly. Addvocate: A New Social Enterprise Startup. Marcus Nelson, co-founder of customer service startup UserVoice, left his role as head of social media at Salesforce.com back in April to start a company called Addvocate — and now he's starting to talk about what he's up to.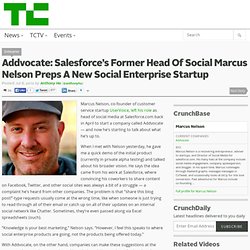 When I met with Nelson yesterday, he gave me a quick demo of the initial product (currently in private alpha testing) and talked about his broader vision. He says the idea came from his work at Salesforce, where convincing his coworkers to share content on Facebook, Twitter, and other social sites was always a bit of a struggle — a complaint he's heard from other companies. The problem is that "share this blog post!" -type requests usually come at the wrong time, like when someone is just trying to read through all of their email or catch up on all of their updates on an internal social network like Chatter.
Co-Founder And CEO Marcus Nelson Departs Addvocate. Marcus Nelson, who co-founded and served as CEO of social media startup Addvocate, said that he's no longer at the company.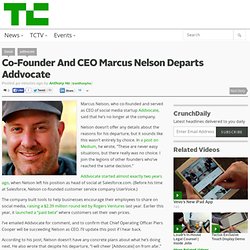 Nelson doesn't offer any details about the reasons for his departure, but it sounds like this wasn't entirely by choice. In a post on Medium, he wrote, "These are never easy situations, but there really was no choice. A Social Publishing Model from Intel: "iQ" InShare120 Guest post by Bryan Rhoads, global content strategy, Intel Today's web is an endless 24/7 cycle fed by content and social actions.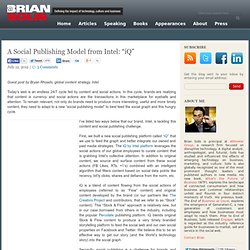 In this cycle, brands are realizing that content is currency and social actions are the transactions in this marketplace for eyeballs and attention. To remain relevant, not only do brands need to produce more interesting, useful and more timely content, they need to adapt to a new "social publishing model" to best feed the social graph and this hungry cycle. I've listed two ways below that our brand, Intel, is tackling this content and social publishing challenge. Going Social. #GoingSocial - Pinterest Pinboard.
#GoingSocial / Check out how Bluewolf's Chatter Activity has spiked since the launch of #GoingSocial. The Business of Going Social. In a world where social sharing has become ubiquitous — we share pictures, fleeting moods, political harangues and funny stories — we continue to hesitate to bring that sense of openness to the workplace.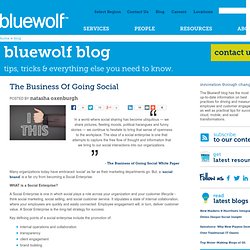 The idea of a social enterprise is one that attempts to capture the free flow of thought and information that we bring to our social interactions into our organizations. - The Business of Going Social White Paper. Gamifying Social Collaboration: Big Wins for #GoingSocial. Related Blog Post - Gamifying Social Collaboration: How we did it at Bluewolf In January, we sent out a company-wide survey to gauge the state of collaboration internally and externally.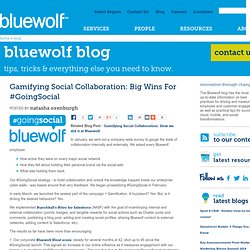 We asked every Bluewolf employee: Going social: IT's gauntlet in the global era. By now most companies are contemplating some kind of initiative to leverage social media within the enterprise -- whether to connect employees to each other, to customers or both.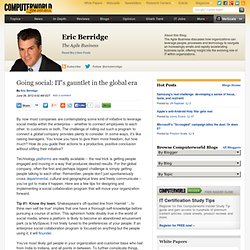 The challenge of rolling out such a program to connect a global company provides plenty to consider. In some ways, it's like raising teenagers. You know you have to give them more freedom, but how much? Building Your Personal Brand... In addition to leveraging social channels to stimulate discussion on leading products, prospects, or competitors in the marketplace (see my last post on How Does Social Media Affect Your Business?)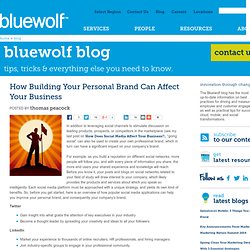 , "going social" can also be used to create your own professional brand, which in turn can have a significant impact on your company's brand. For example, as you build a reputation on different social networks, more people will follow you, and with every piece of information you share, the more end users your shared experience and knowledge will reach.
Before you know it, your posts and blogs on social networks related to your field of study will draw interest to your company, which likely provides the products and services about which you speak so intelligently. Each social media platform must be approached with a unique strategy, and yields its own kind of benefits. Incentive Programs - Engagement - Bluewolf Rewards Employees for Going Social - Incentive Magazine. By Alex PalmerNovember 1, 2012 Social media has become an increasingly important way for employees to collaborate with one another.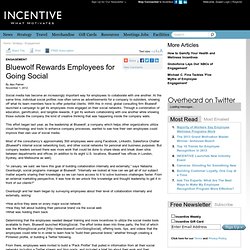 At the same time, individual social profiles now often serve as advertisements for a company to outsiders, showing off what its team members have to offer potential clients. With this in mind, global consulting firm Bluewolf launched a campaign to get its employees more engaged on their social networks. Through a combination of education, gamification, and tangible rewards, it got its workers collaborating with one another while showing those outside the company the kind of creative thinking that was happening inside the company walls.
This effort began last year, as the leadership at Bluewolf, a company which helps other organizations utilize cloud technology and tools to enhance company processes, wanted to see how their own employees could improve their own use of social media. Spatrizi: "How your personal brand c... How Gamification Fuels the Social Enterprise. By Steve Patrizi, Chief Revenue Officer at Bunchballsteve.patrizi@bunchball.com, @spatrizi As hundreds of thousands of businesses make big investments in social enterprise technologies, they know that the promise of social business is only realized if employees actually use and engage with the technology. It's a lot like buying a beautiful, fast and powerful sports car: even if it's built with nothing but the highest quality components, loaded with the latest features and assembled with the utmost craftsmanship, it won't move an inch if you don't add fuel.
It will just sit, in the driveway, looking pretty, and getting you nowhere fast. A new way of using Salesforce Chatter Customer Groups. From the day Salesforce released Chatter (their secure private social network for businesses) there were calls to open up the network to customers. It was fantastic having your team collaborating on an opportunity or a project, but often with larger deals or partnerships there were external people who needed to be included. In the Winter'12 release Salesforce introduced Chatter Customer Groups – a feature that enables you to invite third parties to specific Chatter groups in your org. Your customers (who could be prospects or partners!) Can only see the groups you have invited them to so there is no risk of secure data finding it's way into their hands. Now the downside – in order to maintain this security, your customers will receive invites and logins to your Salesforce org.
---