GMO's
GMO pearls. Eugenics. Genetic. Aspartame. Why Labels on Genetically Engineered Foods Won't Cost Consumers a Dime. For related articles and more information, please visit OCA's Genetic Engineering page and our Millions Against Monsanto page.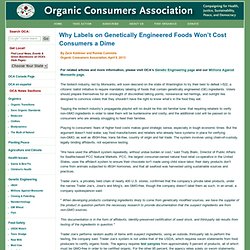 The biotech industry, led by Monsanto, will soon descend on the state of Washington to try their best to defeat I-522, a citizens' ballot initiative to require mandatory labeling of foods that contain genetically engineered (GE) ingredients. Voters should prepare themselves for an onslaught of discredited talking points, nonsensical red herrings, and outright lies designed to convince voters that they shouldn't have the right to know what's in the food they eat. How to avoid GM foods. Just say no to those GMOs!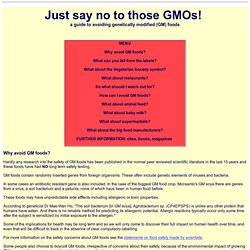 A guide to avoiding genetically modified (GM) foods Why avoid GM foods? Hardly any research into the safety of GM foods has been published in the normal peer reviewed scientific literature in the last 15 years and these foods have had NO long term safety testing. GM foods contain randomly inserted genes from foreign organisms. These often include genetic elements of viruses and bacteria. Non-GMO Shopping Guide. (27) Timeline Photos. (3) Facebook. What you don't know can hurt you. General Mills Gets a Taste of the Backlash. By Dr.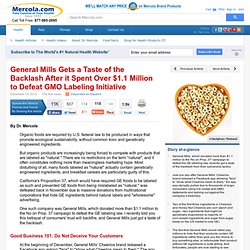 Mercola Organic foods are required by U.S. federal law to be produced in ways that promote ecological sustainability, without common toxic and genetically engineered ingredients. But organic products are increasingly being forced to compete with products that are labeled as "natural. " There are no restrictions on the term "natural", and it often constitutes nothing more than meaningless marketing hype. Genetically Modified Food. Genetically Altered Foods. "Recombinant DNA technology faces our society with problems unprecedented not only in the history of science, but of life on Earth.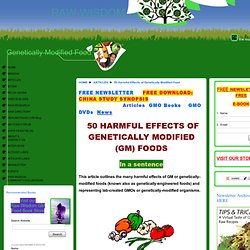 It places in human hands the capacity to redesign living organisms, the products of three billion years of evolution. Such intervention must not be confused with previous intrusions upon the natural order of living organisms: animal and plant breeding...All the earlier procedures worked within single or closely related species...Our morality up to now has been to go ahead without restriction to learn all that we can about nature. Round Up Ready Herbicide Found to be Carcinogenic. By Dr.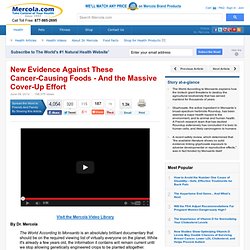 Mercola The World According to Monsanto is an absolutely brilliant documentary that should be on the required viewing list of virtually everyone on the planet. While it's already a few years old, the information it contains will remain current until we stop allowing genetically engineered crops to be planted altogether. The film explains how the biotech giant Monsanto threatens to destroy the agricultural biodiversity that has served mankind for thousands of years. I must warn you though; it may bring tears to your eyes as you learn how they have decimated so many lives and part of the environment through their morally bankrupt behavior.
The Biotech Weblog: Kellogg Will Use Monsanto's Low Linolenic Soybean Oil. » Safety Group Blows Lid on 'Secret Virus' Hidden in GMO Crops Alex Jones. Anthony Gucciardi Infowars.com Feb 7, 2013 Yet another disturbing reason has emerged as to why you should be avoiding health-devastating genetically modified organisms, and it may be one of the most concerning yet.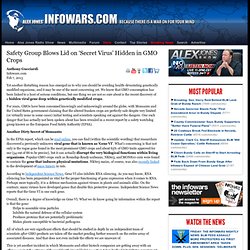 We know that GMO consumption has been linked to a host of serious conditions, but one thing we are not so sure about is the recent discovery of a hidden viral gene deep within genetically modified crops. Kucinich Calls Out Monsanto: Americans Demand GMO Labeling. » Whole Foods knowingly engages in massive GMO deception, says undercover video by 'Organic Spies' Alex Jones. Mike Adams Natural News Sept 27, 2012 Whole Foods deceives consumers into unknowingly buying GMOs while financially supporting a GMO supply chain that ultimately enriches Monsanto, charges an explosive new undercover sting video released by Organic Spies.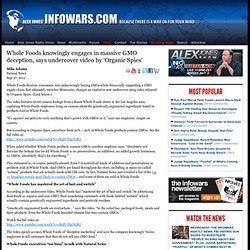 (Link below.) The video features secret camera footage from a dozen Whole Foods stores in the Los Angeles area, capturing Whole Foods employees lying on camera about the genetically engineered ingredients found in products sold at Whole Foods. "It's against our policy to carry anything that's grown with GMOs in it," says one employee, caught on camera. But according to Organic Spies, anywhere from 20% – 30% of Whole Foods products contain GMOs. » Why Do Supporters of Genetically Engineered Foods Insist on Organics for Their Own Families? Alex Jones. Dr.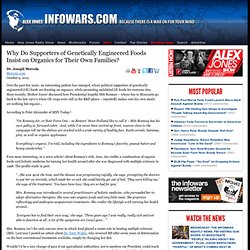 Joseph MercolaMercola.com October 9, 2012 Over the past few years, an interesting pattern has emerged, where political supporters of genetically engineered (GE) foods are feasting on organics, while promoting unlabeled GE foods for everyone else. Most recently, Mother Jones1 discussed how Presidential hopeful Mitt Romney – whose ties to Monsanto go back to the late 1970′s when GE crops were still in the R&D phase – reportedly makes sure his own meals are nothing but organic… According to Peter Alexander of MSN Today:2 "On Romney Air, or Hair Force One – as Reuters' Steve Holland like to call it – Mitt Romney has his own galley in 'forward cabin.'
» GM Mutant Cows to Produce 'Engineered Milk' for Babies Alex Jones. Breaking!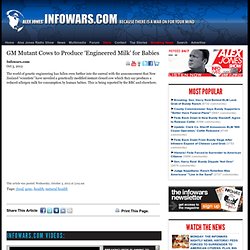 Feds Planning To Raid Bundy Ranch Americans Draw Line in Sand Reid Wants Bundy to Pay Up. Source on Genetically Modified Crops. Languages: Home » Genetically Modified Crops » Level 3 » Questions Genetically Modified Crops.
Monsanto found guilty of chemical poisoning in landmark case. (NaturalNews) A French farmer who can no longer perform his routine farming duties because of permanent pesticide injuries has had his day in court, literally, and the perpetrator of his injuries found guilty of chemical poisoning. The French court in Lyon ruled that Monsanto's Lasso weedkiller formula, which contains the active ingredient alachlor, caused Paul Francois to develop lifelong neurological damage that manifests as persistent memory loss, headaches, and stuttering during speech. Reports indicate that the 47-year-old farmer sued Monsanto back in 2004 after inhaling the Lasso product while cleaning his sprayer tank equipment. Not long after, Francois began experiencing lasting symptoms that prevented him from working, which he says were directly linked to exposure to the chemical. Study: GMO toxins found in nearly all pregnant women, unborn babies. (NaturalNews) A recent study published in the journal Reproductive Toxicology debunks yet another lie of the biotechnology industry concerning genetically-modified organisms (GMOs).
According to an analysis conducted by researchers from the University of Sherbrooke Hospital Centre in Quebec, Canada, 100 percent of pregnant women and their unborn babies tested positive for GMO toxins in their blood, proving that transgenic materials are not effectively broken down and eliminated during digestion as we have all been told. The study, which is featured in the new Jeffrey Smith documentary Genetic Roulette ( examined the blood of 30 pregnant women and 39 non-pregnant women.
Natural brands betray consumers over GMO labeling: NaturalNews issues boycott of Kashi, Silk, Larabar and more. (NaturalNews) It's time to defeat evil in the food industry and stop the vicious betrayal of consumers by so-called "natural" brands. They're all conspiring right now to funnel millions of dollars into a disinformation campaign to try to defeat ballot measure 37, the "GMO labeling" initiative in California ( Effective immediately, NaturalNews is issuing a global boycott on the following brands:
Environmental Sciences Europe | Full text | Genetically modified crops safety assessments: present limits and possible improvements. Need for chronic tests and other tests Chronic toxicity tests (both with males and females) and reproductive tests with pregnant females and then with the developing progeny over several generations (none of these steps exist at present) are called as a whole the Toxotest approach (or Risk management test, see "Details on the new suggested Toxotest approach"). This could address the long-term physiological or pathological relevance of the previous observations. Genetically Modified Foods. Genetically modified foods are compromised of organisms (known as GMOs for 'genetically modified organisms') which have been genetically altered for 'improvement'.
Biotechnology giant Monsanto is the primary maker of genetically modified seeds, responsible for 90 percent of the genetically engineered seed on the United States market. The touted reasons for genetically modifying foods vary from making a fruit larger and seedless to resisting pesticides, herbicides, and insecticides. EU releases all data on GM corn linked to cancer. Results for Tag:Genetically Modified Crops on OtherWords. Haitians burn 400 tons of Monsanto donated seed - Digits's column on Newsvine. Bhutan To Be First Country to Go 100% Organic. Russian Biologists: GMO foods cause sterility in third generation. South Korea joins Japanese ban on U.S. wheat imports after shocking GMO contamination announcement by USDA. » France Launches Major Investigation Into GMOs Following Tumor Study Alex Jones.
Etude Séralini. Genetically Modified Society : Operation Paul Revere (Full Movie - 1080p HD) Advisory Committee Calendar > October 22-23, 2013: Cellular, Tissue and Gene Therapies Advisory Committee Meeting Announcement. GMO babies now being engineered in labs under guise of preventing incurable disease. Genetically modified mosquitoes may soon be released in Florida. Glow-in-the-dark Sheep: Genetically Modified At Uruguay Lab. New Study Proves Bt Toxins in GMOs Toxic to Mammalian Blood. EnviroPig. Leslie Hatfield: New Analysis of Wikileaks Shows State Department's Promotion of Monsanto's GMOs Abroad. Whose-side-ya-on. Facebook wages censorship war against moms of autistic children who protest GMOs: Exclusive interview with Andrea Lalama. Proposition 37 / Californie. Why would a company with an organic food brand oppose Proposition 37?
Yes on Prop 37. (25) Timeline Photos. If you're so proud of them, why not label them? Roderick Caparoso. Seralini-sept-2012-monsanto-comments. The Growing Global Challenge to Monsanto's Monopolistic Greed. Farmers sue Monsanto over GMO wheat strain found in crops. Monsanto Cafeteria.
Cargill chief offers four-pronged plan to feed the world. Garden. Institute for Responsible Technology - What is so special about organic food? (part 4) | EyeCandyPopper. Genetically-modified humans are already walking among us. Designer Babies – Like It Or Not, Here They Come. 531777_525948154115439_465074708_n.jpg (648×558) The Doo Doo on Baby Formulas | It Girl Health. GMO Compass. - GMO - Database.
USDA downplays own scientist's research on ill effects of Monsanto herbicide. Sugar Beets- Monsanto Wins Again (Build 20100722155716) ESTP - Letter_to_the_editor_Food_and_Chemical_Journal_Seralini_and_al__publication_2012.pdf. Tyson-monsanto chickens. Substantially equivalent gmos. Label them obama. Soybean industry portfolio. GMO Crops Fight Starvation. GMO multi-toxin crops continue to backfire as more insects become resistant to crop chemicals. Say No To GMOs! - Getting Started. Etude OGM : « J'attends des critiques objectives, de caractère scientifique » - Risques sanitaires. GMO, Global Alert. GMO A Go Go - Truth about GMOs explained in new animated cartoon. New WikiLeaks Cables Show US Diplomats Promote Genetically Engineered Crops Worldwide. » Americans Waking Up to the Dangers of GMO Foods Alex Jones.
Facebook. Frankenfood-The Truth about GMO food with Dr. Oz. FDA approves first GMO flu vaccine containing reprogrammed insect virus. FDA approves first GMO Flu Vaccine containing Reprogrammed Insect Virus. GMO Foods are Toxic! Regulators Discover a Hidden Viral Gene in Commercial GMO Crops. GMO_Myths_and_Truths_1.3.pdf.
Whole Foods Vows to Label GMOs by 2018. GM salmon rejected by Whole Foods, Trader Joe's, Aldi and other food retailers. Crops | The Center for Food Safety. Center for Food Safety Releases New Genetically Engineered Food Labeling Laws Map. Labelling of GMO Products: Freedom of Choice for Consumers. (34) Timeline Photos. How To I.D. Genetically Modified Food at the Supermarket. Comprehensive List Of GMO Products. Genetic engineering.
---
aroman May 26 2013

Thank you for the response, I wish you all the best in your work/research, you have a lovely evening as well.

conscientia May 25 2013

I thank you for your invitation but I have myself a pearltree about GMO'S in french and in english: I have enough work... With all my pearltrees, I have even some difficulties to catch up with all the informations I have got... Same with 'Vaccines"... I'll fallow your work. Have a good evening... Conscientia
---