Coding and Development
Ecommerce Software, Online Store Builder, Website Store Hosting Solution- Free 30 Day Trial by Shopify. Build a Website - Squarespace 6. Weebly - Create a free website and a free blog. Learn to code. Ruby on Rails: Screencasts. Learning Rails the Zombie Way If you're new to Rails and want to give it a try, then head over to RailsForZombies.org.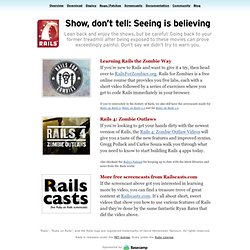 Rails for Zombies is a free online course that provides you five labs, each with a short video followed by a series of exercises where you get to code Rails immediately in your browser. If you're interested in the history of Rails, we also still have the screencasts made for Ruby on Rails 2, Ruby on Rails 0.5 and for Ruby on Rails 1.0. Rails 4: Zombie Outlaws If you're looking to get your hands dirty with the newest version of Rails, the Rails 4: Zombie Outlaw Videos will give you a taste of the new features and improved syntax.
Ruby on Rails Tutorial: Learn Rails by Example book and screencasts by Michael Hartl. Welcome to Treehouse, Start Learning Today.
---