Civil Rights Ground Action
Four arrested in government bribery and contracting scam - Crime Scene. Posted at 12:48 PM ET, 10/04/2011 Oct 04, 2011 04:48 PM EDT TheWashingtonPost Four people were arrested Tuesday in a complex contracting scam involving the Army Corps of Engineers, authorities said.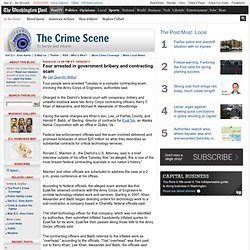 Charged in the District's federal court with conspiracy, bribery and unlawful kickback were two Army Corps contracting officers, Kerry F. Take Action. Please RSVP to your house party host by finding their email address on the map below.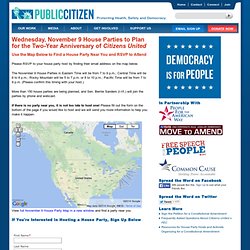 The November 9 House Parties in Eastern Time will be from 7 to 9 p.m.; Central Time will be 6 to 8 p.m.; Rocky Mountain will be 5 to 7 p.m. or 8 to 10 p.m.; Pacific Time will be from 7 to 9 p.m. (Please confirm this timing with your host.) More than 150 house parties are being planned, and Sen. "Telling a Story is a Form of Activism": Interview with Naveen Naqvi. Changemakers recently sat down with Naveen Naqvi, co-founder and executive director of Gawaahi, to discuss her work in Pakistan's turbulent and often violent environment, where she uses citizen media as a tool for political engagement and raising public awareness.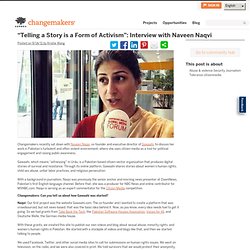 Gawaahi, which means "witnessing" in Urdu, is a Pakistan-based citizen-sector organization that produces digital stories of survival and resistance. Through its online platform, Gawaahi shares stories about women's human rights, child sex abuse, unfair labor practices, and religious persecution. With a background in journalism, Naqvi was previously the senior anchor and morning news presenter at DawnNews, Pakistan's first English-language channel.
Before that, she was a producer for NBC News and online contributor for MSNBC.com. Naqvi is serving as an expert commentator for the Citizen Media competition. "Time to Rally" – Robert Reich at the Take Back the American Dream Conference | Blog | Rebuild the Dream. The crowd was hyped for Robert Reich yesterday as we kicked off the first American Dream summit here in DC.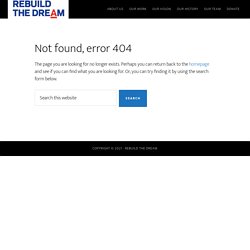 And he didn't disappoint. Reich – the former Secretary of Labor under President Clinton, public policy professor at UC Berkeley, and acclaimed political economist and commentator – brilliantly weaved together the history of our broken economy with today's progressive movement. Off To The Races: Help Find 10,000 Censorship Opponents In 24hrs. Off To The Races: Help Find 10,000 Censorship Opponents In 24hrs We're off to the races.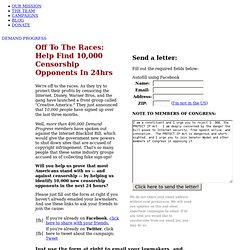 As they try to protect their profits by censoring the Internet, Disney, Warner Bros, and the gang have launched a front group called "Creative America. " Flash Mob hits Target for it's Homophobic & Anti-Democratic Policies. 'Occupy Wall Street' Should Also Take Aim at Health Insurance Companies. The lobbyists for U.S. health insurers surely have to be feeling a little uneasy knowing that thousands of Occupy Wall Street demonstrators who have been marching and protesting in Washington as well as New York and other cities might target them in the days ahead.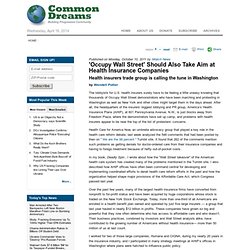 After all, the headquarters of the insurers' biggest lobbying and PR group, America's Health Insurance Plans (AHIP), at 601 Pennsylvania Avenue, N.W., is just blocks away from Freedom Plaza, where the demonstrators have set up camp, and problems with health insurers appear to be near the top of the list of protesters' concerns. Health Care for America Now, an umbrella advocacy group that played a key role in the health care reform debate, last week analyzed the 546 comments that had been posted by then on " We are the 99 percent " Tumblr site. CREDO Mobile, Warren Buffet and the Limits of Progressive Business. You may not be able to visit this page because of: an out-of-date bookmark/favourite a search engine that has an out-of-date listing for this site a mistyped address you have no access to this page The requested resource was not found.
An error has occurred while processing your request. Please try one of the following pages: Home Page If difficulties persist, please contact the System Administrator of this site and report the error below.. WikiClaimLeaks. Is Our Children Learning? Not When It Comes To Civil Rights History. Human Rights Petition: Tell Obama: Take Action to Stop Racial Profiling. 2011 DC Stop Modern Slavery Walk - Team Statistics. Oct. 6 – Join Us in Freedom Plaza. Are you going to the October 6, 2011 rally at Freedom Plaza in Washington, D.C.?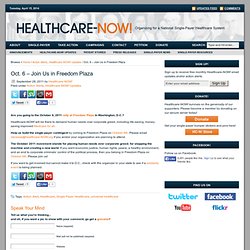 Healthcare-NOW! Will be there to demand human needs over corporate greed, including life-saving, money-saving improved Medicare for all. Awesome Analysis: Borosage and Vanden Heuvel on The American Dream Movement | Blog | Rebuild the Dream. Photo by Brian Auer, used under a Creative Commons license Longtime progressive commentators Robert Borosage and Katrina Vanden Heuvel have an extensive article in The Nation, "Can a Movement Save the American Dream", on the historical roots of the American Dream Movement, parallels to older American reform movements, and the unique challenges that we face today.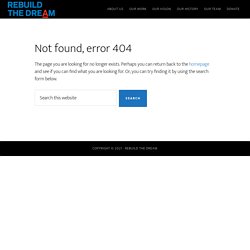 Here's a peek: Wisconsin provided inspiration for the effort by Van Jones and others to launch the American Dream Movement. The Rainbow Struggle: A primer for the global gay rights battle. UNITED NATIONS — This June the UN Human Rights Council narrowly passed its first-ever resolution calling for universal gay rights with the support of more than 80 countries.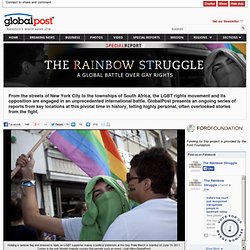 It was an historic milestone, a global recognition that gay rights and human rights were finally synonymous, at least on paper, here in New York at the world body. How these rights play out in the real world is a very different story, and it is the subject of this GlobalPost "Special Report" which will examine the rights of people who are gay, lesbian, bisexual and transgender (LGBT) through a series of reports over the next two months from every corner of the world. In South Africa, for example, the very country that introduced the successful resolution, there is a domestic crisis of rampant gender-based violence. That violence includes a uniquely horrifying brutality known as "corrective rape" which is a targeted sexual attack against lesbians. Defend Equality -- IndieGoGo. Who We Are Founded in 2007 by women veterans, Service Women's Action Network (SWAN) is a small nonprofit that has made history!
With the funds of a start-up and a dedicated staff of seven, we have made an enormous impact on the world of military gender discrimination and military sexual violence. SWAN uses legislative reform, litigation, public education, and a national peer support helpline to help secure equal opportunity and the freedom to serve in uniform without the threat of harassment, discrimination, intimidation or assault, and to secure quality health care and equal benefits for women veterans and their families.
We Need Your Help! A generous donor has offered SWAN a matching grant of $25,000. Tell Senator Cornyn you support our servicemembers' First Amendment rights. Black Voices for Internet Freedom to Launch Friday - Center for Media Justice. Manu Chao Stands in Solidarity with Sheriff Joe Arpaio Protesters (Video) It was a familiar sight in front of Sheriff Joe Arpaio's downtown office yesterday afternoon. Another assembly of a dozen protesters or so had gathered and members of the media were waiting in tow.
Word eventually reached Joe that some multilingual, slightly-famous international recording artist was on his way to play some music or something. "Is he gonna sing my favorite song 'My Way,'" Arpaio asks. Not quite Joe. This "singer-guy" happens to be Manu Chao and um, he's kind of a big deal. On National Coming Out Day, we should respect everyone. Oct. 11 is National Coming Out Day, and here is my coming out story as a lesbian teacher. A month into my first year of teaching seventh-graders in Oakland, Calif., we were in the school library, outlining Africa on poster paper.
My students chatted as they worked. "Are you married, Ms. Sokolower?" Free/open software to run your election campaign. The NAACP's Photo.
---