JOURNALISM
Intro to Data-Driven Journalism with NZZ Data. Intro to Data-Driven Journalism with NZZ Data | Student Reporter. Data is all around us.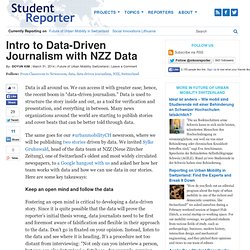 We can access it with greater ease; hence, the recent boom in "data-driven journalism." Data is used to structure the story inside and out, as a tool for verification and presentation, and everything in between. Many news organizations around the world are starting to publish stories and cover beats that can be better told through data. The same goes for our #urbanmobilityCH newsroom, where we will be publishing two stories driven by data. We invited Sylke Gruhnwald, head of the data team at NZZ (Neue Zürcher Zeitung), one of Switzerland's oldest and most widely circulated newspapers, to a Google hangout with us and asked her how her team works with data and how we can use data in our stories.
New Yorker Creates Aaron Swartz's Open Source Strongbox Secure Tip Box - Peter Kafka - Media. Technology gives journalists unprecedented power to track down information.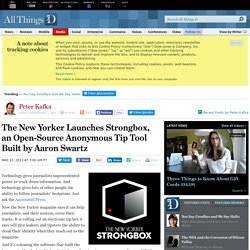 And technology gives lots of other people the ability to follow journalists' footprints. Just ask the Associated Press . Now the New Yorker magazine says it can help journalists, and their sources, cover their tracks. It is rolling out an electronic tip box it says will give leakers and tipsters the ability to cloak their identity when they reach out to the magazine. Who should see what when? Three principles for personalized news.
I really don't know how a news editor should choose what stories to put in front of people, because I don't think it's possible to cram the entire world into headlines.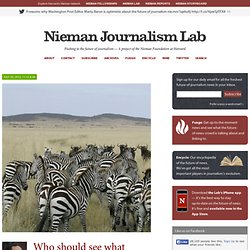 The publisher of a major international newspaper once told me that he delivers "the five or six things I absolutely have to know this morning." But there was always a fundamental problem with that idea, which the Internet has made starkly obvious: There is far more that matters than any one of us can follow. In most cases, the limiting factor in journalism is not what was reported but the attention we can pay to it. Yet we still need news. Seven_Forces_Media.pdf. Make your donation now. Wikipedia is the #5 site on the web and serves 500 million different people every month – with billions of page views.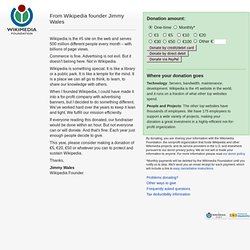 Commerce is fine. Advertising is not evil. But it doesn't belong here. WIKILEAKS PHENOMENA. "Journalists have lost control of the story": Twitter, tech bubbles, and the nostalgia of the technology press. Editor's Note: I'm very happy to welcome Tim Carmody — who you may know from Snarkmarket, kottke.org, Wired.com, Twitter, or elsewhere — as a contributor to the Lab.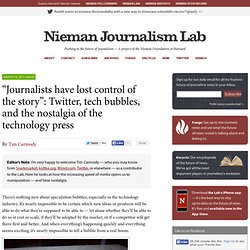 Here he looks at how the increasing speed of media opens us to manipulation — and false nostalgia. There's nothing new about speculation bubbles, especially in the technology industry. It's nearly impossible to be certain which new ideas or products will be able to do what they're supposed to be able to — let alone whether they'll be able to do so at cost or scale, if they'll be adopted by the market, or if a competitor will get there first and better. And when everything's happening quickly and everything seems exciting, it's nearly impossible to tell a bubble from a real boom.
Journalism jobs (media, editorial), news for journalists. Journalism Accelerator: A forum about innovation in journalism, beyond the usual suspects.
---