Safety tools READ THIS !
CNET TechTracker will now automatically install software without requiring further action by you.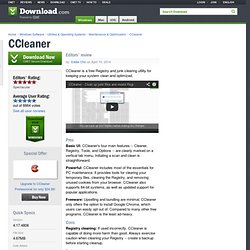 Highly recommend this file cleaner cleans your tracks and works better for spyware then "Search and Destroy " or " AdAware" You might want to use all 3 though . All free and all good software ! Use "Ccleaner " after each session !Easy to use good registery repair tool also ! But only for minor registry repairs . by mirlen101 Jan 22
The bottom line: Avast continues to push the envelope of top-shelf free security features with hybrid update tech, file reputation analysis, and more. It's independent benchmarks are a bit weak, but more than 150 million people trust Avast to keep them safe. Review: Looking to compete with both paid and free security suites, Avast wants to create a unified approach to your computer security.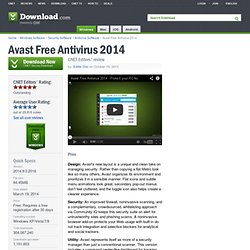 Avast Free Antivirus - Free software downloads and software reviews
I HIGHLY recommend this anti Virus software it's FREE ! by mirlen101 Jan 22
ZoneAlarm Free Firewall - Free software downloads and software reviews
Firewall REQUIRED ! It's FREE ! Don't go anywhere without some kind of FIREWALL ! by mirlen101 Jan 22
add block
Review: AVG's updates for 2013 look to the future while struggling to overcome the problems of the past. There's a new interface optimized for Windows 8 that really does make the suite easier to use, and the suite once again tackles its lengthy installation procedure. However, one of the best new features in AVG was actually introduced as a midyear update during 2012. Installation We found that the program can go from completed download to ready to use in about 5 minutes. AVG's touted its five-screen installation for several years now.
AVG Anti-Virus Free Edition 2011 - Free software downloads and software reviews
AVG is good I like Avast a bit better . Use them WITH a FIREWALL ! by mirlen101 Jan 22