Gimp Tutorial Seiten
Feel free to feed this tree, plz!

PLZ Pearl here only links to sites, related to tutorials for Gimp.

Please pearl single tutorials in here:
http://www.pearltrees.com/schenz/gimp-tutorials/id3222285

That would be really nice! schenz Feb 5
GIMP Tutorials - Tips and Tutorials for Learning The GIMP
The GIMP, or GNU Image Manipulation Program is a free, open-source image editing application for photo retouching, painting, compositing, and image creation. Here you can find tips and tutorials for using GIMP. Also see the main index of GIMP resources on this site.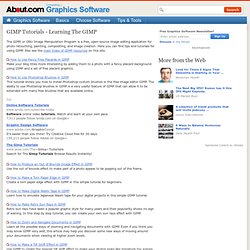 The GIMP Resources and Tutorials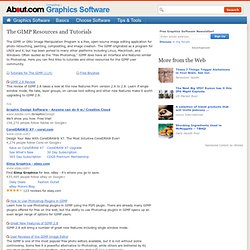 The GIMP, or GNU Image Manipulation Program is a free, open-source image editing application for photo retouching, painting, compositing, and image creation. The GIMP originated as a program for UNIX and X, but has been ported to many other platforms including Linux, Macintosh, and Windows. Often lauded as the "free Photoshop," GIMP does have an interface and features similar to Photoshop. Here you can find links to tutorials and other resources for the GIMP user community. GIMP 2.8 ReviewThis review of GIMP 2.8 takes a look at the new features from version 2.6 to 2.8.
My GIMP Tutorial Search Engine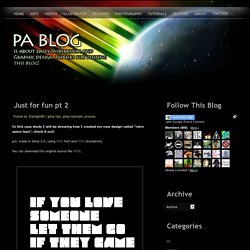 gimp tutorials
This tutorial is all about creating an dark surreal using some free stock images from Deviant Art and i want to introduce some new trick - combining two great free software, Gimp and IrfanView. The composition is quite simple, but with a little inspiration you can create something really nice. Before we start,you need to:
GIMP Tutorial Directory - Overview Page 1
Here is a simple technique that allows you to colorize black and white images with excellent results. For the purpose of this tutorial, we will be using a photo of James Dean from the 1956 movie "Giant". While colorizing the entire photo would merely require we add 2 or 3 additional color layers, we will limit ourselves to colorizing James Dean only, leaving the automobile, sky and background in black and white. submitted: 3 years and 48 days ago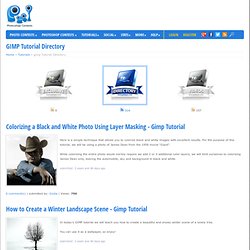 GIMP - elsamuko
mygimptutorial.com - Gimp tutorials and resources
GIMP Tutorials and Tips
Users' Submitted GIMP Tips & Tutorials
GIMPing Along
Tutorial-Übersicht
GIMP Plus - High Quality GIMP Tutorials
GIMP/ Tutorials
GIMP Tutorials
The Gimp Tutorials (Grafik) | tutorialzone.de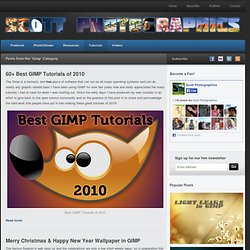 Gimp
60+ Best GIMP Tutorials of 2010 The Gimp is a fantastic and free piece of software that can run on all major operating systems and can do nearly any graphic related task! I have been using GIMP for over two years now and really appreciated the many tutorials I had at hand for when I was starting out.
Gimp Tutorials for pictures, Bilder and Fotos
Today, most businesses want a website. Some already have one. Others want one.
Oct 20 2008 GIMP is a freely distributed GNU Image Manipulation Program. Available for such tasks as photo retouching, image composition and image authoring. It's always fun to experiment different techniques and learn how to work with various aspects of GIMP to spice up boring pictures and make them into works of arts and masterpieces. So, if you're interested in learning some new skills, whether you're a beginner, intermediate or advanced user, these GIMP tutorials are for you.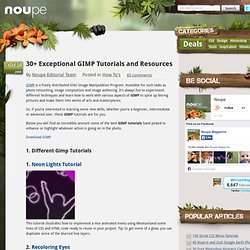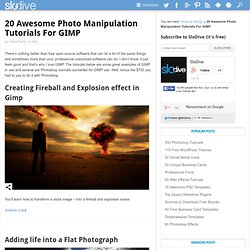 There's nothing better than free open source software that can do a lot of the same things and sometimes more than your professional overpriced software can do. I don't know, it just feels good and that's why I love GIMP. The tutorials below are some great examples of GIMP in use and several are Photoshop tutorials converted for GIMP use.
Skip to content Dennis Plucinik's Web Design Blog Just another WordPress site advertisements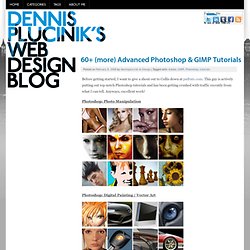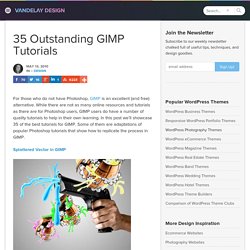 For those who do not have Photoshop, GIMP is an excellent (and free) alternative. While there are not as many online resources and tutorials as there are for Photoshop users, GIMP users do have a number of quality tutorials to help in their own learning. In this post we'll showcase 35 of the best tutorials for GIMP. Some of them are adaptations of popular Photoshop tutorials that show how to replicate the process in GIMP.
The Gimp is a fantastic and free piece of software that can run on all major operating systems and can do nearly any graphic related task! I have been using GIMP for over two years now and really appreciated the many tutorials I had at hand for when I was starting out. Since the early days I have produced my own tutorials in an effort to give back to the open source community and so the purpose of this post is to share and acknowledge the hard work that people have put in into making these great tutorials of 2010! Best GIMP Tutorials of 2010
Gimp Tutorials - Tutorial Index for Gimp