Romantic Gifts
Darling Doodles | Lights, Camera, Action! As many newlyweds can testify the budget can be a bit tight when you first get married.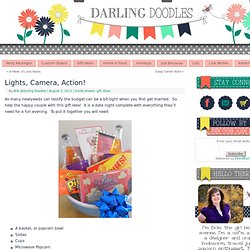 So help the happy couple with this gift idea! It is a date night complete with everything they'll need for a fun evening. To put it together you will need: A basket, or popcorn bowlSodasCupsMicrowave PopcornMovie style candyMovie. "All About You" Basket. By Lisa P.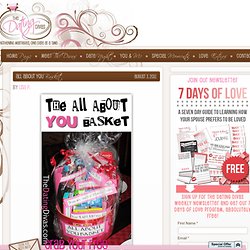 I recently created a list of 101 reasons why I love you, for my husband. I thought back to when we were dating and how I had done the same thing, and thought it would be a great idea. So I didn't leave it at that, I decided I would create an, "All About You" Basket, which would include my love letter but some gifts as well. (You could create a list at any length, I chose 101 because I had done this before.) I had to spend some time coming up with meaningful reasons to write about in my 101 reasons. DIY Project – CD Wallet Scrapbook. I've always thought that the sign of a healthy relationship is a couple that's stronger when they're together than they are individually.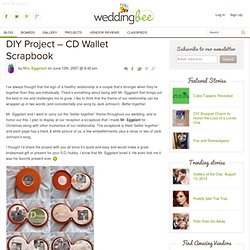 There's something about being with Mr. Eggplant that brings out the best in me and challenges me to grow. I like to think that the theme of our relationship can be wrapped up in two words (and coincidentally one song by Jack Johnson): Better together. Mr. Eggplant and I want to carry out the "better together" theme throughout our wedding, and to honor our this, I plan to display at our reception a scrapbook that I made Mr.
Romantic Ideas. Lovopoly. You may have heard of this before...but have you ever gotten the creative guts to make your very own personalized version?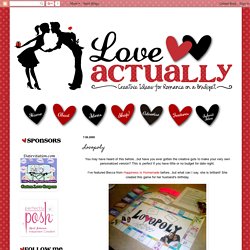 This is if you have little or no budget for date night. I've featured Becca from Happiness is Homemade before...but what can I say, she is brilliant! She created this game for her husband's birthday. Made her own board, cards, and money using poster board Borrowed the dice, houses, and motels from the real Monopoly Game.