Marketing
Social-Media-Umfrage: Manager-Verhalten passt nicht zu Unternehmenszielen in Social Media - Communication - News - absatzwirtschaft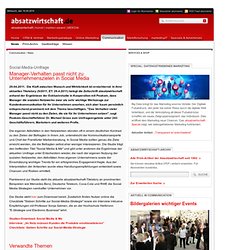 Dr. Michael Gross 29.04.2011. Die Kluft zwischen Wunsch und Wirklichkeit ist ernüchternd: In ihrer aktuellen Titelstory (5/2011, ET: 29.4.2011) belegt die Zeitschrift absatzwirtschaft anhand der Ergebnisse der Exklusivstudie in Kooperation mit Peakom, dass Manager die sozialen Netzwerke zwar als sehr wichtige Werkzeuge zur Kundenkommunikation für ihr Unternehmen ansehen, sich aber kaum persönlich entsprechend prominent mit dem Thema beschäftigen. "Das Verhalten vieler Manager passt nicht zu den Zielen, die sie für ihr Unternehmen setzen", sagt Peakom-Geschäftsführer Dr. Michael Gross zum Umfrageergebnis unter 243 Geschäftsführern, Marketern und weiteren Profis.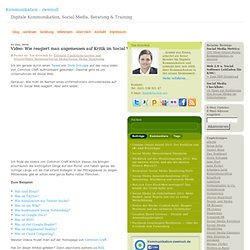 Kommunikation – zweinull Social Media Beratung & Training 01 Dez, 2010 Video: Wie reagiert man angemessen auf Kritik im Social Web? Posted by: Tim Krischak In: E-learning | Fundstücke | Monitoring | Public Relations | Social Media
» Video: Wie reagiert man angemessen auf Kritik im Social Web? » Kommunikation – zweinull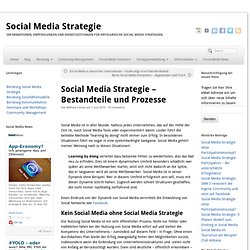 Social Media ist in aller Munde. Nahezu jedes Unternehmen, das auf der Höhe der Zeit ist, nutzt Social Media Tools oder experimentiert damit. Leider führt die beliebte Methode "learning by doing" nicht immer zum Erfolg. In besonderen Situationen führt sie sogar in eine systembedingte Sackgasse.
Social Media Strategie - Bestandteile und Prozesse | Marketing in Communitys und Social Networks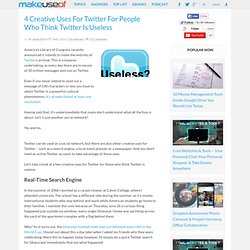 Even if you never intend to send out a message of 140 characters or less you have to admit Twitter is a powerful cultural phenomenon. It's already fueled at least one revolution . Having said that, it's understandable that many don't understand what all the fuss is about: isn't it just another social network?
4 Creative Uses For Twitter For People Who Think Twitter Is Usel