George R.R.Martin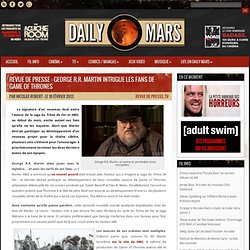 George R.R. Martin, un auteur et une beubar assez incroyables. La signature d'un nouveau deal entre l'auteur de la saga du Trône de Fer et HBO, au début du mois, excite autant ses fans qu'elle ne les inquiète. Alors que Martin devrait participer au développement d'un nouveau projet pour la chaîne câblée, plusieurs voix s'élèvent pour l'encourager à prioritairement terminer les deux derniers tomes de son épopée. George R.R. Martin aime jouer avec le mystère… et avec les nerfs de ses fans.
Revue de presse : George R.R. Martin intrigue les fans de Game of Thrones : Daily mars
Sous les feux de l'actualité en ce moment, voici une interview inédite de George R.R.Martin dans laquelle il revient sur les origines du Trône de Fer... (une interview traduite avec l'aimable autorisation de Josh Roberts et du site smartertravel.com) SmarterTravel : M. Martin, c'est un plaisir de vous parler.
Interview de George R.R.Martin
Dans un entretien accordé voilà quelques jours.Évidemment, je vais poursuivre mon histoire, explique-t-il (Ah bon ?). A Dance with Dragons se concluait par de nombreux cliffhangers et ils seront résolus très tôt dans le roman. Il débutera par deux importantes batailles que j'ai préparées avant de repartir de là.
George R.R. Martin évoque The Winds of Winter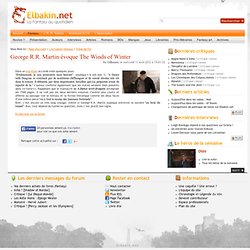 Mon SFU Qu'est ce que c'est ? S'inscrire S'identifier SciFi-Universe.com - l'encyclopédie des univers fantastiques Ghost Rider : L'esprit de vengeance [#2 - 2012] > Ghost Rider : L'esprit de vengeance Combo Blu-ray 3D + Blu-ray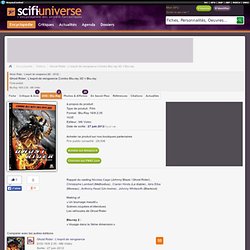 Skin trade
Le Trône de fer : George R.R. Martin parle de l'évolution du genre
La grande saga Game of Thrones est la série événement de cette fin d''année, mais c''est aussi une sublime fresque littéraire signée George RR Martin. L''auteur de 62 ans, très impliqué dans le développement de la série, revient sur la saison 1, qui a pris fin dimanche dernier et raconte à quel point il a été dur pour lui, de livrer ses personnages à des inconnus : "Si je devais employer une métaphore, je dirais que c''est un peu comme envoyer ses enfants à l''école pour la première fois.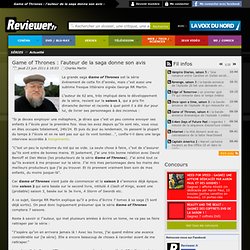 Game of Thrones : l'auteur de la saga donne son avis
Les nombreux projets de George R.R. Martin
Fans of author George R. R. Martin love him for his rollicking fantasy series that began with 1996's A Game of Thrones, but they became cross with him after it took six years for him to finish the fifth book (out of a projected seven). Martin has been writing fantasy stories since he was a kid, and while he was earning his undergraduate and graduate degrees in journalism from Northwestern University (1970, 1971) he was also busy writing short stories and fiction for comic fanzines.
George R. R. Martin Biography from Who2.com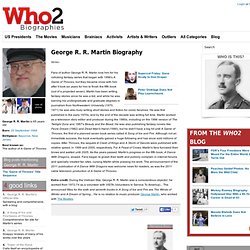 Le manuscrit
Un homme en colère sur internet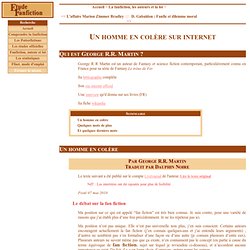 Qui est George R.R. Martin ? George R R Martin est un auteur de Fantasy et science fiction contemporain, particulièrement connu en France pour sa série de Fantasy Le trône de Fer Sa bibliographie complète Son site internet officiel
George R R Martin
George R.R Martin se met au podcast
Riverdream, George R.R. Martin - Le blog de autres-mondes.over-blog.com
Résumé : Mississippi, 1857. Quel capitaine de vapeur sensé refuserait le marché de Joshua York ? Cet armateur aux allures de dandy romantique offre des fonds illimités pour faire construire le navire le plus grand, le plus rapide et le plus somptueux que le fleuve ait jamais connu.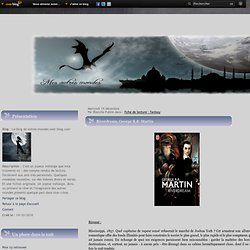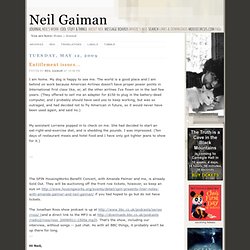 Entitlement issues...
I am home. My dog is happy to see me. The world is a good place and I am behind on work because American Airlines doesn't have proper power points in International first class like, er, all the other airlines I've flown on in the last few years. (They offered to sell me an adapter for $150 to plug in the battery-dead computer, and I probably should have said yes to keep working, but was so outraged, and had decided not to fly American in future, so it would never have been used again, and said no.) My assistant Lorraine popped in to check on me. She had decided to start an eat-right-and-exercise diet, and is shedding the pounds.
George R.R.Martin est l'un des plus grand auteur de fantasy de tous les temps. Voici une interview parue dans Locus en novembre 2005. Attention, la forme est étonnante, il n'y a pas de questions. "J'aime ne pas avoir à écrire dans la longueur. C'est probablement le résultat de mes années à Hollywood, où s'ils veulent 46 minutes, ils ne vous en donneront pas une 47ème juste parce que vous pensez que l'histoire le nécessite.
Accueil
Portail:Auteur
Un article de Wikipédia, l'encyclopédie libre. Pour les articles homonymes, voir Martin. George R. R. Martin
Monday's big GAME OF THRONES extravaganza with Maisie Williams and the wolves is not the only special event we'll be having this week at the Jean Cocteau Cinema in Santa Fe. So come on Monday by all means... but then mark your calendars and come back again a week from today, on Saturday January 25, when Peter S. Beagle will be visiting Santa Fe for a special one-day show featuring his animanted fantasy masterpiece, THE LAST UNICORN. Peter S. Beagle, for those unfamiliar with his work, is one of the great living masters of fantasy, winner of the Hugo Award, the Nebula Award, the Locus Award, the World Fantasy Award, and the Grand Prix de l'Imaginaire.
Westeros Pack Charity Auction FEB 19th – 26th February 17, 2014 Help the Wild Spirit Wolf Sancturay build a new home for THE WESTEROS PACK, a pack of ten rescued Arctic hybrid Wolves named after characters in A Song of Ice and Fire series. Help them out and get your hands … Read More GoT Season 4 Sneak Peek
George R.R. Martin - The 2011 TIME 100
I had two missions last summer. One was to watch The Wire because I was tired of admitting I hadn't seen it. The other was to read George R.R. Martin's A Game of Thrones.
George R. R. Martin (Auteur) : Infos, Biographie et rôles dans la SF - SFU
Accueil