Géolocalisation
GPS ou outils de captures de tracés ou de position gps. loic.somb Dec 30
Layar réalité augmentée
Mappy, l'assistant de tous vos déplacements ! La nouvelle application Mappy vous guide au quotidien et vous fait découvrir la vie de votre quartier et des environs… Retrouvez toutes les fonctionnalités de Mappy dans votre poche : - Plan : Repérez-vous et déplacez-vous très simplement dans la carte. - Recherche : Trouvez une adresse, découvrez tous les services et commerces à proximité ; Grâce à nos partenaires (PagesJaunes, Accorhotels.com, Booking.com…), Mappy répertorie plus de 4 millions de professionnels en France ! - Calcul d'itinéraires : Calculez rapidement le meilleur itinéraire et optimisez vos déplacements.
Mappy GPS gratuit ans accès internet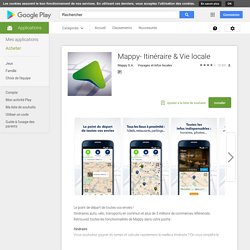 Google Maps Navigation
Google Maps Navigation est un système de navigation GPS à commande vocale et connecté à Internet. Regarder la vidéo Télécharger Google Maps Navigation (bêta) Pour obtenir la dernière version de Google Maps avec Navigation, recherchez "Google Maps" sur Google Play. Cliquez sur les vignettes pour agrandir les images.
osm tracker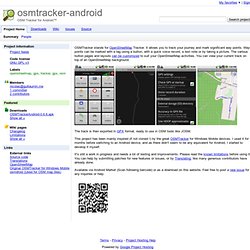 OSMTracker stands for OpenStreetMap Tracker. It allows you to track your journey and mark significant way points. Way points can be marked with a tag using a button, with a quick voice record, a text note or by taking a picture. The various button pages and layouts can be customized to suit your OpenStreetMap activities.