Thème 1 - LES ÉTATS-UNIS
La Google Maps des séries TV américaines ! | Enseigner l'Histoire-Géographie | Scoop.it. Headquarters of some Major Corporations in Silicon Valley. Wondering which companies have headquarters in Silicon Valley ?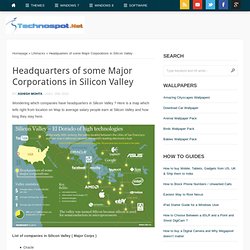 Here is a map which tells right from location on Map to average salary people earn at Silicon Valley and how long they stay here. List of companies in Silicon Valley ( Major Corps ) Alex MacLean. Mapping America — Census Bureau 2005-9 American Community Survey. Portraits d'un Nouveau Monde.
---