Génération & vie professionnelle
http://www.reims-ms.fr/agrh/docs/actes-agrh/pdf-des-actes/2009pr
http://www.lexpress.fr/emploi-carriere/generation-y-le-choc-des-
Generation Y: afgestudeerd! Maar wat nu?
Generation Y en veiligheid op het werk - Waarom is generatie x b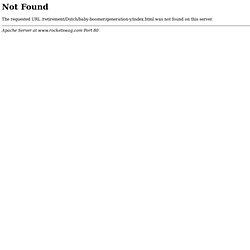 Sponsored Links: Generation Y and Drug Als er een nieuwere generaties zich zullen er meer wijzigingen en transformatie.
8 Ways Gen Y Can Impact HR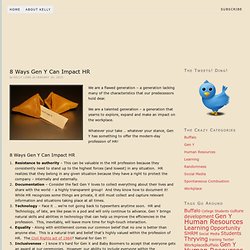 We are a flawed generation – a generation lacking many of the characteristics that our predecessors hold dear.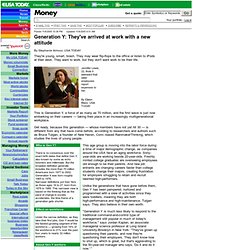 Generation Y: They've arrived at work with a new attitude By Stephanie Armour, USA TODAY They're young, smart, brash.
Generation Y: They've arrived at work with a new attitude
Firms worry about social networks, but don't block access
Despite widespread paranoia that social networks are putting businesses at risk, companies continue to give employees open access to them. The latest Security Threat Report (PDF) from security research firm Sophos notes that spam and malware attacks via popular networks continued to rise at "alarming" rates over the last 12 months, posing a risk to both users and the companies they work for.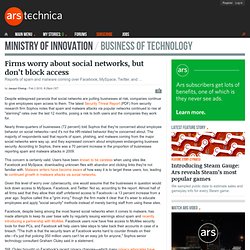 C'est ce que nous apprend un sondage réalisé pour l' agence pour la création d'entreprise à l'occasion du salon des entrepreneurs qui se tiendra à Paris les 3 et 4 février prochains. Les autres grands enseignements du sondage sont les suivants :
Un jeune sur deux souhaite créer son entreprise | La Génération
Rapports générationnels en entreprise : qui doit faire le premie
Il m'arrive fréquemment d'être interrogé sur cette question à l'issu d'une conférence.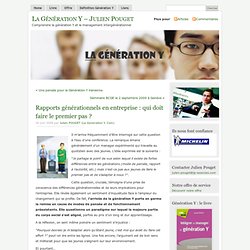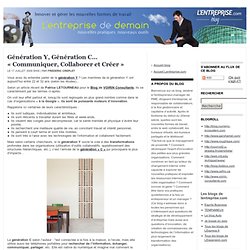 Vous avez du entendre parler de la génération Y ? Les membres de la génération Y ont aujourd'hui entre 22 et 32 ans (selon les études)…
Génération Y, Génération C... "Communiquer, Collaborer et Créer"
Publié par Marie-Christine Pota dans Portraits et entrevues , Tendances le 22 janvier 2010 | 6 commentaires
La Génération Y, entreprenante… mais entrepreneure?- Entrepreneu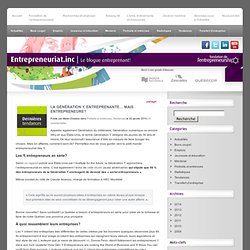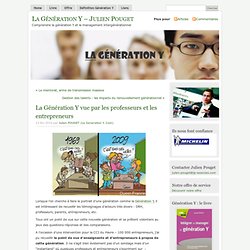 Lorsque l'on cherche à faire le portrait d'une génération comme la Génération Y , il est intéressant de recueillir les témoignages d'acteurs très divers : DRH, professeurs, parents, entrepreneurs, etc.
La Génération Y vue par les professeurs et les entrepreneurs | L