Geneaology Websites
My Heritage
S. Beer Nobleton, Ontario, Canada I just want to say thank you for this site as this gives me a chance to fill in the blanks of my life. A. Welcome to The USGenWeb Project! We are a group of volunteers working together to provide free genealogy websites for genealogical research in every county and every state of the United States. This Project is non-commercial and fully committed to free genealogy access for everyone.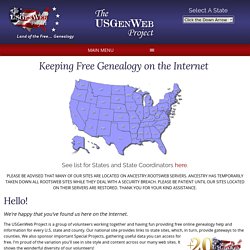 Free Genealogy and Family History Online - The USGenWeb Project
Genealogy Today: Family Tree History, Ancestry, Free Lookups
Access Genealogy: A Free Genealogy Resource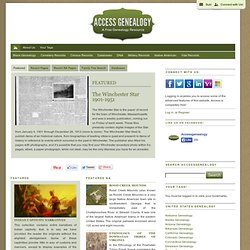 Featured NA Indian Biographies Biographies are a good source of information on our ancestors. They can be used as a tool to provide facts: names, dates and locations for the events in our ancestors lives. They can also provide "meat" for genealogical research, and by that we mean the story behind the person – events which shaped and molded the character of a person.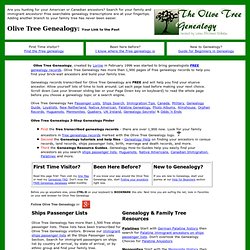 Olive Tree Genealogy, created by Lorine in February 1996 was started to bring genealogists FREE genealogy records. Olive Tree Genealogy has more than 1,900 pages of free genealogy records to help you find your brick-wall ancestors and build your family tree. Genealogy records transcribed for Olive Tree Genealogy are FREE and will help you find your elusive ancestor. Allow yourself lots of time to look around. Let each page load before making your next choice.
Olive Tree Genealogy - free genealogy for your ancestors
Kindred Trails - Genealogy Resources - Family History Resources
archives