Italie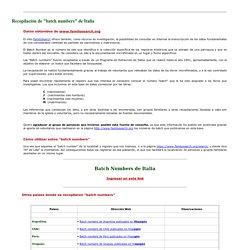 El sitio http://www.familysearch.org/ desde su portada ofrece la posibilidad de consultar en Internet la transcripción de los datos fundamentales de una considerable cantidad de partidas de nacimientos y matrimonios . Dado que la consulta directa de los registros no siempre es posible es que ofrecemos este recurso de investigación . L os "Batch number" fueron recopilados a través de un Programa de Extracción de Datos que se realizó hasta el año 1991, aproximadamente, con el objetivo de elaborar un índice que facilitara las búsquedas.
APELLIDOS ITALIANOS - Batch Numbers de Italia
Italian Heritage and Genealogy D'Addezio.com
**I posted a test message to that newsgroup and it appeared in the GEN-Italian archives, so they/ancestry might be changing their policy. However, the above will stay in effect until I know for sure that they are not blocking messages and actually using a newsgroup subscription is always a better choice on USENET. DISCLAIMER: This document reflects the opinions of the author.
Italian Genealogy