Facebook Related
NYC Cops Post On Facebook About Brutalizing Occupy Wall Street Protesters (IMAGE) UPDATE: As of today, December 16th, 2011, Mr.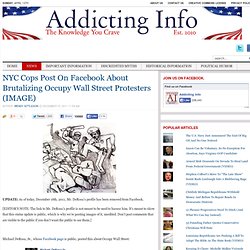 DeRosa's profile has been removed from Facebook. [EDITOR'S NOTE: The link to Mr. DeRosa's profile is not meant to be used to harass him. CIPR Co-Director Michael Zimmer Featured in Chronicle of Higher Education Story on Privacy and Research on Facebook | Center for Information Research. The Chronicle of Higher Education has published an article featuring CIPR Co-Director Michael Zimmer's research critiquing the privacy protections and research methods related to the "Taste, Ties, and Time" (T3) Facebook research study conducted by a set of Harvard sociologists.
Michael Zimmer, a privacy scholar at the U. of Wisconsin at Milwaukee Center for Information Policy Research, says the methods of the Harvard project "should have triggered an ethical concern. " The article, "Harvard Researchers Accused of Breaching Students' Privacy", discusses a variety of privacy and research ethics concerns raised by Zimmer, and also features insights by former CIPR director Elizabeth Buchanan. Read the full article here, and additional commentary by Zimmer on his blog.
Zynga temp worker accused of stealing $100K from San Francisco company | Ari Burack | Crime. Facecrooks Home Page. Privacy groups ask FTC for Facebook investigation too. 10 public-interest groups have asked the Federal Trade Commission (FTC) to investigate Facebook's various business practices.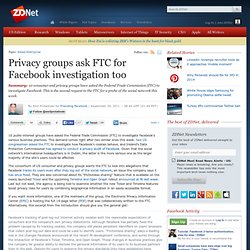 This demand comes right after two similar ones this week: two US congressmen asked the FTC to investigate how Facebook's cookies behave, and Ireland's Data Protection Commissioner has agreed to conduct a privacy audit of Facebook. Given that the social network's international headquarters is in Dublin, the latter is the more serious one as the larger majority of the site's users could be affected. The consortium of US consumer and privacy groups wants the FTC to look into allegations that Facebook tracks its users even after they log out of the social network, an issue the company says it has since fixed. They are also concerned about its "frictionless sharing" feature that is available on the newly launched Ticker and the upcoming Timeline and Open Graph rollout announced at f8 last week. Indramayu Travel Guide. Plan a Indramayu vacation with reviews, tips and photos posted by real travelers and Indramayu locals View all Indramayu hotels Top Indramayu Writer Indramayu.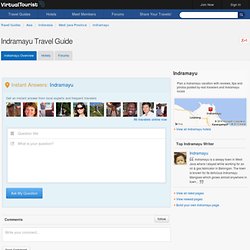 How To Hide Almost Anything On Facebook. Are you tired of seeing what all of your friends are reading on Yahoo News, the Washington Post, Wall Street Journal Social Edition, or the U.K.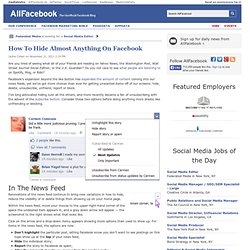 Guardian? Do you not care to see what people are listening to on Spotify, Mog, or Rdio? Facebook's expansion beyond the like button has expanded the amount of content coming into our news feeds, yet we've got more choices than ever for getting unwanted items off of our screens: hide, delete, unsubscribe, unfriend, report or block.
---