Geek
deba168 from India designed and built this Arduino Solar Charge Controller to provide electrical power in areas where the grid can't always provide power when needed. Code and schematics are provided so you can get some inspiration from the design. "At first the charge controller will check the solar panel voltage and compare it with battery voltage ,If it is greater then the Arduino will starts sending pulse width modulation(PWM) signals to the mosfet(Q1) in order to charge the battery .When the solar panel voltage was below the battery voltage ,this pwm signals will not send by Arduino . Then next the micro controller will check the battery voltage ,if the battery voltage was below 6.96 v volts then the battery will be charged in boost mode ,that mean the battery will be charged with maximum amperage ,this boost mode of charging will be done by sending pulse width modulation signals with 95% duty cycle .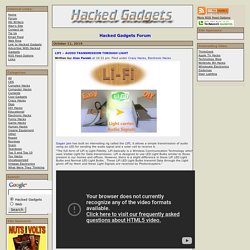 Siphon Brewing Apparatus on Make: Live ep08
Drill-Powered Bike
Wind-up/Kinetic : Giant Robot Store, Asian American Pop Culture and Beyond
Neige instantanée en canette
Bienvenue sur CoinDuGeek : LA boutique Geek de référence ! Depuis 2007, CoinDuGeek vous propose une large sélection de cadeaux originaux et insolites à tendance Geek. Que ce soit de la licence avec des produits Star Wars, The Simpsons, The Big Bang Theory ou encore Minecraft … ou tout simplement un gadget USB, un objet déco ou encore un cadeau insolite qui fera certainement plaisir lors d'un prochain évènement. Grâce à notre stock disponible en France (Marne-la-Vallée, région parisienne) et à notre engagement d'expédition de votre colis le jour-même pour toute commande validée avant 15h, vous avez l'assurance de tenir vos délais pour vos cadeaux ! CoinDuGeek est LA boutique à garder dans vos favoris !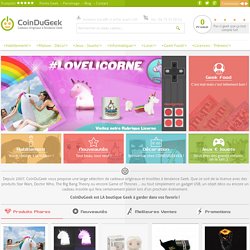 je veux ça ! gadgets jeux jouets décoration
Drôles | Blog des nouveaux produits les plus étranges
Blog des nouveaux produits les plus étranges… produits insolites, articles insolites, insolite, achat, actualités, webcam, produits, accessoires, boutique, étranges, nouveaux, fun, objets, shopping, geek… La Royal Virility Performance est une bière spécialement créée pour le mariage de Kate et Williams. Disponible en éditions limitée (1000 bouteilles), cette bière brasée avec divers aphrodisiaques sera en vente uniquement sur Brewdog.com à partir du 28 avril. Selon l'étiquette cette bière maison contiendrait du Viagra, du chocolat et une bonne dose de sarcasme.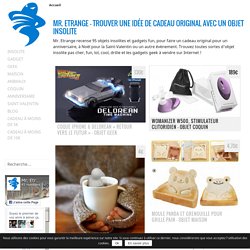 Hasbro Star Wars - Action Figures, Toys, Bobble Heads, Collectibles at Entertainment Earth
Limited edition Designer Toys, Art toys, Urban vinyl & Plush
Designer Toys, Urban Vinyl, Limited Edition Toys, Art " Store